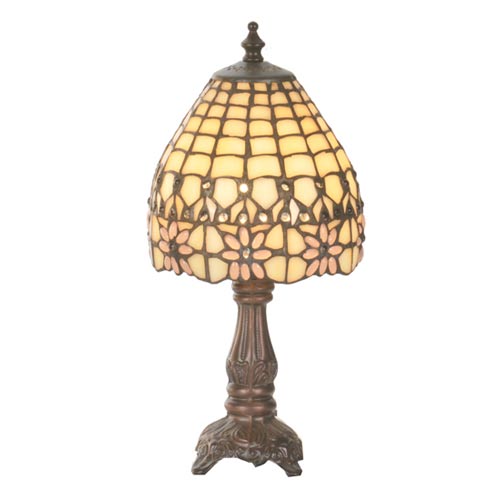 Before purchasing a Victorian lamp online, consult this buying guide for valuable information. It includes a description of the different types of Victorian lamps and a brief history of this lamp style. There are several features that are characteristic of a Victorian lamp. This guide covers each one and offers tips for buying Victorian lamps from hundreds of listings online at eBay. Learn how to navigate the site, using the search feature to find Victorian lamps.
History of Victorian Lamps
The first lamps ever created, in around 70,000 BC, were made from hollow rocks and shells and used animal fat as fuel to light dried moss. By the Victorian age in Great Britain lighting had advanced, although the source of light was somewhat similar. Oil-fuelled lamps were common during Queen Victoria's reign (1831-1901). They were to be eventually followed by more efficient electric lamps. Victorian lamp design was influenced by the ornate furniture style of the period. Lamps had heavy cast iron bases and sometimes painted floral decoration. The lampshades featured embroidered silks and chiffons, as well as tassels and beadwork. Victorian lamps were designed as table lamps, bedside lamps, or floor lamps. Some of these lamps have survived and are prized by designers and decorators. Contemporary manufacturers, some of whom produce well-made reproductions, have copied the Victorian style.
Discover Victorian Lamps
Victorian lamps are popular because of their elaborate and classical design. Many Victorian-style lamps are not actually antiques at all; they are reproductions. Modern reproductions are electric but since electricity appeared in the late Victorian age, electric originals can still be found. Oil lamps were more common in Victorian England and featured an oil reservoir, burner, and wick. Look in the Antiques category on eBay at antique lamp dealers' sites for lamps that were manufactured at that time.
Parts of Victorian Lamps
A Victorian lamp consists of a heavy base, light source and shade. Oil lamps and electric lamps will have different components.
| Part | Description |
| --- | --- |
| Base | The main component of the lamp. Made of metal or ceramic. The bottom is flat, usually square or round, and designed to sit on a table. The top is round and meets the socket or chimney. Victorian bases are typically slim. |
| Oil Burner | In oil lamps, the burner sits atop the base font and controls the flame. |
| Chimney | Narrow tube, usually made of glass, which carries the smoke and heat from the flame. Used for oil lamps. |
| Wick | Fibrous length of material dipped into the oil reservoir and lit with a match or taper. This could be wound up as the wick burned away. |
| Socket | Cylindrical opening with electrical contacts designed to hold a light bulb. The bulb is screwed into the socket to generate light. |
| Wiring/Cord | Electrical wires that connect the socket to an electrical outlet. |
| Shade | Covering that diffuses the light from the bulb or flame. For oil lamps, the shade is usually made of glass. |
| Harp | Shaped metal cage that wraps around the bulb. It is attached to the base or socket at the bottom and secures the shade at the top |
| Finial | Small, often decorative, stub that sits atop the shade to secure it to the harp. Can be a sculpted shape, glass or metal piece. |
Types of Victorian Lamps
There are two types of Victorian lamps: oil and electric.
Type

Description

Advantages

Considerations

Oil

Victorian oil lamps generate light by burning fuel. A wick dipped into the oil reservoir is lit with a match or taper.

• Oil table lamps can be placed anywhere in a room where it is safe to place a flame.

Ÿ Irritating smoke and odour from the burning oil.

Electric

Electric Victorian lamps feature wiring and a bulb.

ŸElectric lamps are low maintenance.

ŸBulbs are easily replaced.

Ÿ To work, electric lamps require an electrical outlet nearby.
Victorian Lamps for Specific Purposes
Victorian lamps were made as floor lamps, table lamps and hanging lamps.
1. Floor Lamps - Floor lamps feature a long base with Victorian features and a shade that directs the light in a specific direction. They are placed directly on the floor.
2. Table Lamps - Table lamps are smaller and feature a shade that diffuses the light. They are suitable for side tables, bedside tables and coffee tables.
3. Hanging Lamps - Hanging lamps are suspended from the ceiling by a cord or decorative chain. The light source is visually enclosed by a colourful glass shade. These types of lamps are lit with oil and feature a glass chimney above the oil reservoir.
Factors to Consider When Buying Victorian Lamps
There are several things to consider when buying Victorian lamps.
Appearance ─ The first thing to consider is whether or not a Victorian lamp will fit a room's décor. Consider the colours of the base and the shade and see if they will work with other features in the room. Another factor that may affect one's buying decision is the height of the lamp. Most Victorian lamps are short and don't take up a lot of space. Also, examine the lamp for signs of wear or damage. New lamps will be in good condition, but antiques most likely will be a little faded or have a few scratches and the odd dent.
Compatible Light Bulbs ─ Modern Victorian-style lamps (reproductions) that run on electricity will have a socket that is compatible with most types of bulbs. Bulbs range from 15 to 150 watts. Review the specifications of the lamp before purchasing it. Check to see if newer CFL, LED, or incandescent bulbs are compatible with the lamp.
Shade Material ─ Victorian lamps have stylish shades that can be made of several types of materials. Some may be made of embroidered silk, and feature fringes and tassels. Other shades are made of glass. The shade may be detachable or fixed.
Typical Features of Victorian Lamps
Most Victorian lamps are fairly small in size. They usually have a metal base and a decorative shade.
1. Metal Base
Originally, Victorian lamp bases were made from cast iron. Some have painted floral decorations. Contemporary versions could be made from various other types of metals, including brass.
2. Decorative Shade
Shades were usually very ornate in keeping with the Victorian penchant for elaborate decoration. Some have floral elements embroidered on silk, with beadwork and fringed edges. Glass shades tend to be colourful, similar to stained glass.
3. Small Size
Metal bases of Victorian lamps are typically slim and fairly short.
How to Care for Victorian Lamps
Victorian lamps should be cleaned and repaired when necessary to maintain their appearance. As with other lighting fixtures, dust should be removed before it accumulates too heavily. Regular dusting will keep the surface of the lamp looking like new. The shade may need to be removed and dusted more thoroughly to remove dust from the folds. Use a soft cloth soaked in warm soapy water to remove dirt from the lamp. Avoid wetting the cord or lamp socket.
If the lamp is damaged, consider having it restored to its original condition. A professional restorer may offer such services as metal refinishing, polishing, glass cleaning, re-etching, shade replacement, and rewiring. If any parts are missing from antique Victorian lamps, a restorer may be able to locate and replace them.
Accessories and Add-ons for Victorian Lamps
Lamp Shade – Victorian shades came in a variety of shapes and materials. They were designed to complement the lamp base. It is possible to buy lamp parts and shades to match an original damaged one.
Lamp Table – Choose an end table or bedside table of the right size to display a Victorian lamp. The table does not have to be Victorian in style. In fact, an elaborate lamp on a plain, modern table can look amazing.
Bulbs – Make sure that your lamp socket will accept today's bulbs. Determine the right size and wattage for it before purchasing.
Lamp Finial - Victorian lamps usually sported a decorative finial to keep the shade in place on the harp. These can also be purchased separately if the original is damaged or missing.
Finding Victorian Lamps on eBay
After determining the type of Victorian lamp to purchase, visit the Antiques Category portal on eBay, click on Lamps and start searching item listings. Reproduction lamps can be found within the Home and Garden category. The Categories list on the left-hand side of the eBay page helps to narrow the search. Check the box for Victorian under the Style category.
Searching forVictorian Lamps on eBay
Search eBay listing titles for specific words when shopping for Victorian lamps. For example, to find a Victorian table lamp, type 'Victorian table lamp' into the search box, and then click the Advanced button to customise the results. Also visit eBay's Search Tipspage for more advice on searching for Victorian lamps with keywords. If you can't find the specific Victorian lamp that you want, try shopping eBay Stores.
Conclusion
There are hundreds of Victorian lamps for sale on eBay. Some are very old, while others are contemporary lookalikes. Use this guide while browsing the site as a reference. After finding the right item, review the details of the lamp. The product listing page on eBay contains valuable information including the price, shipping details, and product description. Know exactly what the seller is offering before making a purchase. Also, review the return policy for the Victorian lamp. After collecting this information, buy the Victorian lamp safely and securely on eBay.