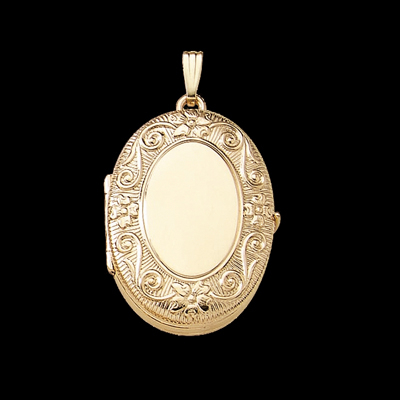 Victorian lockets are small ornamental cases into which the wearer can place small photographs, a lock of hair, or another tiny memento. They are usually worn on a chain around the neck, although some wearer's may choose to hang them from a brooch. Victorian lockets can be made of precious metals such as silver or gold. They come in many shapes including ovals, circles, and hearts. Lockets often hold one or two photographs, but some specially made lockets can hold up to eight. More modern lockets are given to loved ones on special occasions such as Valentine's Day, christenings, and weddings. However, during the Victorian age, they were often mourning accessories. When purchasing a Victorian locket, buyers should familiarise themselves on the history of lockets, consider the various types, learn how to distinguish between the metals used to make them, and understand how to examine the locket's condition. Victorian lockets are available from antique shops and online at retailers such as eBay.
History of Lockets
Lockets have a long history. In earlier centuries, they were used to carry powder, poison, keepsakes, good luck charms, hair, ashes, and pictures. Throughout the years they have been made of many metals such as brass, copper, aluminium, iron, gold, and platinum. The Victorian's highly favoured lockets. The lockets of that era were usually round or heart shaped and many of them were monogrammed with the owner's initials. Young women during the Victorian era used lockets to hide a picture of the man that they admired. If the man offered up a lock of his hair to the woman, a marriage proposal usually followed. If given as gifts, lockets were considered a statement of an intention to marry. With the improvement of mechanical techniques around the turn of the twentieth century, lockets began to be mass manufactured. These lockets were considered costume jewellery and often set with seed pearls and brightly coloured gemstones. Diamonds were also used with old miner's cuts.
Types of Victorian Locket
There are various types of Victorian locket. When determining the best style, buyers should consider the intended purpose of the locket. Some lockets are designed to hold pictures, while others hold small mementos such as a lock of hair, ashes of a loved one, or a few drops of perfume.
Victorian Spinner Lockets
Spinner lockets were a common style during the Victorian era. These lockets have a bail, which is a D-shaped or oval component used to connect the locket to the necklace chain. The bail is not fixed to the locket itself, leaving it free to spin.
Victorian Keepsake Lockets
Victorian keepsake lockets can be made with a glass pane at the front, allowing viewers to see what is inside without having to open the locket. These lockets are usually used for items such as locks of hair which could fall out and become lost if the locket was opened repeatedly.
Victorian Photograph Lockets
Unlike keepsake lockets, Victorian photograph lockets are usually enclosed on all sides. The photographs themselves are secured by a clear plastic insert.
Victorian Filigree Style Lockets
Victorian filigree style lockets have a small cushion in the centre to which a few drops of perfume may be added. These lockets were popular in eras when personal hygiene was restricted and sweet smelling perfume was used to mask the odour of a person and their companions.
Victorian Mourning Lockets
During the nineteenth century, the mourning locket was used to hold a lock of hair from a departed loved one. It can also contain a miniature of the departed and a cameo of a suitably mournful theme, such as an angel draped dispiritedly over a tomb. The ritual of wearing a mourning locket was considered a social norm, as was the expectation that a widow would wear black for an entire year after she lost her spouse. During this time period, mourning jewellery was the only type of fashion accessory allowed as any other adornments were viewed as a lack of respect for the deceased.
Metals for Victorian Lockets
Victorian lockets were made of a variety of metals including gold in varying carat weights, sterling or coin silver, and base metals. Although some metals may not clearly be indicated on the locket, jewellery dealers are able to ascertain the locket's metal composition. When purchasing a Victorian locket, buyers should understand the differences between metals. They should also factor in carat weight, design, age, rarity, and condition as these characteristics also affect the value of the locket.
Type of Locket Metal

Description

Stainless steel

Does not corrode, rust, or stain when exposed to water

Cheaper alternative to precious metals

Can be highly polished to look like silver

White-grey

Less expensive than gold, platinum, and titanium

Prone to oxidation

Easy to care for

Gold plate

Sterling silver plated with a thin layer of gold

If not cared for properly, can be scratched easily, exposing the silver beneath

Naturally wears thin with time

Gold vermeil

Gold plating, a minimum of 1.5 micrometres thick and a minimum of 10 carats

If cared for properly, does not tarnish or wear off

Made by mixing gold with other metals such as copper, zinc, and silver

Endures everyday wear better than silver

Tends to age well

White and hard

Rhodium coated

Rhodium wears away over time

Platinum

White

Extremely long wearing and does not require rhodium plating

Very expensive

Prone to scratching

Requires regular maintenance
When purchasing a Victorian locket, buyers should bear in mind their price range. Stainless steel lockets are relatively inexpensive when compared to platinum. It is also a good idea to consider the purpose of the locket. Buyers who plan to wear their locket regularly should opt for one that is resistant to everyday wear and tear such as yellow gold.
Examining the Condition of a Victorian Locket
Before purchasing a Victorian locket, buyers should examine the jewellery carefully for signs of wear and tear or damage. The locket hinges should function properly and should not be loose. The clasp of the chain should be in excellent condition. If it is not perfect, buyers should consider having a safety catch added so that the chain does not become undone and the locket lost. Buyers should also examine the finish of the locket for scratches or dents as well as the interior. The bezel, a small ring designed to fit inside the locket to hold a photograph in place, should be intact. Glass inserts, if any, should not be cracked or have a cloudy appearance.
Vintage lockets may or may not come with a chain. In the Victorian era, not all lockets were worn around the neck. Some were designed to be pinned onto a dress and came with or without a short chain. A Victorian locket without a chain should not deter a buyer from purchasing the locket as replacement chains can be found easily. Buyers should consider the disadvantages of any signs of wear. While a few scratches may not pose a problem, they may affect the price that a buyer is willing to pay for a Victorian locket.
How to Buy a Victorian Locket on eBay
eBay sells a wide array of lockets that date back to the Victorian era. Buyers who wish to pay a competitive price or who want a specific type of locket should go to eBay's online marketplace. Buyers can browse for Victorian lockets easily by typing, Victorian locket, into the search bar on eBay's home page and a wide selection will be displayed. For those who know exactly what type of Victorian locket that they require, eBay has provided an advanced search feature. This feature allows buyers to narrow down results based on price or condition. Alternatively, buyers can choose to limit the results to items listed by Top-rated sellers. Top-rated sellers are recognised by the eBay community for their consistently positive feedback ratings and their high quality of products and customer service. Purchasing from Top-rated sellers gives buyers the confidence of knowing that they are dealing with a reputable eBay seller.
Conclusion
Lockets have been around for many decades and gained widespread popularity during the Victorian era. Modern lockets are mainly designed to hold pictures. However, this was not always the case. During the Victorian era, lockets housed powder, poison, ashes, and locks of hair. Victorians favoured heart shaped and round lockets. These lockets were often monogrammed with the initials of the owner. When searching for a Victorian locket, buyers should consider what they intend to put in the locket, as well as their preferred shape. Buyers also need to bear in mind the type of metal used to make the locket. Prices of Victorian lockets tend to vary according to the metal type, ranging from inexpensive stainless steel to costly platinum. Buyers should always inspect the condition of the Victorian locket before making a purchase. Scratches, dents, and compromised chain clasps can all affect the quality of the locket. With so many Victorian lockets to choose from, eBay can help buyers to find the perfect classic accessory.