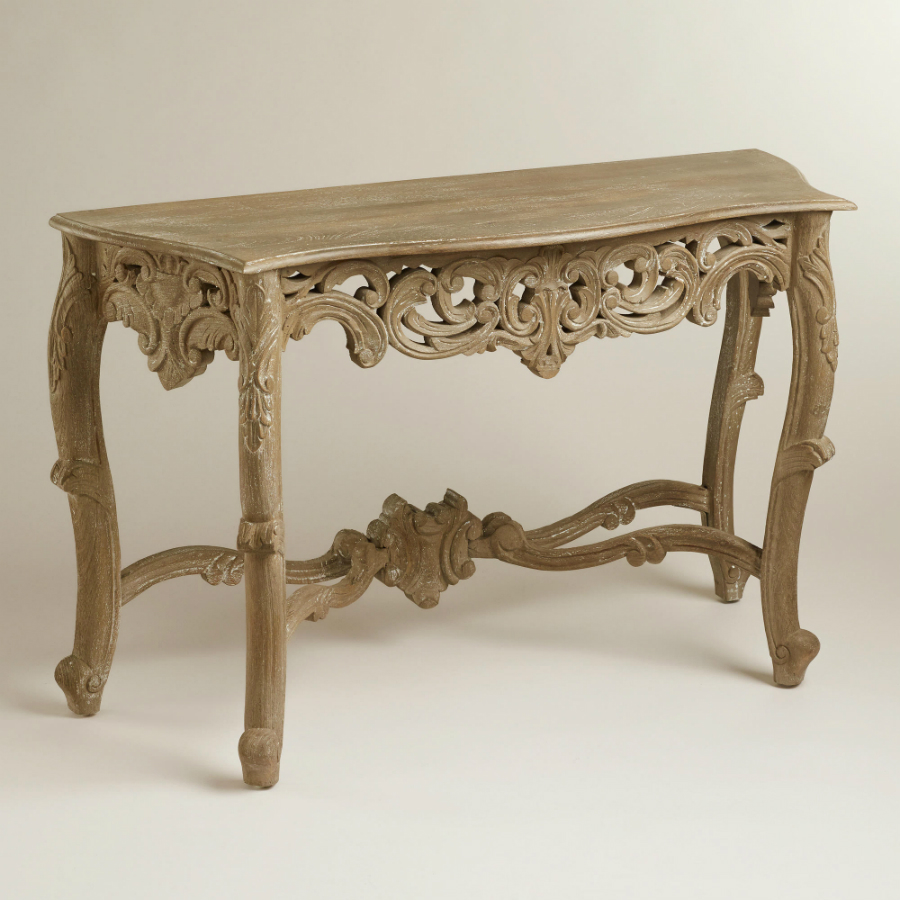 Victorian furniture is a popular choice of antique collectors. The distinctive look of Victorian tables makes for a striking addition to any room. This guide contains useful information about tables that have Victorian features and includes a brief history of this particular style of furniture. It lists the different types of Victorian tables that are available on the market and the designers and makers that created them. In addition, it offers shopping tips for identifying antique Victorian tables and reproductions.
History of the Victorian Table
Victorian furniture is furniture that was produced during the reign of Queen Victoria in the United Kingdom. Her reign lasted from 1837 to 1901, and during this period, a furniture style developed that was characterised by exaggerated curves, dark woods and heavy proportions. The furniture makers of the time drew upon the Gothic form and the Louis XV style to create furniture where the legs of dining tables, writing tables and side tables were elaborately carved. As machines began replacing hand-carvers in the factories, production increased making Victorian furniture popular and more readily available. Today, collectors and antique shoppers value Victorian furniture, and shoppers enamoured with the Victorian furniture style do not mind good-quality reproductions.
Discover Victorian Tables
Tables made during the Victorian period in the United Kingdom are considered antique furniture. There are several types of Victorian tables including dining tables, writing tables and bedside tables. All share similar features including dark woods and elaborate carvings. The appearance of the Victorian table is usually its key selling point. Tables that have stories behind them or that had famous owners will generate even more interest.
Parts of Victorian Tables
The table top and legs are the main parts of a Victorian table. Different types of tables will have additional parts.
| Part | Description |
| --- | --- |
| Table top | The surface of the table is flat. Some tables, such as writing tables, may bear a leather material on the surface. Some table tops may tilt, such as game tables and drawing tables. The edges of the table top are either straight or curved. Most table tops are rectangular or circular in shape. |
| Drawer | A rectangular box directly under the surface of the table top that can hold items. |
| Handle/ knob | A u-shaped or solid circular piece attached to the drawer. It is used to pull open the drawer. |
| Side panels | Wood surrounding the drawer compartment. It composes the sides and back of the table. Common feature in bedside, side and writing tables. |
| Legs | Supports the table top. Some are short, such as those of coffee tables, while others are long, such as those of dining tables. They can be carved. Some tables are supported by pedestals such as game tables or stands for drawing table. |
| Casters | Wheels attached to the ends of legs. |
| Stretcher | A wood piece that connects two legs and that come in x-shapes or h-shapes. |
| Bust | Small carving or sculpture, usually of a person, attached to the front or sides of a table. |
Types of Victorian Tables
There are several types of Victorian tables and the following list describes each one.
Type

Description

Advantages

Considerations

Dining

Long table top with four legs. Some are circular with a pedestal.

Accommodates several people during meals.

Victorian dining tables are made from dark woods, which may require furniture polish to maintain.

Writing

Victorian writing tables feature drawers directly beneath the table top and four reeded legs capped with casters. The surface of the table may be lined with leather.

Writing tables are great decorative pieces.

Can be used to display items.

Can be used in the office.

The surface may have worn out over time.

Drawing

Victorian drawing tables feature a rectangular board with rounded corners, usually mounted on an adjustable stand with four legs.

Make detailed drawings easier on a tilted board.

Adjustable tilt that meets your comfort zone.

The adjustable stand is usually cast-iron, which is heavy and difficult to move.

Bedside

Victorian bedside tables are box shaped, featuring a flat top and a drawer beneath it. Some also feature a door that swings open to reveal a compartment.

Large compartment and flat surface can hold items

Bedside tables were used to hold the chamber pot during the Victorian era.

Coffee

Circular table with carved, short legs. The legs are connected with patterned wood pieces.

Flat surface ideal for holding drinks.

Space underneath table top for magazines.

Victorian coffee tables are small.

Game

Victorian game tables feature a flat surface on top of a pedestal. The surface may contain a game board design or it may swivel.

Play games on the surface of the table.

Meticulous wood carvings look great.

The wood surface should be protected from damage.

Side Table

Side tables from the Victorian era are generally rectangular and feature drawers beneath the table top. The drawer knobs and legs are usually turned.

Compact size is ideal for hallways

The surface should be protected with a furniture polish.
Factors to Consider When Buying a Victorian Table
There are several things to consider before buying a Victorian table. The retailer, the appearance of the table, and the table's condition could all influence your purchase.
Authenticity – The main factor to consider is that the Victorian table being sold is actually a table from the Victorian era. Antiques are made during a certain period. Anything made after that are considered reproductions, even if they contain all the features of a particular style. Decide whether you want an antique Victorian table or a reproduction Victorian table. Determine the age of the piece and note the features of the table. Compare the features with those of the Victorian style. It is best to buy from those that are known for selling authentic pieces. Shopping online for antiques is much more challenging. Top-rated sellers with positive reviews are usually reliable.
Ask questions – The sellers are usually very helpful in offering up information on their furniture, so do not hesitate to ask. Try to get information about the age, condition, and any other details they may have that would confirm that the item they are selling is a genuine antique Victorian table.
Uses – Another factor to consider is the type of Victorian table to purchase. Decide which room the Victorian table is going into and this could help one to choose the type of table to get.
Condition – The condition of the Victorian table is important. Reproductions look newer and are in better shape, while antique tables are more likely to have scratches and appear faded. Minor damage can be repaired, but you may wish to avoid pieces that have too much wear or structural damage.
Typical Features of Victorian Tables
Victorian tables are known for three things:
1. Dark woods – Most Victorian tables are made from dark woods including mahogany, rosewood, and walnut. Reproductions made from other woods, such as oak, were stained with dark, deep browns.
2. Heavy proportions – Victorian tables typically feature large surfaces and bulky pedestals.
3. Curves and carvings – The legs of Victorian tables are meticulously carved and curve at the bottom.
How to Care for Victorian Tables
Victorian tables are made from dark woods. To preserve the wood colour, it is recommended to clean the surface regularly with a furniture polish. Wipe the surface dry before applying the polish with a soft cloth or spray onto the surface. The coating will protect the surface from water and sunlight. Dark woods also should not be placed in direct sunlight as the sun's rays may bleach the wood, thus making it lose its colours.
Popular Victorian Table Makers and Designers
Edward William Godwin
Augustus Welby Northmore Pugin
George Washington Jack
George Edmund Street
Philip Webb
Arthur Heygote Mackmurdo
Accessories and Add-ons for Victorian Tables
There are several accessories that would complete a Victorian table. They include:
Chairs
Lamps/ Candle holders
Vases
Placemats and coasters
Finding a Victorian Table on eBay
Once you determine the type of Victorian table you want to purchase, visit the Antiques portal on eBay, click on 'Antique Furniture' then 'Tables' and start searching items listings. The Categories list on the left-hand side of the eBay page helps to narrow the search.
Searching for a Victorian Table on eBay
Search eBay listing titles for specific words when shopping for a Victorian table. For example, to find a Victorian dinner table, type 'Victorian dinner table' into the search box, and then click the Advanced button to customise the results. Also visit eBay's Search Tips for more advice on searching for a Victorian table with keywords. If you can't find the exact Victorian table you want, try shopping eBay Stores..
Conclusion
Victorian furniture may never go out of style. The features that were added to the table by designers of the time, including Edward William Godwin and Augustus Welby Northmore Pugin, changed the way furniture was made. Victorian reproductions made from dark woods are very popular today. After browsing through the various types of Victorian tables on eBay, select one that is appealing. Consider the details of the Victorian table listed on the product page and contact the seller with any questions. Once you have collected all the information you need, you can buy a Victorian table safely and securely on eBay..