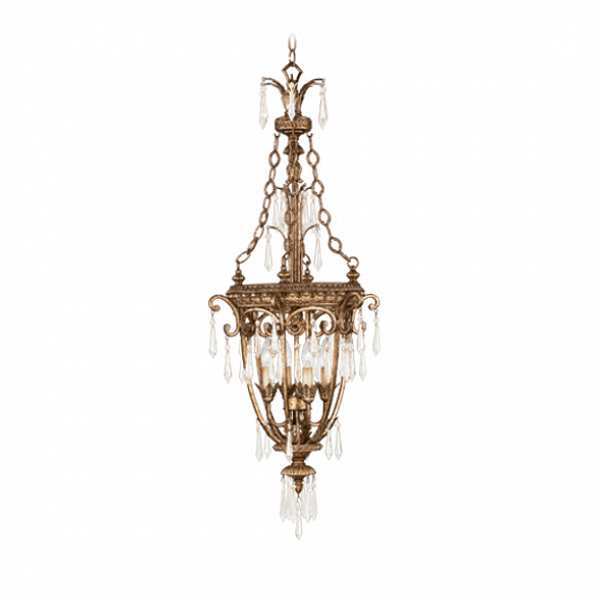 On eBay, vintage ceiling lights are simply listed as Used. A used or vintage ceiling light is often a good value. Newer fixtures that were previously owned will be substantially less expensive than fixtures purchased for the first time.
Why a Vintage Ceiling Light?
Since electrical lighting has only been in general use since the early twentieth century, many used ceiling light fixtures are old enough to be interesting, but not old enough to be valued as antiques. Since ceiling fixtures are mounted high up and do not have moving parts, they are rarely subject to physical wear. Moreover, since ceiling lights are so much a part of the style and appearance of a room, they are usually removed because of remodelling, and not because there's anything wrong with them, functionally. Therefore, most used ceiling lights are in good condition. Older fixtures often feature high quality at an affordable price. Inexpensive new ceiling lights tend to be low quality. Older ceiling lights often feature glass crystal, bronze and other substantial materials, with a high level of craftsmanship. However, they're bargains compared to ordinary modern ceiling lights, let alone new light fixtures built to a similar standard. Finally, while high street shops and even online retailers offer a limited selection of styles, buying a vintage ceiling light makes a hundred years or more of lighting fixture fashion accessible to the buyer. The homes we live in, and the other buildings we use are not all new; they were built over hundreds of years. Modern fashions in interior design are not the only, or always the best, option. An interior design can give a nod to architectural history. Today, this is even true of twentieth century architecture. For example, many people are decorating their 1950s houses with 1950s furniture and fixtures, or doing up their 1920s houses in art deco. Finding just the right ceiling fixture can really make a difference in the authenticity of the interior.
eBay's Categories for Ceiling Lights
eBay's selection of vintage ceiling lights is divided up by type, by number of lights, by style, by material, by brand, by room, and by main colour. Most of the categories are self explanatory. The Style option is little-used. The majority of the ceiling lights that are categorised are sorted by type. However, many are not categorised that way, either. Buyers who have not found what they're looking for under 'type' may benefit from looking at the full list. Here are brief descriptions of the most common types of vintage ceiling lights listed on eBay:
| | |
| --- | --- |
| Chandelier | Chandeliers are hanging lights with multiple sources of illumination. When most people picture a chandelier, they think of a fixture that is heavily decorated with crystals, which reflect and scatter the light, creating complex patterns. However, any lighting fixture with multiple sources of illumination is technically a chandelier, even if it has a very simple design. |
| Pendant | Pendants are hanging lights, often with one bulb and a decorative covering. However, non-crystal chandeliers are sometimes also referred to as pendants, and flush and semi-flush mounted lights are sometimes included in this category, too. |
| Recessed | Recessed lighting fixtures are set into the spaces between the ceiling joists, so that only the top of the bulb is below the horizontal level of the ceiling. They are a fairly modern lighting option, and have become popular since the late twentieth century. |
| Spot Light | Spotlights are directional and are meant to highlight a particular area or object. They are often adjustable, and they are often used in track lighting. |
| Tiffany | Tiffany style ceiling lights are most often flush mounted lights or pendants. This style dates to the late nineteenth and early twentieth centuries, during the Art Nouveau, Arts and Crafts, and Art Deco movements. They feature complex, colourful stained and leaded glass shades. |
| Track Lighting | Track lighting usually consists of multiple spotlights mounted on a track. The individual lights can be swivelled and moved back and forth. |
Two common types of ceiling lights are conspicuously absent from the list: flush-mounted and semi-flush mounted lights. Flush mounted and semi-flush mounted lights have been popular since the 1930s. Flush mounted lights typically consist of a metal frame that mounts to the ceiling, with a translucent glass hemisphere protecting the bulb. They are available in many styles, and they're a practical choice because they don't collect dust. Semi-flush mounted lights usually have a piece of glass hanging below the bulb, and they look similar to flush mounted lights. It's generally easier to change their bulbs, but they do collect dust.
Vintage Ceiling Light Design
Ceiling lights are a practical and obvious way to light an interior space, and they've been used at least since Roman times. The earliest ceiling lights were oil lamps and candles that were lit, then lifted by rope and pulley. Eventually, the candle-based ceiling lights evolved into chandeliers, and the oil lamps evolved into pendants. That's why, even today, many chandeliers feature candle-shaped bulbs in a symmetrical arrangement. In fact, some vintage and vintage-style chandeliers are still designed for use with candles. However, today the fixtures and the candles are decorative, and candle chandeliers are not intended to be lit. Antique candle and gas-based lighting fixtures are especially effective as decoration, and that's why fixtures that don't work can still be part of a stylish home. Alternatively, with a little DIY knowledge, it's usually possible to repair or retrofit the electrical components in a ceiling light. For an interior with a pre-twentieth century look, classically styled chandeliers and pendants are the most stylistically consistent choice. Flush mounted and semi-flush mounted lights usually feature a translucent glass plate that helps to diffuse the light and that hides the bulb. These types of ceiling lights are simple and practical, and they work well in small spaces as well as in larger rooms. In the late twentieth century, the modern design movement introduced track lighting and recessed lighting to the domestic market. Track lighting looks technical, similar to the lighting in a theatre or art gallery. Recessed lighting is designed to evenly light a space and to be as unobtrusive as possible. However, it can interrupt loft insulation and allow moisture to pass from the living space into the loft, as well, so it needs to be detailed properly. These types of ceiling lights work best in modern or contemporary-style interiors.
Practical Considerations When Choosing a Vintage Ceiling Light
Energy efficient compact fluorescent and LED bulbs have been designed to work with existing fixtures. That means that most used and vintage ceiling lights will function with modern light bulbs. However, the bulbs do not look exactly like their incandescent predecessors. Although compact fluorescent and LED bulbs are available in translucent glass-covered configurations that look acceptable in candle-style fixtures, they are slightly larger than the standard incandescents. It's always a good idea to confirm that the energy efficient bulbs will fit the fixture. A second consideration is the lighting intensity required for the space. The best way to determine the amount of light needed is to measure the space and calculate the number of square metres that need to be lighted: metres long times metres wide. Then, multiply that by 15. That will provide the approximate number of watts needed for standard incandescent bulbs to provide adequate light for most tasks. Energy saving bulbs usually include the equivalent number of incandescent watts on their packaging.
In Conclusion
A vintage ceiling light can maximise style while minimising cost. It can give an indoor environment a unique and sophisticated look, or it can help to recreate a historical interior decorating style. Most modern light bulbs are designed to work in traditional fixtures, so using vintage ceiling lights is usually not too much of a challenge, even though most of them were designed for standard incandescent bulbs. Vintage ceiling lights can open up a whole new world of inexpensive, high quality lighting options.