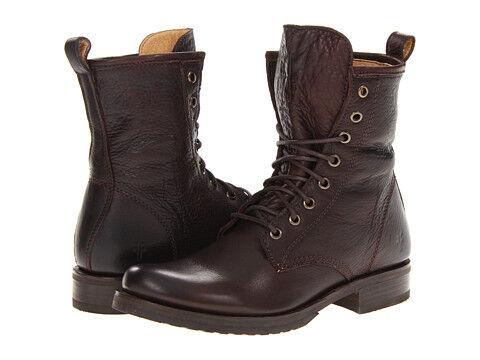 Vintage combat boots have gained popularity in the fashion world over the last decade. They have become a symbol of rebellion, functionality, and industrial style for many fashion genres. A person doesn't have to be gothic or punk to wear combat boots. One of the best features of combat boots is their versatility. Women can wear them with anything from a frilly dress to khaki pants. Before jumping on this trend, there are several things to consider, such as comfort. This is the first major mistake made when purchasing vintage combat boots. The wearer should try to get boots that are going to fit very well.
Combat boots are built for durability. These boots will not expand over time like other shoes do. If the boots do not fit the feet correctly, then do not buy them. Buy boots that are in good condition. Check the boots for cracks and holes, especially since they are vintage boots. Cracks and holes can be repaired in these types of boots, but may prove costly. Finally, make sure the boots are not knock-offs. Vintage combat boots should be military surplus. Anything else is not worth the money.
Selecting a Pair of Vintage Combat Boots
When selecting a pair of vintage combat boots, there are a couple of things to keep in mind. Size, material, and price are some of the key considerations for most buyers.
Size
When buying vintage combat boots, the purchaser may be tempted to buy them even if they do not fit quite right, hoping they will adjust to the wearer's foot over time. This is not a good idea, as these boots are built for durability out in the field, and do not expand over time with wear. Buy boots that fit like a glove. If possible get a size in the closest half size increment. If the boots still are too large, then thick hiker's socks will help to fill out the extra space and prevent chafing of the legs and ankles.
Material
The majority of vintage combat boots are leather. This is the top choice, although there are other options available. Some vintage combat boots are made of canvas. This material is flexible and breathes better than leather, however, leather is more durable. If a good investment on vintage combat boots is what the wearer is looking for, then leather is their best bet.
Price
With vintage combat boots, the phrase 'You get what you pay for' certainly applies. While price should not be the only consideration when purchasing a pair of boots, it is important. If the wearer is trying to save money by buying a cheaper pair of boots, she may end up spending more money in the long run by needing to replace the boots more often. Research each of the boots being considered to see how they have been reviewed for quality, material, and durability. If a decision cannot be made, then buy the cheapest pair. Do not sacrifice any of those three qualities to save a couple of bucks. The best vintage combat boots available may not be the cheapest or necessarily the most expensive.
Use
When buying vintage combat boots, the main consideration when choosing a style is to determine the conditions in which the boots will be used, such as hiking or simply everyday use. For example, if the boots will be worn every day, then durability and comfort are the most important considerations. These boots can be paired with many of today's styles and worn in many different settings. Ladies like to pair vintage combat boots with dainty dresses, long skirts, blue jeans, cargo pants, and khakis. If intended for hiking, then a boot's grip and tread are vital elements. All factors are important when choosing boots, but some are more important than others and benefit the wearer when prioritised.
Types of Vintage Combat Boots
There are five main types of vintage combat boots. The first of these issued by the military is the all-leather standard combat boot. These are the type of boots worn by military pilots and aircrews. These boots lack heavy lugs on the soles to limit the possibility of aircrew getting stuck on rudder pedals and such. These boots are leather because, in the event of a fire, nylon boots can melt. The second type of boot is a leather and canvas hybrid. This boot was designed to be worn in the jungle. These boots were released in the 1950s, but were not popular and were poorly made.
The third type is referred to as the 1st Pattern Jungle Boot. This pattern of boot is characterised by its black leather toe, black leather heel box, and green nylon upper sides. There are two drainage eyelets in the side of each boot to allow the boot to breathe and water to escape. The fourth type of boot is called the 2nd Pattern Jungle Boot. This boot is identical to the 1st Pattern Jungle Boot, but introduces an ankle support panel and spiked protection plate. The 1st Pattern Jungle Boot and the 2nd Pattern Jungle Boot both have Vibram soles. The fifth type of vintage combat boot is the 3rd Pattern Jungle Boot. This boot is identical to the 2nd Pattern Jungle Boot with one key exception: the Panama sole, designed for improved traction in mud, replaces the Vibram sole.
An excellent way to distinguish whether a particular pair of vintage combat boots were worn in wartime is the stitching at the back of the heel. Boots made before the mid-1970s boasts vertical stitching up the back of the heel. Boots that were made after the mid-1970s do not have this stitching. Most vintage combat boots that were worn in the military will have an information tag inside that provides instructions for use. These instructions include how to pull on the boots, how to keep them clean, wearing one's pants on the outside of the boot, how to choose the right boot size, and cautions the wearer to look out for insects and snakes.
How to Care For Vintage Combat Boots
Proper care is the best way to ensure vintage combat boots will be wearable for years to come. Pay close attention to the type of material used. Make sure that the steps used to care for, clean, and polish the vintage combat boots are not, in fact, harmful to the boots. First, scrub the boots gently with water, using a stiff brush. If water does not clean the boots, then use a water-based product to clean them. Do not use soap or any oil-based product. To polish, use a dab of mink oil, rubbing a small amount of oil into the leather.
To avoid cracking, chipping, and to protect against the elements, massage a boot-dressing product into the leather. Allow the boots to dry for as long as it takes for the colour of the leather to become uniform. This could be anywhere from several hours to several days. Waterproof the boots, using a soft cloth to rub a waterproofing product into the leather of the boots. This will safeguard the leather from water damage.
How to Find Vintage Combat Boots on eBay
There are many options when searching for vintage combat boots on eBay. To search, enter the search term 'vintage combat boots' in the search bar. If you want to narrow your search to a certain type of boot, then enter that search-related identifier, such as 'Panama sole vintage combat boot'. If you are looking for a certain size, then there will be an option to choose this on the screen. There are also options to choose other descriptive terms, like 'leather&' or 'canvas'.
If you want to purchase a pair of vintage combat boots,, but are unsure of the size and fit, pay close attention to the exchange and refund policies of the sellers. If their policies are not listed, send them a private message and inquire about them. You should never order from a seller if you do not know ahead of time what these policies are. Don't take a chance of getting stuck with merchandise that does not fit or is not as described in the seller's listing.
Conclusion
Vintage combat boots are an excellent option for both fashionistas and sports enthusiasts. These types of boots are versatile in both function and style. They can be worn with a long skirt, pair of khakis, or dressed down with blue jeans. They are popular with all genres, including gothic, industrial, and mainstream. The main types of vintage combat boots come from military surplus.
There are five categories of boots that fall under the military umbrella and are characterised by material and sole pattern. To determine whether the vintage combat boots are military or even from wartime, there should be a tag inside the boot with instructions for use. Caring for vintage combat boots is easy if a few simple steps are followed. Never use soap on the boot. Never use an oil-based product; water-based is recommended. Use a boot-dressing product to protect the boots from cracking and chipping. Always inspect the soles and sides of the boots for holes and cracks.