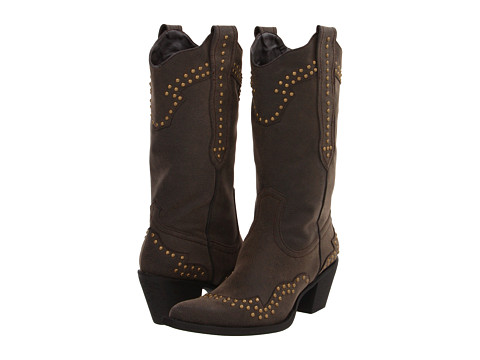 The colorful history of cowboy boots can be traced back to Genghis Khan's red boots with wooden heels. These boots evolved into the English riding boots used in the 18th century and the Wellington boots preferred by the United States Army during the Civil War. The era of the cowboy boot began around 1865 in the United States. Cowboys used these durable boots to drive cattle from Texas to Kansas. Early cowboy boots were strictly work boots and had no snazzy details or stitchery. They were black or brown with a straight top and slick sole. The movie stars of the Spaghetti Westerns jazzed up cowboy boots by adding detailed stitching, embossing, and inlays. Cowboy boots continue to be popular with the masses and are worn by many of today's celebrities and political icons.
Many versions of vintage cowboy boots from the earlier part of the century are plain work boots, with a strong resemblance to Wellington boots. Later versions, made in the 1930s to the 1940s, have detailed stitching, customisation, exotic leathers, and gold or silver tips. Cowboy boots enjoy an iconic status and each new generation adds their own distinctive ornamentation.
Value and Price
There are many factors that determine price: shoe type, the grade of the particular brand, and whether any part of the boot was handmade. A cheaper pair of vintage cowboy boots may be fairly priced at about £160, while a more expensive pair can cost as much as £1600. Vintage cowboy boots fashioned out of rare, exotic materials, like alligator skin, snakeskin, ostrich leather, and elephant skin, are the highest-priced boots on the market. Cowhide and roughout leathers are popular because they are easily found and priced lower than their exotic cousins.
Types of Materials and How to Care for Them
Taking care of cowboy boots is relatively easy, with just a few things to remember to keep the boots looking their best. The first is always to wipe off all mud or dirt immediately, while it is still damp. Sponge off dry dust with a damp cloth. Permitting this debris to stay on the boot will dehydrate the leather. Allow the boots to dry naturally and keep them away from any heating source, like a fire or radiator. A dry boot can be restored with the help of saddle soap, but this soap should only be used for restoration because it can destroy the finish of the boot. Hard wax polish should also be avoided. Instead, opt for shoe cream or leather conditioner. Vintage cowboy boots may have some scuffing and fading associated with the foot part of the boot; that is normal and is considered a 'badge of pride' by some cowboy boot enthusiasts.
Cowhide Vintage Cowboy Boots
Cowhide cowboy boots are the most common type of cowboy boot. These boots are sturdy, strong, and wear well. They are the toughest of all boots and usually are dyed brown or black in colour. To care for them, remove dirt or dust with a stiff brush, and then clean the leather with a leather conditioner or leather balm. Apply a small dab of matching colour shoe cream to the leather and brush it all over the leather. Use a soft cloth to buff the leather to the desired lustre.
Roughout or Suede Vintage Cowboy Boots
Roughout or suede cowboy boots are softer to the touch, but are as durable as cowhide. These boots vary from a light tan to a pale brown colour. These boots must be kept away from mud and water to avoid permanent damage and staining. To clean them, use a stiff brush and then treat with a stain protector.
Alligator Skin Vintage Cowboy Boots
Alligator skin vintage cowboy boots are available in an array of colours because the skins are very receptive to dyes. Darker colours are preferred due to colour fastness. To care for this type of boot, use a soft bristle brush or cloth to wipe away any dirt or dust, and then apply reptile conditioner with a soft cloth and let dry. Buff the leather with the cloth and continue to apply thin coats of reptile conditioner as needed.
Ostrich Leather Vintage Cowboy Boots
Ostrich leather vintage cowboy boots are unique because of the grain of the leather. Full quill ostrich leather has defined indentions and is uneven to the touch, while ostrich leather has reduced indentions and is smooth to the touch. Both are strong, smooth, and luxurious. Ostrich leather fits well on the foot and feels great. The care for ostrich leather vintage cowboy boots is the same as for alligator skin.
Snakeskin Vintage Cowboy Boots
Snakeskin is a smooth material that is delicate to the touch. To clean dirt and grime from the boot and to keep snakeskin healthy looking, use a soft cloth to wipe against the scales. Polish the skin with cream polish by wiping it in the opposite direction, that is, with the grain of the scales. Apply a reptile conditioner with another soft cloth, again going with the grain of the scales. Be aware that snakeskin yellows with age and exposure to the sun. Cleaning products do not remove this yellow tint.
Matte or Glazed Python Vintage Cowboy Boots
Python snake leather is another exotic leather that has unique markings and scales. Matte python leather has a matte finish, while glazed python leather is coated in wax to make the leather feel softer to touch. Sometimes, the leather is bleached to remove the markings or make them fainter. Matte and glazed python vintage cowboy boots can be cleaned and cared for in the same way as snakeskin boots.
Other Types of Exotic Vintage Cowboy Boots
There are other types of exotic leather, such as elephant and lizard, that can be found at the upper end of the market. These types of leathers are best cared for by brushing off dirt and dust with a soft brush. Then, clean the boot with a leather conditioner, and follow by applying a thin coat of matching leather polish. Finally, buff with a soft cloth to the preferred lustre.
Vintage Cowboy Boot Features
Style variation is one of the most appealing characteristics of vintage cowboy boots. There is no limit to the differences that can be found when comparing boots. Heel height may range from low to high, with toes ranging from round to square, and the soles thick to thin. The tops of the boots can vary from plain to decorated leather and often boast elaborate stitching. A buyer can find vintage cowboy boots in all colours, from the conservative brown or black, to white, blue, and even purple. The most significant feature that is found on all vintage cowboy boots is the toe wrinkle. This is the straight line stitch across the top of the toe. Another feature that is very common on most cowboy boots is the V-cut across the head of the boot. This was popular with cowboys in the 1800s and is continued in today's modern styles.
The stitching on cowboy boots can vary from minimal detailing to elaborate designs. The top stitching of a boot is done with a single needle, one row at a time. A craftsman guides the leather through the machine and lines up the rows, an art that can take years to learn. The best type of stitching will keep the eye travelling the pattern's curves and points along the boot. This is the best indicator of quality in boot design. The stitching on the side of the boots can tell a story or serve purely as decoration. Stitching can also identify the particular craftsman who did the stitching work, as many boot makers will choose a signature design and use it exclusively throughout their career. One place to look for the signature is near the sole of the boot. There is usually a row of stitching to the side that holds the leather reinforcements in place. The elaborate stitching which defines the toe of the boot can also reveal the identity of the maker.
Tips For Buying Vintage Cowboy Boots
A quality cowboy boot is designed to be worn every day. When purchasing a pair, there are a few things to look for: leather heels, a piece of leather stitched behind the heel to give added support and strength, no gouges or marks in the leather, no visible glue, a hard toe end, and straight, even stitching with no loose threads.
Purchasing Vintage Cowboy Boots on eBay
eBay offers many styles and colours of vintage cowboy boots. To search for a pair, enter 'vintage cowboy boots' into the search bar on the eBay home page. If there are any particular features that you seek in a boot, then enter those options to narrow your search. Because vintage cowboy boots are designed to fit your foot like a glove, it is important to ensure that you order the correct size. You should be aware of the seller's return and exchange policies. Look for pictures and descriptions that describes the boots' condition to avoid purchasing a pair in poor condition. Look at the stitching, soles, design, and leather sides, and note any marks or questionable areas. Finding the perfect pair can sometimes feel like searching for a needle in a haystack. If you find a pair you like, don't hesitate too long, as the best boots sell quickly.
Conclusion
Vintage cowboy boots are a great option for an individual looking for versatility and durability. There are many options of boots available, from the popular cowhide to the exotic python. Different types of cowboy boot material require different care techniques, so it is important to identify the best method for the particular kind of material being purchased. A good brush, a soft cloth, and the right kind of conditioner or cream will prolong the life of vintage cowboy boots.
Vintage cowboy boots range in price substantially, from as low as £160 for a medium quality pair of boots to more than £1600 for a high quality, custom-made pair. Many sellers offer convenient one-stop shopping, with a selection of boots and cleaners under one roof. Vintage cowboy boots are appropriate whether worn for fashion or work, and some brands are more suited for one than the other. When choosing, base any purchase decision on use, care, and price for the best lifestyle fit.