You may or may not use your decanter to store and serve alcohol. Instead, as an accumulator of collectibles, you may decide that a vintage cut glass decanter suits your taste as an addition to your porcelain and glass collection. Find out how to buy one of these storage or serving vessels whether you purchase a decanter for entertaining guests or to add one or more to your display of exclusive showpieces.
Look for Special Edition Examples
When you collect classic decanters, look for Jim Bean collectible decanters, also available in bottles. You may find vintage examples exemplifying several editions of ducks, cars, and trains, or glass whiskey distilling bottles made during the 50s. Other limited editions may include carnival glass decanters made by Wheaton, 1969 bisque porcelain coal car decanters, or German lead crystal whiskey decanters. Look for the production years found on the bottoms of the containers, find out the type of liquor the decanters hold, and note other information available from the adhered labels. A pristine specimen is more valuable than one with chips and cracks.
Attractive Styling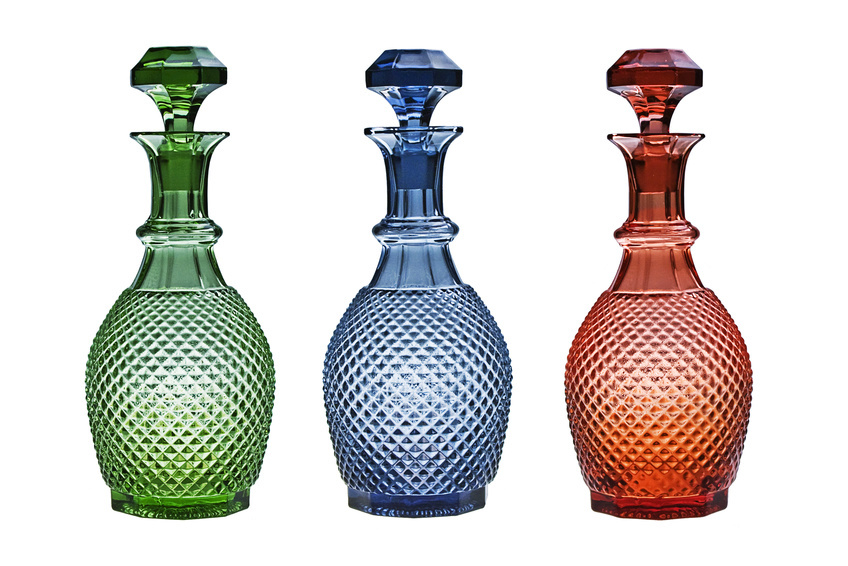 A vintage decanter does not need to look stylish if your intent is to pour liquids back and forth between two vessels to separate the sediment. However, when entertaining guests is paramount to your lifestyle, choose a pretty crystal decanter to serve wine or other alcoholic beverages. By placing wine in a decanter, oxygen mixes with the liquid, improving taste and releasing natural aromas. Collectors also like looking at their finds, so purchasing a classic, cut glass decanter and wine glasses is pleasing to look at as they reflect sunlight streaming through a window. Look for older pieces of Waterford Crystal decanters since the company has been in business since 1783, and has an established reputation as a manufacturer of fine crystal.
The Decanter's Lip Is Important

If you intend to use your vintage decanter as a service piece, the decanter's lip should measure no more than 6.5 cm wide for optimum pouring, since a narrow opening causes spills and mishaps. When considering the size of the decanter's lip, also be particular about the width of the base, which should be no more than 15 cm. This is the perfect size for maintaining a proper air-to-wine relationship to retain flavour. Decanters can be practical additions to your collection since dribbling is unacceptable coming from a decanter's lip while refilling your guests' wine glasses.