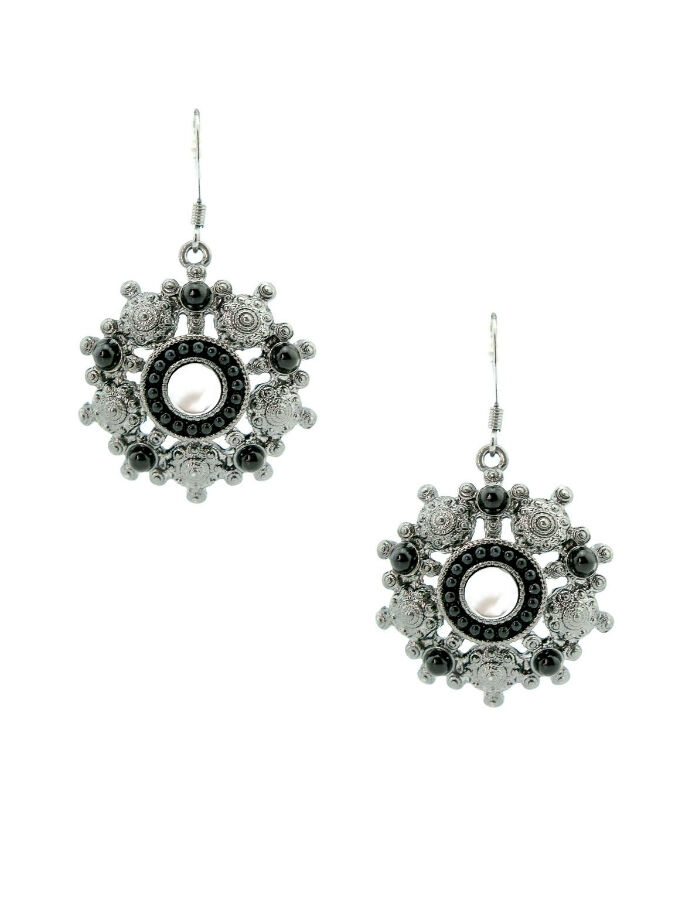 Vintage designer earrings range from those made in the 1920s until the 1960s. They are available in a variety of shapes and sizes, including delicate studs, hoops, and long drop earrings. Vintage designer earrings can be found in a range of precious metals, most commonly gold, silver, and platinum. All authentic vintage designer earrings made of these three metals should have hallmarks indicating their creation date and manufacturer. Vintage designer earrings have a range of fastener options. For larger, heavier, or more expensive earrings, buyers are advised to consider screw backs or locking back fasteners, as they offer the most secure fittings and help to hold the earrings in place firmly, which reduces the risk of loss.
When buying vintage designer earrings, shoppers should consider the types of earrings and fasteners, as well as how to check and authenticate the earrings.Vintage designer earrings can be bought from antiques dealers and eBay, which offers a wide choice of earrings from a range of popular vintage design houses.
Types of Vintage Designer Earrings
Vintage designer earrings, like contemporary earrings, can be divided into three broad categories. While there are a range of different shapes, sizes, and styles within each category, they all share a very similar basic form.
Vintage Designer Stud Earrings
Vintage designer stud earrings are small and delicate. The most common design is a small ball that sits over the piercing on the earlobe. Other options include shaped studs, such as worked metal flowers, leaves, or hearts. Vintage designer stud earrings are secured by a post that travels through the ear and are held in place by a butterfly back, also known as a push back or screw back.
Vintage Designer Hoop Earrings
Vintage designer hoop earrings are circular or semicircular. They have the appearance of a ring in the ear. They are secured either by a straight metal post or a thin hook. Vintage designer hoop earrings are often simple and understated, and typically constructed of plain precious metal. They can also be found encrusted with precious and semi-precious gemstones. Vintage designer hoop earrings vary considerably in size, from inconspicuous earrings to bold designs. They have a variety of fasteners.
Vintage Designer Drop Earrings
Vintage designer drop earrings dangle from the ear lobe. The length of the earrings varies from a centimetre to extra long models that brush the shoulders. Vintage designer drop earrings vary in their construction and include large, colourful pieces, such as bakelite models from the 1950s and 1960s; beads; worked precious metals; and pieces studded with precious gems. Vintage designer drop earrings can be secured by any type of post or fastener.
Types of Vintage Designer Earring Fasteners
Vintage designer earrings have a range of fastener options. Different earring styles favour different earring fasteners. Some are designed to secure more expensive vintage designer earrings.
Screw Back Vintage Designer Fasteners
Screw back vintage designer fasteners offer the greatest amount of security. They are most commonly found on expensive vintage designer earrings made of precious metals or with valuable gemstones. Vintage designer studs and hoops often have screw backs, as do some drop earrings, but this is less common. Screw back vintage designer earrings have a post with a threaded end. A threaded back screws onto the post, providing a secure fit, and preventing the earring from falling out. With age, the screw thread may become worn and less effective, but this fastener is by far the safest option for those concerned about losing their vintage designer earrings.
Butterfly Back Vintage Designer Fasteners
Butterfly back vintage designer fasteners, also known as friction backs, are the least expensive option. They are very common, but offer much less secure than screw backs. The fastener has a flat back with a top shaped like a butterfly and a straight post with no threaded part. Butterfly backs push onto the post, holding the earring in place. They are easy to use and quick to put on and remove.
Push Back Vintage Designer Fasteners
Push back vintage designer fasteners are very similar to butterfly backs. A straight, thin post travels through the earlobe and sits inside a small hole in another post that makes up the fastener mechanism. Inexpensive and simple, they offer very little security, and are not suited to expensive vintage earrings.
Locking Back Vintage Designer Fasteners
Locking back vintage designer fasteners offer a reasonable amount of security. The post of the earring is pushed through a small hole in a flat disc that acts as the earring fastener. There are small notches located on either side of the disc that are compressed to widen the central hole and release the post. These vintage designer earring backs also hold the earrings in position, ensuring they do not fall out of place.
Advantages and Disadvantages of Vintage Designer Fasteners
Using the table below, buyers can quickly assess their choices for vintage designer earring fasteners. There are both advantages and disadvantages to each style.
Type of Earring Fastener

Advantages

Disadvantages

Screw back

Very secure

Holds earring in position

Expensive

Thread can wear with age

Requires manual dexterity

Butterfly back

Inexpensive

Easy to use

Not very secure

Push back

Inexpensive

Easy to use

Not very secure

Locking back

Very secure

Holds earrings in place

Easy to use

Expensive
As shown in the table above, screw back and locking back fasteners offer the most security for high quality earrings. They are much preferred over butterfly and push back models.
Factors to Consider When Buying Vintage Designer Earrings
When buying vintage designer earrings, there are a number of factors that should be considered. To ensure that buyers get the best vintage designer earrings, they need to examine them fully and check any hallmarks.
Wear and Damage for Vintage Designer Earrings
Vintage designer earrings all have some signs of general wear and tear regardless of the design house or specific vintage era that the earrings came from. It is unusual to find vintage designer earrings in mint condition, and a pristine pair of earrings may not be authentically vintage. Wear should be expected on the earring backs and on the front surfaces where the earring has rubbed on clothing or rested on a surface after removal. Vintage designer earrings should appear well constructed with no loose parts. Given that these pieces may be up to 100 years old, it is important to check the integrity of the joins and gem settings. The post should be joined or welded securely to the body of the earring. If any gems are present, they should be secure in their settings. Vintage designer earrings with missing gems should be avoided as finding replacement gems can be difficult.
Authenticating Vintage Designer Earrings
Platinum, gold, and silver vintage designer earrings should have hallmarks indicating the year in which they were produced, the manufacturer, and the purity of the metal. Hallmarks also commonly indicate the design house in which the earrings were produced, such as the House of Dior, while some of the most prestigious designers had their own hallmark, such as Mitchell Maer. The hallmarks make identifying the age and manufacturer of vintage designer earrings much simpler, although a magnifying glass is required because of the small size. It is also possible to purchase a hallmark identification guide to make the process even easier.
How to Buy Vintage Designer Earrings on eBay
When buying vintage designer earrings on eBay, the simplest method is to search from the eBay homepage by entering a search phrase, such as "gold plated vintage designer earrings". Alternatively, shoppers can navigate to the relevant category and search from there. Using specific search terms, such as the colour, metal, age, or style of vintage designer earrings, greatly reduces the number of results. For even fewer results, buyers can use filters, such as a defined price range.
It is advisable to read the item listing thoroughly before buying the vintage designer earrings, to ensure that they are a good match. If there are any outstanding questions or concerns, the buyer is able to contact the seller to ask for more information regarding the earrings or to request additional photos, such as close ups of the hallmarks. For valuable vintage designer earrings, shoppers are advised to request guaranteed or insured delivery up to the value of the earrings.
Conclusion
Vintage designer earrings are not considered old fashioned or outdated: they are jewellery appreciated for their charm and style that goes back to more elegant times. Styles of vintage designer earrings include sophisticated pearl studs and glamorous drop earrings, dripping with diamonds. Studs are typically small and delicate, usually featuring a single gemstone or a gleaming piece of plain precious metal. Hoop earrings can be simple, thin precious metal hoops or large, thick, elaborate hoops encrusted with gemstones. Drop earrings dangle from the ears, and are available in different shapes and sizes, from one centimetre long to shoulder brushing pieces. Once the buyer has chosen a style, they must decide on the type of fastener that they prefer. For maximum security, a screw back or locking back fastener is the best choice, although these tend to be a more expensive than butterfly back or a push back fasteners. eBay sellers offer a range of vintage designer earrings for a classic look.