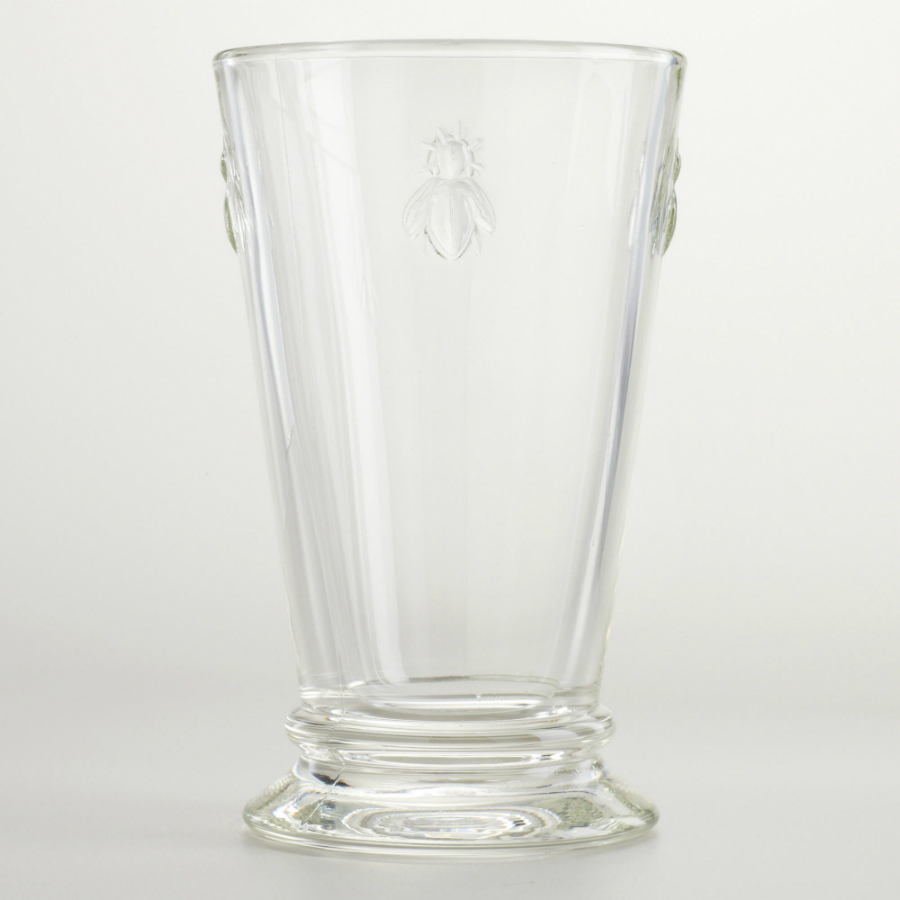 Vintage, by definition, is a winemaking term that refers to a wine that is made from grapes grown in one season. It has experienced a broadening of definition, however, meaning that it now applies to anything that is seen to be antique, collectable, or desirable for its retro-style, including glassware of all types. Vintage refers to a particular period of time, and people buy vintage glassware either because of its history, because of its manufacturing process, or for either nostalgic or personal reasons. Vintage glassware adds character to the home and also has environmental benefits, as it diverts items away from landfill sites.
Vintage glassware, by its nature, is not new; buyers should be aware of the fact that items sold in this category are likely to show signs of use by previous owners. Some vintage glassware will have been handled little and used lightly, but other pieces may have undergone much washing and the condition will reflect this. Distressed vintage glassware is fine for display purposes, but items that will be used for their intended function need to be in good condition. The value placed on vintage glassware will be entirely dependent on what the market is prepared to pay. For example, prices may appear to be very high for items that are highly regarded by the seller, and highly sought after by buyers. Likewise, a buyer may resolve to own a particular item, which may ultimately increase the eventual selling price through aggressive or determined bidding. It is sometimes a useful strategy to monitor the market over an extended period to keep an eye on how things are moving.
How to Choose Vintage Glassware
A little preliminary research is a useful starting point. Vintage glassware may include period items such as Georgian decanters or Victorian wine glasses. Looking at antique guides can give a fair indication of the current market value of these – equally online research or a visit to a local dealer might help provide the requisite background information. The key point is to consider whether the items will serve a decorative purpose or become a working set. Using flawless, expensive, 18th century spirit glasses might possess limited appeal if they are dropped, chipped or damaged in any way. It is also worth considering whether the pieces will enhance the décor of the room in which they will be housed. If the object of the exercise is to create a unified ambience, then vintage glassware may not always be the best choice in a room full of contemporary gadgets. Once the decision to purchase has been made, antique dealers, retro shops, and online sites are all good options to explore. Just remember that there may be a limited selection of items relative to off the shelf glassware, as choice and variety in the pre-owned market is restricted. Careful examination, however, may well turn up a classic piece.
Categories of Vintage Glassware
Anyone looking to purchase vintage glassware will find that there are many styles, ranging from genuinely vintage to more modern retro pieces. Retro generally refers to pieces that are more than 20 years old and are of a style that has gone out of and come back in to fashion. Many glassware items fall into this category; care should be taken when purchasing these, as the quality of the item cannot be guaranteed.
Genuine Vintage
These are items that have endured for many years and remain functional and/or beautiful despite their advanced age. Eminently collectable, they may be complete sets in their original boxes or a single surviving piece. Falling into a number of categories, vintage glassware is often hidden among items that could be more accurately described as vintage style; however, vases, decorative dishes and bowls, figurines and ornaments, and decanters can be found that are genuinely antique. Antique generally means something that is collectible and has a high value due to its age. Genuine vintage glassware may bear a manufacturer's mark in the form of a logo, handwritten, inked or stamped signature, or other identifier. It may also bear a date. These marks can help to establish the value of the item. It's worth spending some time getting familiar with these marks, as they can be crucial in deciding whether a given piece has any real worth or not. Cracks and chips can slash the value of genuine vintage glassware; however, damage is only important if the item is to be used for its given purpose or bought as an investment piece. If the purpose is for a display or decoration, distressed items can work just as well, depending on the surroundings.
Genuine Retro
Retro as a style harks back to the fashions of the recent past. For items to be genuinely retro, they need to be at least 20 years old. Defined by its shape, pattern and texture, glassware in this category is relatively plentiful due to the sheer volume that was manufactured. Post-war modernism in particular resulted in the design of very distinctive objects, including glassware, and many of these still fetch reasonable prices at auction.
Retro or Vintage Style
These are items of modern manufacture that reflect a vintage or retro style in their design. Recently made mass produced glassware in this style is more readily found, and can represent a good option for people looking for a less contemporary vibe.
Vintage Glassware Items
Although very popular, drinking glasses are far from the only vintage glassware items available. A careful search will also reveal items such as sundae dishes, candleholders, bowls, condiment and other bottles, vases, commemorative memorabilia, and dressing table sets. Vintage bottles can double as vases and give an effortless look to any table, and bottles of various heights and colours work together to create an eye-catching display. Vintage glass candleholders make great decorations, adding instant ambience to any room. Vintage glass dressing table sets are available in different colours and styles. The composition of the sets varies, but they are likely to include trinket boxes, powder bowls, dishes, and candlesticks on a tray. Glassware memorabilia is often etched or decorated with the date and the name of the event being commemorated.
Find Vintage Glassware On eBay
Finding the perfect item of vintage glassware can be achieved by searching through the extensive listings for glassware, starting on the eBay homepage. Type 'vintage glassware' into the search box and the resulting page will be a list of all glassware items that are described as vintage. Further refine the search in the panel on the left side of the screen, which lists various categories; these can be used to narrow down the number of results by selecting only those that are listed in a particular category – for example, in Cookware, Dining & Bar. This will avoid having to manually examine every single result to eliminate those that are not appropriate. Further refinements can be made to make the search even more specific and personalised. A realistic bid for vintage glassware is difficult to quantify, as it is such a subjective matter; the desirability of an individual item may outweigh its monetary worth; however, some sellers will place a reserve on an item – the lower limit below which they will not sell the item – and this reserve should be the starting point for buyers trying to decide if they will bid in the auction.
Conclusion
From commemorative memorabilia to the elegance of art deco styling, vintage glassware on eBay covers a wide range of styles and tastes and can surely meet the needs of any discriminating buyer. Vintage glassware has a very subjective value and it is difficult to be certain of its current market value. Collectable items will sometimes be listed in antique buying guides, but a retro piece that is required to complete a set or replace damaged items may be more valuable for sentimental reasons than for the intrinsic value of the glass itself. Being aware of this should help buyers and bidders assess whether or not it is worth bidding for particular items, and it also may help them to set a limit to the amount they are prepared to spend; however, any limit will reflect how much the buyer wishes to acquire the item in question. Fully researching both the items and the sellers before making a purchase will ensure complete satisfaction.