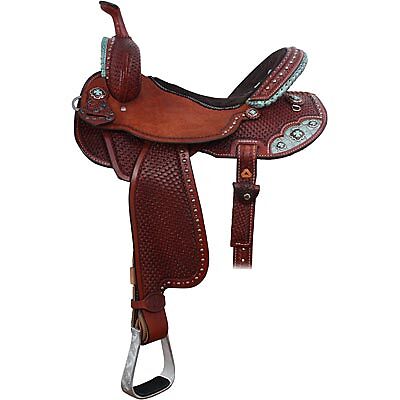 Find Antique Saddles on eBay
Many horse riding enthusiasts collect vintage saddles. The strongest market for vintage saddles on eBay is Western saddles from the USA.
People can own a piece of history from the American Wild West as a display item or as a working saddle, depending on the condition of the item.
If someone is going to use a vintage saddle for riding, it's important that it's the right fit both for them and their horse to ensure a comfortable experience.
The majority of vintage Western saddles are made from leather and are stamped with the maker's mark as well as being patterned. There are also vintage saddles available made from suede.
Vintage saddles from the 1880's onwards are highly sought-after and there are many renowned manufacturers to look out for which are listed later in this guide. There are links to vintage saddles available from overseas sellers too if someone can't find what they're looking for in the UK.
As well as Western saddles, there are also vintage Ottoman saddles, vintage Asian saddles, and even vintage donkey and camel saddles available on eBay.
Vintage Saddle Makers
There are a number of famous names when it comes to vintage saddles. The saddle makers listed below all enjoyed a good reputation for making among the finest Western saddles in the world.
R.T. Frazier
H.H. Heiser
J.C. Higgins
George Lawrence Co.
Fred Mueller
S.A. Wade
The names above are just a selection of the many renowned makers of Western saddles that have now become highly regarded in the vintage market. Saddles from many of these makers can be found on eBay.
Types of Vintage Saddle
Vintage saddles come in many different styles. The table below highlights four of the main types.
| Vintage Saddle Type | Summary |
| --- | --- |
| High Back | A distinctive higher back than other saddles. |
| Texas | A classic-style Western saddle made in this U.S. State |
| Bronc Busting | A unique design used for bucking bronco rides |
| | A more decorative style vintage Western saddle |
eBay is the first port of call for vintage saddle enthusiasts looking for these various kinds.
Vintage Saddle Terminology
Vintage Western saddles are made up of many different components. Listed below are some of the names of these together with a short explanation.
The cantle is at the back of the saddle and its job is to support the rider's back and provide stability. There are two main types of cantle: the pencil roll and Cheyenne roll. The two styles are similar; however the Cheyenne roll has a ledge that can be grabbed onto if necessary and gives some riders a bit more peace of mind.
The fender is designed to prevent any contact between the rider's leg and the horse. This makes the vintage saddle more comfortable for the horse and rider.
The role of the gullet is to support the saddle bars and keep them together. The height of the gullet determines the angle at which the vintage saddle will fit the horse so it's an important component.
The saddle horn can be used for holding onto while riding but was also traditionally used for tying rope around when herding cattle.
The pommel is also referred to as the swell or the fork. It is found underneath the horn on a vintage saddle and supports the front of the saddle tree.
Vintage saddle seats come in a range of shapes, sizes and slopes depending on the rider's preference and to provide comfort for the horse. Seats can also be hard or soft depending on the amount of padding an individual rider prefers.
The skirt on a vintage saddle is the part that hangs down from the seat and back housing and fits over the sides of the horse to make it more comfortable.
The stirrups are attached to the saddle via a long strap and are designed to help the rider mount his or her horse. The stirrups are also a convenient place for a rider to keep their feet while riding.
While the information above is by no means an exhaustive guide to each part of a vintage saddle, it does provide a useful overview of the main components.
Vintage Saddle Seat Sizes
The seat sizes for vintage saddles vary considerably depending on whether the saddle is for a child, woman, or man. The frame and weight of the individual rider will also play a part in choosing saddle size.
Seat sizes are measured in inches and taken from the horn base to the top centre of the cantle.
The table below provides a general guide to vintage saddle seat sizes.
| Saddle Seat Size | Who it's Suitable For |
| --- | --- |
| 8-13 Inches | Children |
| 14 Inches | Young Adults |
| 15 Inches | Average Fully Grown Adult |
| 16 Inches | Larger Adults |
| 17-20 Inches | Very Large Adults |
Looking After Vintage Saddles
Good maintenance of Western vintage saddles is essential to keep them in the best condition. There are a number of ways people can look after vintage saddles they've bought on eBay.
Liquid or solid glycerine soap is often the first step to maintaining a vintage leather saddle. Of course it depends on the condition of the saddle itself how much is needed. If the saddle is going to be used for riding, then using glycerine soap after each ride is wise. However, if the vintage saddle is going to be kept as part of a collection, it will require less ongoing maintenance.
Old leather needs to have its oils replenished in order to stay in the best shape. There are lots of different brands of leather conditioner that can be used to restore a vintage saddle's appearance and qualities. When someone is buying a vintage saddle on eBay they may want to ask the seller about what brand of leather conditioner they would recommend.
After using glycerine soap and leather conditioner, saddle oil is the next natural process in bringing a vintage saddle back to health. Saddle oil should always be used sparingly as an excess can change the colour of the leather itself.
5 Things to Consider When Buying a Vintage Saddle
Buying a vintage saddle on eBay requires consideration of a number of factors. Five of the main things to think about are described below.
Vintage horse saddles come in a variety of conditions depending on how old they are and the amount they've been used over the years.
When looking to buy a vintage saddle on eBay it's important to read the item description carefully regarding the description as well as paying close attention to the images provided by the seller.
The condition of the vintage saddle will play a part in whether or not it's suitable to still be used for riding. Other areas such as the experience of the rider, the type of horse being ridden, and the style of riding being planned will dictate the usability of a vintage saddle.
eBay is a great place to research prices of vintage saddles as well as buy them. The price being asked for a vintage saddle can depend on many factors:
- How Old it is
- The Maker of the Vintage Saddle
- How Common or Rare the Saddle is
The maker's mark is an important thing to look out for on a vintage saddle. Depending on the age of the saddle and how well-worn it is, the maker's mark may be very prominent still or slightly faded. The visibility of a maker's mark can impact on the price of vintage saddles.
If the vintage saddle is going to be used for riding then the seat size is an important factor. However, if the vintage saddle is going to be added to someone's collection for display purposes, then the seat size may not be such a major factor in deciding whether or not to buy on eBay.
How to Buy a Vintage Saddle on eBay
The vintage saddle market is a popular one worldwide on eBay. The site features vintage saddles in a wide range of prices, sizes, conditions and makes.
eBay makes it hassle-free to search for a specific brand or keyword when it comes to vintage saddles. The potential buyer can enter a keyword in the search box at the head of each page and then narrow down the results using the filters on the left hand side of the page.
As well as vintage saddles, there are many other types of horse saddle and equestrian items for sale on eBay both new and used.
One of the great things about searching on eBay is that it can be done 24/7 from the comfort of someone's home for added convenience.
Should there be anything that needs clarification on a listing then it may be necessary to Ask the Seller a question. Buyers can place a Bid, Buy it Now (if applicable), or give their Best Offer.
eBay is renowned for being a quick and easy online shopping portal to use. Buyers and sellers get extra peace of mind through the site's use PayPal for processing transactions.
Conclusion
The late 19th and early 20th Centuries were a boom time for Western saddles. These vintage pieces are now highly regarded and sought-after by collectors and riding enthusiasts alike.
The main component parts of a vintage saddle include:
Cantle
Fender
Gullet
Seat
Skirt
Vintage Western saddle seat sizes vary from 8 to 20 inches depending on who will be riding.
Once a vintage saddle has been bought from eBay it's important to keep it in good condition either to pass to future generations or to maintain its appearance, usability or resale value.
eBay is home to many different makes of vintage saddles so there's to suit every riding enthusiast and their preferences.