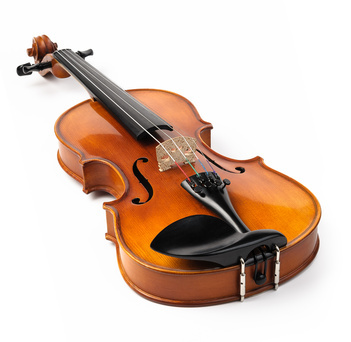 The violin instrument, a part of the greater violin family, is a popular string instrument that is incredibly versatile, being used around the world in the creation of unique classical, jazz, and rock sounds. Music is made by drawing a bow across the violin's strings, with the strings manipulated in a similar manner to those of a guitar. Violins were previously burdened with a stigma of being an old fashioned and somewhat dull instrument, but with the increase in celebrity fiddlers worldwide playing more contemporary music, violins have become the must have string instrument in the musical world.
Acoustic and Electric Violins
The first aspect to consider when looking to buy a violin is whether the instrument will be acoustic or electric. There are advantages and disadvantages to both, and ultimately it is all down to the fiddler's personal preferences. Acoustic violins tend to be associated more with classical music as they produce a more raw and traditional sound. They are often a little lighter than electric violins, making them well-suited to beginners who are becoming accustomed to holding and handling the instrument. Acoustic violins can be difficult to tune and create the perfect tone, but they are also generally the more cost effective option.
On the other hand, electric violins are more suited to rock and soft rock, and are seen as a more modern addition to the violin family. They are typically heavier and more costly than their acoustic counterparts, but are much more flexible and versatile in terms of tone and sound projection. Some fiddlers may prefer an acoustic-electric violin, which is a good compromise of both. They contain a hollow body that creates the traditional classical sound, but with electronic sound amplification.
Buying a Violin
Once a fiddler has decided on either an acoustic or electric violin, or a combination of the two, it's time to consider a number of other factors that are vital to take into account when choosing a violin, either for amateur or professional purposes.
Type of Violin
There are different types of violin that are suited to different needs and requirements. Beginner musicians may feel more comfortable with more basic instruments, whereas professional players may require added features to create the sound they're looking for.
| | |
| --- | --- |
| | Also called 'student violins', these instruments are specifically designed for beginners and amateurs. They are often made from maple rather than ebony, which makes them lighter and more affordable, but doesn't create the same high quality sound. Even if a beginner violin looks like ebony, it is probably dyed maple wood. |
| | These violins are a good compromise between beginner and professional instruments. Often handmade from ebony which is the material of choice for violins, the manufacturing and better materials produce a higher quality sound than the lower grade versions. They are likely to suit a mid-level budget. |
| | These instruments are designed with the professional fiddler in mind. They are made with the highest quality woods and are 100 per cent handcrafted with intricate detail. Due to the intense skill and quality materials required, they are often the most expensive violin option. |
Size of Violin
Due to the nature of the violin and how it needs to be held and handled, with the chinrest located between the chin and the shoulder, supported by just one arm, there is not a 'one size fits all' in the violin world. Measure from the neck to the palm of the hand to find the perfect size.
| | |
| --- | --- |
| 1/16 | This is the smallest official violin size and is designed for very young fiddlers. It is best used by those with a measurement of 14 or 15 inches from neck to palm, roughly very small children between 3 and 5 years. |
| 1/10 | A little bigger, this size violin is typically used by average-sized 3 to 5 year olds. Their weight remains minimal, but their extended length is suitable for those with a 15 to 17 inch measurement. |
| 1/8 | The 1/8 violin is still perfect for young fiddlers aged between 3 and 5 years, but is more suited to those who are a little taller. The ideal measurement for this size violin is 17 to 17.5 inches. |
| 1/4 | This size violin is for older fiddlers aged between 4 and 7 years typically. It is slightly heavier than the smaller models, but still light enough for children. The measurement is roughly 17.5 to 20 inches. |
| 1/2 | The half size violin is heavier and bigger, but still easy for smaller hand to manage. It's designed for those with a measurement of about 20 to 22 inches, generally those aged between 6 and 10 years. |
| 3/4 | The 3/4 size violin is almost full sized and is a good stepping stone to a full sized model. 9 to 11 year olds with a measurement of 22 to 23.5 inches would benefit from this size. |
| 4/4 | This is the full size violin, standard for adults. It can be used from 9 years of age, but is typically better when used from 11 years due to the increased weight. It's suitable for anyone with a measurement above 23 inches. |
Violin String Materials
It's not simply the body of the violin that needs to be taken into account when buying an instrument, it's the strings too. Strings are made from a variety of materials that range from delicate to durable and are capable of altering the tone of the violin significantly.
| | |
| --- | --- |
| Plain Steel | Plain steel is the most common type of violin string, even some strings that are coated in other metals have a plain steel core. They are durable, long lasting, and inexpensive, making them perfect for beginners. |
| Rope Steel | Pieces of steel intertwined into a rope give the strings a much faster response time and a more well-rounded sound. For this reason, many Celtic and Jazz music players prefer this option. |
| Gut Strings | These are considered to produce a very warm and rich tone, but are not favoured by everyone. Made from animal intestines, they are somewhat controversial and can also be difficult to maintain as they are organic material. |
| Synthetic Strings | This is a good alternative to gut strings. They are capable of giving the same great quality sounds when tuned right, without the controversy. However, tuning to create the perfect tone might be challenging. |
Violin Accessories
When buying a violin, there are a variety of accessories that are either a necessity in order to play, or simply a nice addition which can make maintaining the instrument easier and more convenient. Firstly, a bow is an essential item. A violin cannot be played without one. It may be beneficial to purchase a rosin to rub into the bow hairs, allowing them to have a greater grip onto the violin strings which produces a much clearer sound. If the violin doesn't come complete with a chin rest, this will need to be purchased separately. Beginners may benefit from a shoulder rest too, which takes some of the strain off the arm holding the violin. It's a good idea to use a shoulder rest until the fiddler has become accustomed to the weight and feel of the instrument. Cleaning cloths, spare strings, and a violin case are also useful additions. Some violins may come as a full kit, which includes all of the above and are a good choice for those just starting out.
Find a Violin on eBay
A range of violins and violin accessories, both new and used, can be found in eBay's dedicated Musical Instruments shop. These items can be found in the String section of the website under the Violin category. These results can be narrowed down based upon the fiddler's personal requirements, such as size, type, and even location of the item. eBay also has listings for other string instruments in the violin family for those looking for something a bit different, such as violas and cellos. The advantages of buying a violin on eBay are plentiful; greater variety and choice, easy browsing, clear delivery options, and reduced prices are just a few reasons why eBay should be considered alongside brick and mortar music stores.
Conclusion
Violins offer something much more than the standard classical music sound, and they are today used throughout the world to create both traditional and modern sounds that play a big role in the music industry. There are a number of considerations to make when buying a violin, with a range of string instruments suitable for beginners who fiddle as a hobby and those who play the instrument for professional purposes. Size, type, and materials are perhaps the most important aspects to take into account when buying a violin.