Like all VTech toys, the VTech baby walker teaches children specific skills, but all the kids know is they are having fun. The multitude of activities, accompanied by funny sounds, music, and flashing lights, keep babies engaged and challenge them to try new things. The walker features a sturdy handle to help babies who are ready to use it to take those first steps.
Educational and Independent Play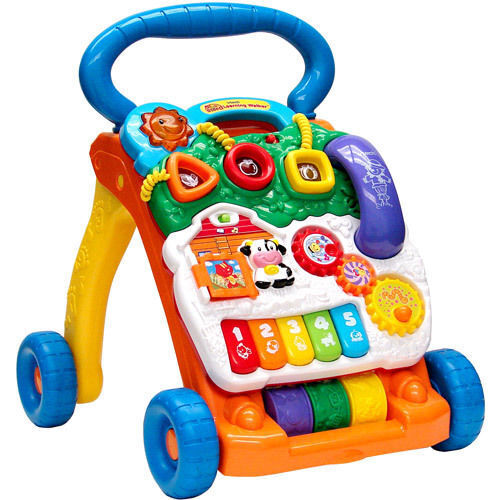 The baby activity centre built into the walker combines turning wheels, gears, and the 'peek-a-boo' window of an old-fashioned 'busy box' with a five-key electronic piano, a shape sorter with flashing lights, spoken letters and numbers, and a toy phone. The many activities keep babies playing independently for quite some time. The baby walker activity centre detaches for floor play or travel. As with all VTech toys, the activity centre offers educational value.
Skill

Characteristics

Parents Say

Motor Skill Development

Pressing, twisting, and sliding buttons and keys

Promotes walking

'... the buttons are big enough for him to use, small enough to develop coordination…'

Sensory Development

Textures, lights, and sounds

Captures and holds attention

'… the numerous touch-sensitive mechanisms stimulate his senses and keep his curiosity ignited.'

Language Development

Letters and words

Promotes connection of sounds to specific letters

'… teaches numbers, letters, colours, and shapes.'

Discovery and Exploration

Animal sounds

Fun songs and phrases

Rewards baby for trying new things

' ...he is entertained for hours with the bright colours, happy sounds, and music.'
UK parents particularly enjoy the fact that the voice is British on products sold in the UK. The toy phone encourages children to practise speaking while allowing them to mimic mom and dad.
Support for First Steps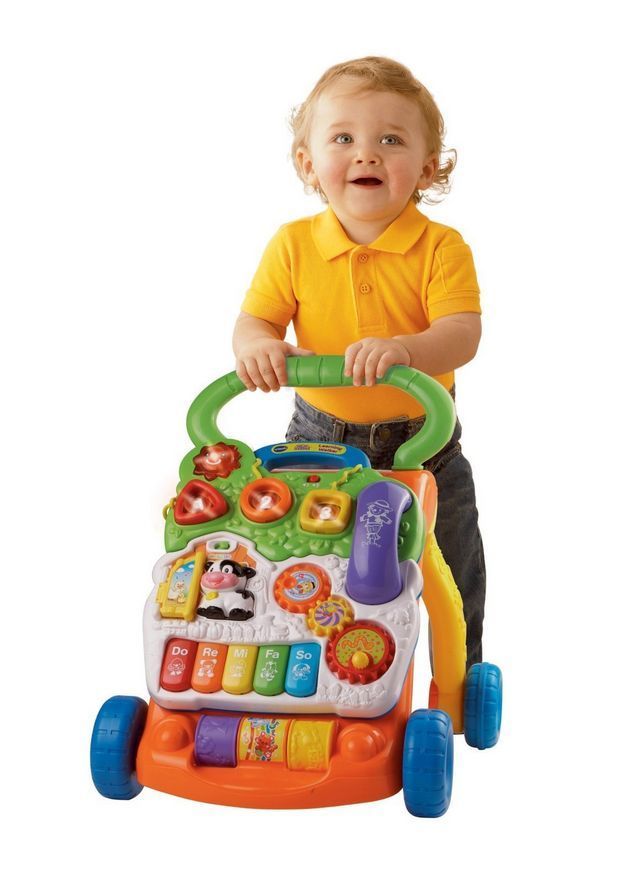 The VTech First Steps baby walker encourages and supports a child's first steps. Children often pull themselves up to reach items at the top. Once they stand and grip the handles, the early stages of walking usually follow. The walker can roll out from under children who lean on the handle, so supervised play is important. Once a child stands and moves easily, the textured wheels move at a good pace on carpet that is too fast for new walkers on wood or linoleum.
Virtually Indestructible
The walker features a sturdy plastic construction that survives enthusiastic play, although the phone sometimes goes missing. If that happens, replacement VTech Walker phones are readily available. Batteries last a reasonable amount of time, thanks to the automatic shut-off feature.
Grows with a Growing Family
Parents appreciate that this toy is good for children up to about 30 months, and the walker grows with a growing family. Baby walker models made for the U.S. market have a lime green handle, and the 'voice' speaks American English. Those made for the U.K. market come in unisex red, blue, and yellow and in hot pink and lilac for little girls.