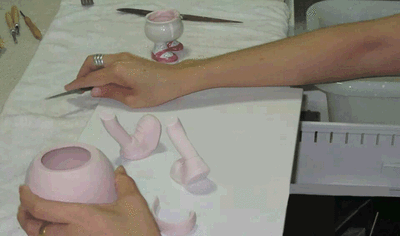 Introduction:- A raw behind-the-scenes look into How Walking Pottery Is Made... I hope you enjoy watching the video… Dont forget to LIKE, SHARE, COMMENT and SUBSCRIBE TO MY CHANNEL to see what I make next.



(PART 1) In this video I show you how Santino & Co Walking Pottery is formed, and the earthen-ware clay being mixed and sieved to make fine earthenware slip clay. You'll also see the skilled assembly of our popular Long Legged Walking Cups. Our Walking Wares are available in all colours and many sock and shoes style designs. To view our complete Walking Pottery range, please visit our Pinterest boards:- and Search for Santino & Co

Dont see a design you like? No Problem! send me your design ideas I will make a Walking Cup Just for you. These are just some of the benefits of working alongside a true studio potter.

Santino & Co, known as makers of artisan Walking Pottery and Limited Edition Studio Ware Collectibles. All our collections are authentically hand-made and hand-painted. We do not mass-produce any of our Walking Wares range, and we truly believe that this has been one of the key factors to our success story. Each piece from our Walking Ware collection is made using fine earthen-ware clays and richly pigmented eco-friendly paint colours, all individually signed by Santino. I have also developed a non-crazing glaze, so there's no need to worry about washing our Walking Ware Pottery - they are guaranteed dishwasher safe.

BIO
Santino Dipiazza, I was born in Stoke-On-Trent, Staffordshire England. A self-taught ceramic designer, sculptor and mold-maker, I freelanced for ROYAL DOULTON, WEDGWOOD, COALPORT and SPODE over a period of 20 years, before the demise of the UK's pottery industry. In 2009 I travelled to Bangkok and started my own Pottery company Santino & Co. I am a completely hands on Studio Potter designing, sculpting and creating all my own wares alongside a small dedicated team of skilled assistants.

Please take a look at my current Ebay Shop listings for an opportunity to buy an authentic hand-made Walking Pottery Tea Cup / Coffee Cup.

SANTINO & CO Studio Wares are makers of authentic, hand-made and hand-painted, collectable, artisan pottery - exclusively produced in limited numbers. You can find us on all social media! or Google Santino Dipiazza.

Thanks for taking the time to read this article

Happy Collecting!
Santino
Making todays collectables,tomorrows antiques.