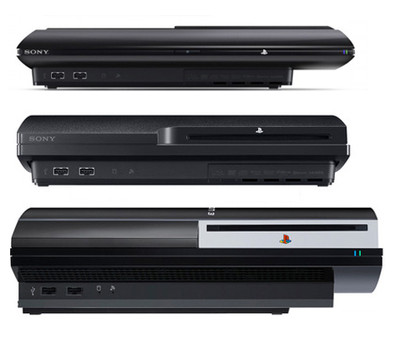 The long awaited PlayStation 3 is finally affordable to the mass market. The PS3 has one the best Blu-ray players built in as standard, after a recent update all PlayStation 3's are HD-3D Ready.
The PS3 is the most comprehensive games console and media centre currently on the market. It has a huge hard drive, wifi, and Blu-ray capability with the ability to stream HD movies from Netflix, MUBI and even YouTube. Browse Facebook, compete with your friends online on the PSN (PlayStation Network). The PS3 plays MANY media types including; WMA, MP3, AAC, MP4, AVI, XVID, DIVX files and even allows users to view and import content from their Digital Camera. Record and Edit videos and upload them to YouTube.
I bought the PS3 as an upgrade to my previous consoles (The XBOX 360 and Nintendo Wii). Being a heavy gamer, having the latest and most popular games console is a must.
I didn't buy it just because of it's looks. I bought it because of the wide features on the PS3... it allows me to connect my PSP to it and browse my files. Anyone that has used or owned a PSP will be able to navigate around the GUI with ease. The web browser is really quick and it allows you to connect to the Internet using WIFI or the internal Ethernet connection. It is ready to use out of the box with the ability to choose an alternative language upon first start-up. There are regular firmware updates that add features or improve existing features.
When I first started using this console with the standard RGB cable. The quality of the pixels looked very grainy. But when I had bought a 1080i HDMI cable and had it connected to my HD LCD TV. The difference was greatly noticeable by the level of colour and the sharpness of the gameplay.
What I like about the PS3 is that the online service is completely free, so you can be up and running straight away and not worry about renewing your subscription every month. I downloaded the Gran Turismo HD from the Online Network and when I was done with them I simply removed it from the hard disk. The PS3 has a unique download manager, that allows you to download multiple games from the Sony online network and whilst you are waiting for the download to complete you can still play any other game from disc or already pre-installed on your hard drive, and when the download has completed a small pop up message appears to let you know it has been done so you can go back to the menu and run the game. This means you can still use your PS3 even though it is busy with another task. This is the advantage of the Cell CPU.
The PS3 uses a 2.5" SATA Hard Disk and it is easily removable, meaning you can change your existing 120/160/250/320 GB hard disk and have it fitted with a massive 500GB one if you have the extra cash. The maximum the current latest X-Box 360 can handle is 320GB and it is not as easily expandable since it needs to be official proprietary X-Box hardware, whereas the PS3 does not.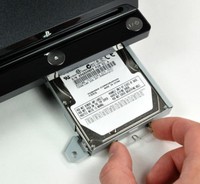 The PS3, like the X BOX 360 uses wireless controllers and uses the USB port to recharge the controllers. I was surprised by how long the battery lasted on my controller, perhaps because it is new. The rechargeable battery is integrated into the controller, even though it seems so light. Therefore it does not need to be bought separately like the Nintendo Wii and 360.
The game play on the PS3 is truly amazing. I am the type of person that likes all consoles because each has a different thing to offer. However the PS3 comes on the top of my list when it comes to game play. Online gaming for games like Call of Duty Modern Warfare 2/Black Ops, is free. Immerse yourself in awesome graphics with Final Fantasy 13 and Gran Turismo 5.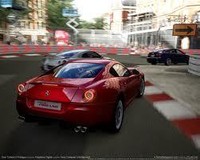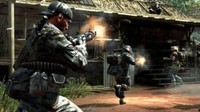 The price of the PS3 is reasonable considering the hardware built into it E.G. the Blu-ray Player. What I applaud Sony for is that they have removed the regional restrictions for PS3 games. Therefore you can import original PS3 games not available in our region and play it without modifying the console in anyway. I have been taking full advantage of this feature by buying games from Japan on eBay.
The PS3 console has the same design controllers from the previous consoles. One of the significant changes in the PS3 version is that it has six axis feature. Meaning when you are tilting the pad etc, it is responsive in the game, (Heavenly Sword and MGS4 on the PS3 take advantage of this unique feature) unlike the Nintendo Wii, the PS3 does not require an external sensor to detect the movement, it is also wireless. The pad is also cheaper than the Wiimote and Nunchuck (it cost me £30 for a new Wiimote and £15 for Nunchuck) that's allot to spend on a controller, especially if you have no choice to buy it as some games will not work without the Nunchuck add-on. Whereas the PS3 pad only costs around £29.99-£35 new. Sony have released the Dual Shock 3 controllers, so rumble capability is now possible on the PS3 and also Move capability.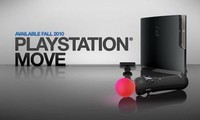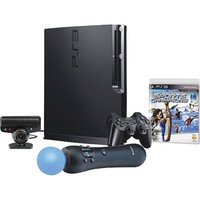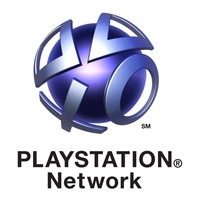 The reason why the PS3 is so expensive is because of the integrated Blu-ray player which can read more data (therefore more detail in games) The PS3 has it built in as standard, but the XBOX 360 HD-DVD must be bought as an add on. Also the PS3 has a 45nm Cell Processor which is more powerful than any average desktop PC and is 33% more efficient than the previous larger model of the PS3. The Cell Processor has been developed in partnership with IBM (the people who used to make processors for the Apple Macs). It has Eight cores (Currently the top of the range Desktop PC processors only have four cores). This means the actual CPU is far superior to standard desktop computers, making it more than just an Media Center.
Many people who haven't played on the PS3 say that they will never use the Blu-ray, this is untrue since all PS3 games are printed on Blu-ray and without it the games will not work. Also all new movies are being printed on Blu-ray media.

If you look online for a standalone Blu-ray player, they will range from £150-£300. But the PS3 comes with it built-in for only £200 and if you eBay it you can get it considerably cheaper. Because of the extra features that come standard with the PS3, Sony actually loses money per unit sold. Sony are still dropping prices despite this and they have had to make some cutbacks on the development costs of the hardware.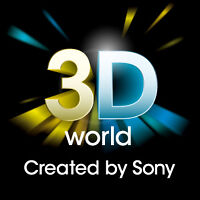 The PS3 allows you to download HD Quality videos to your PS3 hard drive and view them (like you would on your PC) and if you visit an MP3 site for example you can download the mp3 file to your hard disk and play it, or stream it.
I have been using the web browser to watch my favorite YouTube videos. Also the PS3 allows users to import videos and photos from digital cameras and transfer it to your hard drive and save it as a background and modify it etc. The console has a video recorder and editor which allows users to directly upload to YouTube. Using Tversity it is possible to stream your videos, music & pictures from your own PC to your PS3 through your home network wirelessly.

Another feature of the PS3 I like, is that you can rip your music CD's to the hard drive at your chosen bit rate etc and save it as an MP3 or AAC file. Or if you want to do some catching up on TV you can watch BBC iPlayer or ITV Player directly through the PS3.
I honestly believe this console is here to stay for at least another 5-7 years because of what it is capable of. If anything £200 is more than reasonable for what you get for your money. If you have a HDTV, you will be able to use it to it's full potential. If you have a standard TV, it may feel to you like your Playing on a PS2 and you will be limiting your experience.
I almost forgot to mention, the PS3 allows you to plug in a wireless keyboard and browse the Internet. Or you can use a USB version. There is currently a new Logitech wireless keyboard specially designed for the PS3 with a built in touch sensitive mouse (like a laptop) it can be bought from eBay.
There is so much more I want to say... But I'll leave it to you to discover them when you have bought it :D.
The Pro's of Buying the PS3
Multi-regional capable, Reasonably Priced, 3D Blu-ray, 1080i/1080p HD Output, Massive Hard Drive Easily Expandable, Wireless Dual Shock 3 Six-Axis Controller, 802.11g WI-FI, Free Online Gaming (No Subscription Required), PlayStation Move is more precise than the X-Box Kinect and Nintendo Wii (move works well with FPS games since it has buttons).

The Con's of Buying the PS3
Not backwards compatible, however Classic PSX games can be downloaded directly from the PlayStation Network and there are remastered versions of PS2 Games like Tomb Raider and Metal Gear Solid in HD.

Recommended?
The price tag £200, was it worth it? Yes, worth EVERY PENNY! Having owned The X-Box 360 and the Nintendo Wii, I can truly say they are a work of art in their own right. But for serious gaming the PlayStation 3 is the way to go. It is the most comprehensive package currently available, and It only does EVERYTHING.
-
This is an honest review/guide, so no abusive fan boys please!