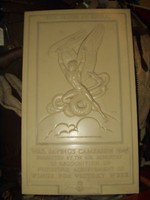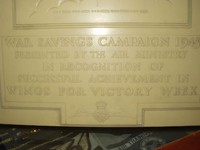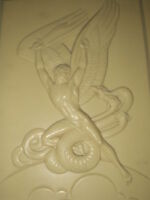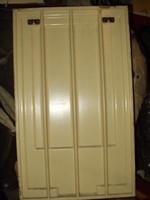 "Wings For Victory Week" was a national fund raising event held in the UK from 1st to 8th May 1943.Each county in Britain was set a target for the amount of money they should raise in order to contribute to the coat of an aircraft,which in turn would be named after the town or county which raised enough money.
In turn,districts within each county were set individual targets to make up this total.
When their targets were successfully reached,commemorative plaques were awarded by the Air Ministry to recognise their achievement,with a certificate naming the successful town,village,or district.
Not awarded to the general public individually,each district or county plaque would be displayed in a public place,usually the market hall, town hall, or library...or chances are nowadays they are relegated to local museums.
The Wings For Victory plaque depicts a winged man,clouds in the background indicate the figure is flying. He holds a sword in his right hand and he fights a three headed serpent.
This has often been misstaken for St George battling the dragon, but it actually refers to the Book of revalations,where the Archangel Michael as leader of the Celestial Armies fought the rebel Angels led by Lucifer,represented by the serpent.
Biblically St Michael is also the Guardian of the souls of Man and in both his aspects is an appropriate choice to represent the RAF of both "strength" and "good",whilst the German enemy is depicted by the serpent.
Made of white Urea Formaldehyde plastic by De La Rue Plastics of walthamstowe who at one time were the largets plastics molding group in Europe. Still in existence today,they are now the worlds largest printer of security card holograms.
Because the "wings" plaque is more decorative than the more military "salute the soldier" plaque, the "wings" plaque is at 2010 prices worth around £300....thats in undamaged condition...i would not recommend fixing them to a wall, best in a cabinet.