Usually people tend to think that Paragliding, among other similar sports, AKA Extreme or Radical Sports, are only for born Heroes, or Very brave people..
You couldn't be more mistaken!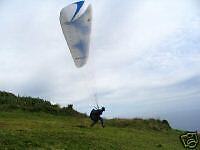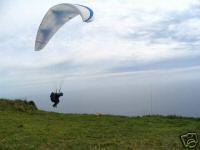 Photos and flights: madeira-adventures .com
Has you can See in these pictures, in paragliding, you don't jump of rocks, nor mountains or such..
Since the first contact with the Wing, it's all very gentle and smooth!
You do a continuous, firm inflate of the canopy, pulling towards you the A risers (the top ones), and the wing gently starts climbing starting a magical moment, the moment before take off, one the most heart beating moments.
Then, just a few running steps keep you away from one of the most anticipated and waited moments of all Mankind, Fly!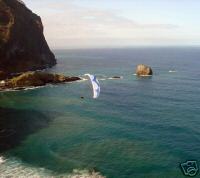 Well, now you know the basics of how things are done before and during take-off, one of the most if not the most important time of all flight (remember, in the air everything and everyone is safe, if there is any kind of stress and problems is on the ground!)
At this point you may all be asking, that I have seen, but how do I know if I can fly, If I will do good up there, if I will not be terrified when I'm on the air?
There is just one way to find out, but I can tell you something, I have flown with many people in the last couple of years and with my own experience, and can say 100% sure that, if you really really enjoy watching paragliders fly and something inside tickles when you see them, then GO! You will definitely be alright.
The first step is to look for or contact a local club or school, and enquire about the possibility of a Tandem flight, all schools today have wings prepared for that cases (Larger wings, prepared to fly with 2 people), and have flying instructor qualified for that purpose!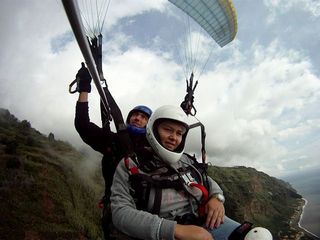 Then, you just have to arrange the day, and price (depends on the country, place of the flight and duration - around 60 GBP), take some comfortable wear and preferably boots, and you're on to the Time of your Life!
Normally, just after that flight, and if you want of course, you can attend a course, and they are usually organized in 3 stages: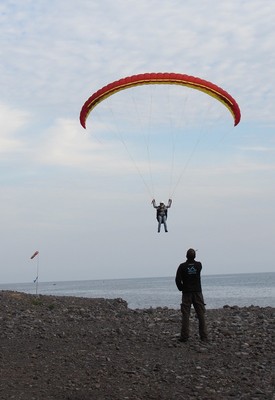 Ground handling (Try to master the canopy in the ground);
First low airtime flights (just for you to feel your feet getting of the ground by yourself);
Big airtime flights, and usually your first longer flights (in time and distance);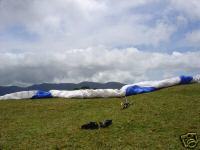 I dind't mention back there, but you always have theorical basis, during all the 3 stages, (reading and understanding meteo carts, local meteo, some airlaw, radio, first aid, aerodynamics, etc, etc)

This is not for crazy people that just want to feel the rush, those, believe me, won't last long, by the contrary, if you are conscious and want to relax, or even some heartbeating and breathtaking with outstanding sceneries, this is for you, because paragliding can be:
Dangerous, full of rush and adrenalin, if you want it to!
Calm, stress free, and stress Relieving!
A way to travel to places you have never been, getting to know new exciting people, and making new life lasting friends while getting to know the place, By Air, first class ticket, all the way, you are the Captain!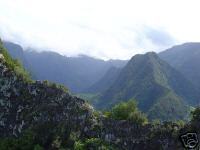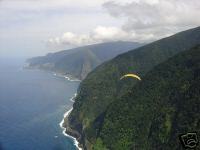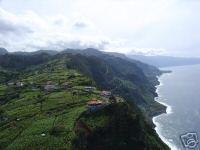 Photos taken airborne during a flight I did here in Portugal, Madeira.
Should you someday decide to start flying, or even if you already do it, please tell me about the feelings you felt, the unbeatable sensation of being in the air, and tell me about your place, where you fly, where you have already flown.. and if you come here, don't forget to pay us a visit, here in Madeira, people are very warm and always ready to help and would love to see more pilots in the air!
Whether big or small, white or black, believing or not.. if you start flying, you will fly, all and every day of your life, because, when you are on the air, your soul is nearer to your dreams, and your dreams come true for a moment.. and since that moment, that you have been up there, in the sky above, you will be wandering down here, always looking towards, what is truly, your one and only, beloved Home, the SKY!