Washing machines and washer dryers are an essential appliance for any household and they can be an expensive item, so it's vital that you choose the right washing machine to suit your needs.
There are a wide variety of models available, from traditional style top-loaders right through to ultra modern portable washers - all of which carry a multitude of features - so making sure you have the machine best suited for you can be a daunting task.
This buying guide is designed to help you choose the perfect machine for your home. Whether you're a parent after a machine for the whole family or a student with a limited amount of space, this guide can help you find the ideal washer.
Buying a Washing Machine
At a glance
Things to consider
How to clean a washing machine
Varieties of washing machine
In a rush? Our handy chart will give you all the information you need!
| | Efficiency | Using the device | Features |
| --- | --- | --- | --- |
| Front Loaders (Free Standing, Integrated and Semi-Integrated) | The standard in efficiency, front loaders make good use of a limited amount of water and combine it with gravity to make for a surprisingly efficient wash. Many washers now use pressure sensors so that no more water than needed is used. | Simply a case of loading the machine and turning it on, the only difficult part is the ergonomics of the design, which can be taxing on older users and the fact that drying is still a separate chore. | Many machines now carry a host of features to improve both the efficiency of the wash and to make it more convenient to use. A future feature to look out for is the growth of 'smart' washing machines. |
| Washer-Dryer | Carrying the full range of efficient features available to all front loaders, the only drawback to these are the fact that tumble dryers are among the most energy intensive utilities around, using a whopping 3.5kWh per cycle! | The primary draw of a washer-dryer is its simplicity and ease of use. Although it uses a lot of power, there's no denying the convenience of these powerful machines. | No other device can do both the washing and the drying for you, and when you combine that with the time and space saved, this gives the washer-dryer a very compelling feature set. |
| Top Loaders | Less efficient that you'd think, the top-loading washing machine is significantly less efficient that a front loader. It doesn't use gravity at all and so the washing is done by the vertical spin and the pumping in and out of water, which requires a lot of energy. | A major draw of top loading washing machines is the ergonomics of the design. It doesn't require any real bending to use, and unlike front loaders, late items can be added after the wash has started. | The main appealing feature of a top loader is its lower price point, however, as mentioned the ergonomics of its design can be very appealing to some owners. |
| Twin Tub | One of the more efficient models available, the twin tub uses less water than other types of washing machine and even allows you to reuse the water from each wash. Definitely a must for anyone concerned over their water consumption. | The efficiency of this design is counterbalanced by being less easy to use than other types of washing machine. Although it's not difficult, the fact that the washing has to be transferred from one tub to another before the spin cycle can begin may be a chore too far for some. | In terms of features, this design is going to appeal primarily to those who are keen to reduce their water and energy consumption rather than those who are looking for convenience. |
| Portable | A very energy efficient design as many portable washing machine work without using electricity entirely. Others are designed to be used in environments like camper vans where reduced energy consumption is a valuable feature. | Less easy to use than most washers, the primary appeal of these designs are their portability. If you don't want to make any effort at all, then maybe it's best to save you washing for when you get home! | Portable washing machine not only offer portability but also offer a space saving solution for those without the option of a full blown washing machine. It can also be ideal for washing more delicate items, such a silk. |
| Commercial | Although they carry larger loads than most, the commercial washing machine is not particularly energy efficient. It's designed to be used as part of a business and so it's designed to be a workhorse. | As easy to use as any other washing machine, commercial machines are designed to wash even heavily soiled clothing very quickly. | The primary appeals of these devices are their capacity and spin speeds, however, as noted domestic customers should consider large capacity washing machines as they offer similar features at a much lower price. |
Spin Speed
A high spin speed can be a great benefit to your washing machine, as the faster it spins, the faster water will be removed from your clothing after washing, which in turn means it will take much less time to dry. Usually 1000rpm will be sufficient for domestic loads, but some can go up to 1600rpm. Some modern models allow the user to choose from a range of speeds, which is useful as lower speeds are preferable when washing more delicate items.
Capacity
Obviously, a larger drum means that more clothing can be washed at one time. The average size for most washing machines is seven kilograms but washing machines in the UK can range up to 12 kilograms – which is a lot of washing! Try not to underestimate your needs, as you shouldn't cram your washing machine full of clothes as this will reduce its effectiveness.
Efficiency
Efficient use of energy and water can make a huge difference, not just to the environment but to your domestic bills too. Fortunately, there are a range of standardised tests carried out by manufacturers and monitored by Trading Standards designed to give consumers a good idea of how efficient their washing machine is. Grades range from A (the most economical) through the G (the least).
Special Features
There are a number of special features that can make a big difference in your washing machines efficiency or running to keep an eye out for. These can include things like LED timers, which will tell you how much time remains on your wash; time delay functions, which allow you to time your wash so that it finishes just in time for you to get home from work; anti-mould door seals, which can extend the life of your washing machine; and automatic pressure switches that will measure how much washing is in the drum and allocate the necessary amount of water needed for that wash.
It may seem strange but even a machine made to wash things can get dirty! Fluff, detergent and dirt from heavy loads can build up in the system and shorten its useful life, so here's a few tips on how to keep your washing machine clean and in good working order.
Firstly, a good tip is to regularly clear out your pump filter. Signs that your filter needs cleaning include the washing machine not draining or that the washing machine door stays locked. The filter can be accessed via a small hatch on the front of the machine, usually near the base. To keep little fingers away these hatches are childproofed, so you'll need to pop it open with a screwdriver or coin.
Inside you'll find a screw-in lid, similar to what you see when you go to fill your car with petrol - that's the pump. Unscrew it, but be prepared to catch any water that might come out. If your machine isn't draining, there will be a lot! Once you've removed any blockage, simply screw the filter back in and close the lid.
To keep it fresh, run the machine on a hot wash while it's empty from time to time. Adding washing soda crystals or
washing machine cleaner
will help break down any build-up of dirt and limescale and will prevent bad smells they can bring. If you don't have either of those, clear vinegar is a handy home remedy.

Free Standing Washing Machine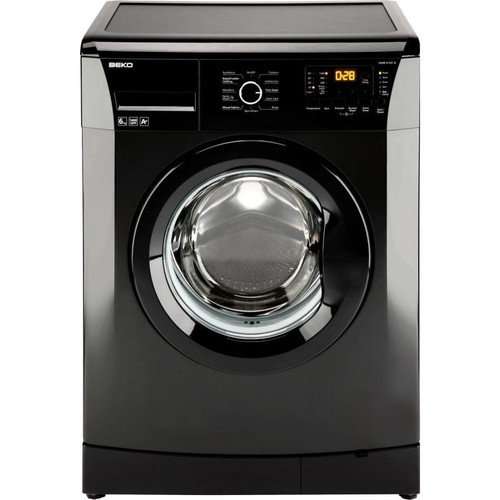 The
free standing washing machine
is probably the most commonly seen type in the UK. Designed for those who don't mind a visible washing machine in their kitchen, or for those lucky enough to have a utility room, the free standing washing machine is a no nonsense style product that can fit under most surfaces in a kitchen. However, it's best to measure up any potential purchase before you buy. Browse the Whirlpool or Beko collection for more ideas.

Integrated Washing Machine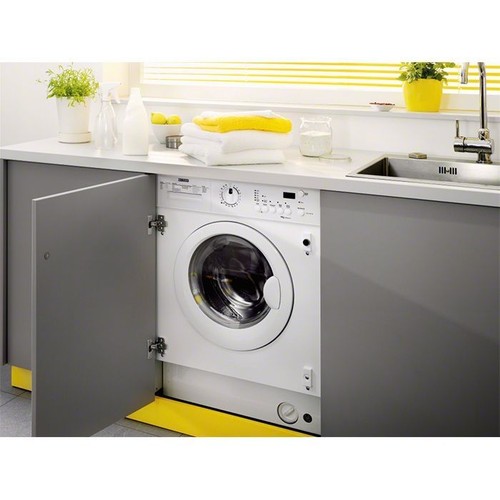 Also known as the
built-in washing machine
, the integrated washing machine features a set of integrated hinges or hinge mounts that enable the owner to place a door on the front of the washing machine that will conceal it when not in use. Designed for the tidy minded,
integrated washing machines
are perfect for those who might have spent a lot of money on a new kitchen layout or who have a more rustic setting, where a bright and modern washing machine would stand out.
Semi-Integrated Washing Machine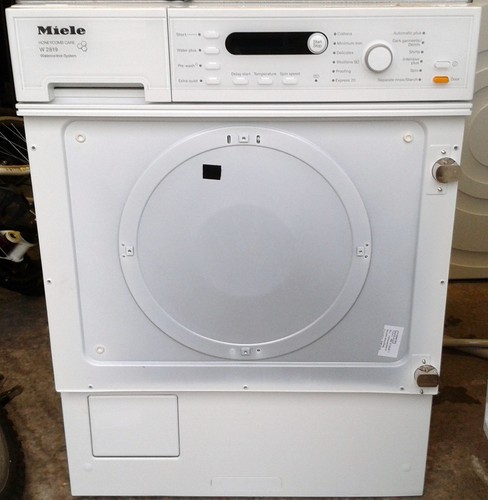 Similar to the integrated washers, the semi-integrated washing machine differ only in that the control panel and detergent drawers remain visible above the closing lid. This style is ideal for those rooms that have a modern and clean design as it combines the concealing effect of the mounted door with the utility of being able to monitor the controls.

Washer Dryers

A thoroughly modern solution, the washer-dryer combines the washing machine with the tumble dryer, meaning that the user can complete all their laundry without ever removing it from the machine! Ideal for those with a limited amount of space, the washer-dryer removes the need for two separate devices, as well as the need for
washing lines or clothes horses
.
Top Loader Washing Machine

The
top loading washing machine
has one key advantage over front loaders, and that's price. Usually available at a much lower price than horizontal drum designs, the drawback to the top loader is that they consumer more energy to run and can cause more wear on clothing while doing so. However, if you have a bad back then the ergonomics of the top loader are hard to beat.

Twin Tub

The
twin tub washing machine
is a little like a cross between a top loader and a washer-dryer. One tub is used to wash the clothes, while the other spins them to get rid of any excess water. It's not a tumble dryer though, and it won't dry out your clothes completely – it'll simply make them faster to dry on a line. The main advantage to the Twin Tub is its efficiency. It uses far less water than a front loader and, unlike any other design, actually allows you to reuse the washing water. You can wash lightly soiled items with the first wash and then use the same water for a heavier wash.
Portable washing machines

Portable washing machines
are a great solution for people on a trip, those who perhaps don't have access to washing machine connections in their home or people living in shared accommodation. They can offer a great space saving alternative, and because they work by pulsing water through the clothing rather than by rotation they are perfect for washing delicate clothing.
Commercial washing machines

Often featuring a much larger drum size than usual and a far higher spin speed than is available on most domestic devices,
commercial washing machines
are perfect for businesses that might need to do a lot of washing, such as care homes. If you're a domestic customer, be warned that even used commercial washing machines can carry a hefty price tag, so it might be better to go for a
large capacity washing machine
instead.
There are a host of additional items that can help with your washing. Most importantly, the cleaning products themselves are a vital ingredient – without
washing powder
, liquid detergent or
conditioner
, your clothes won't get very dry at all!
Not just the clothes can do with cleaning. The right washing machine cleaners will make all the difference in keeping your washing fresh and your washing machine in tip-top condition.
A
laundry basket
not only helps keep the house tidy (no one likes seeing dirty clothes all over the floor except insects) but also makes the job of bringing the washing to the machine much easier. Alternatively, if you need to go a little further afield to do your washing, then a good
laundry bag
can make all the difference.
But as mentioned washing clothing is only half the job, once they're clean then you'll need to get them dry. Thankfully,
washing lines
are perfect for drying clothes in sunny weather – you'll need a few clothes pegs though – and if it's less than pleasant outside then
clothes horses
offer an inexpensive method for drying clothes indoors.