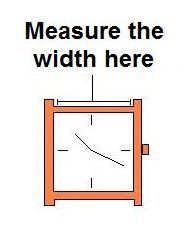 When ordering a replacement watch strap, there are two measurements that should be taken in to consideration. First is the width of the strap where it fits the watch and the second is determining the length strap required.
1) Measuring the correct width watch strap
Measure between the lugs of the watch in millimetres (mm) as shown above. The measurement should be an even number, if not we recommend you round up. For example if the measurement is 19mm order a 20mm strap.
2) Selecting the correct length watch strap
We sell two piece watch straps in 3 different lengths as shown below:
(Measurements excluding the buckle and when both parts are put end to end)
Standard Length
- Up to 14mm width = 170mm*
16mm and above = 190mm*
Extra Long
- Up to 14mm width= 190mm*
16mm and above = 210mm*
Extra Extra Long
- 18mm and above width = 260mm*
Using the above details, measure your existing watch strap and match which length strap you need.
If you do not have a watch strap to measure against, measure the circumference of your wrist. When working out which length you need, remember to add on the size of your watch to the above measurements.
All that's now left to do is to
buy your replacement watch strap
!
We hope you have found this guide useful.