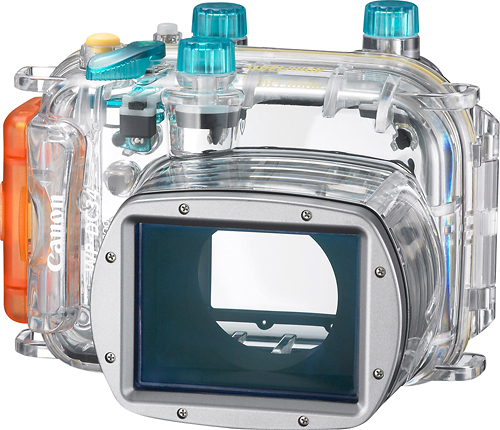 Waterproof camera cases protect sensitive equipment from damp environments and wet weather. They also keep the camera safe and dry in case of spilling accidents or when a photographer is engaging in water sports or trips across bodies of water. Waterproof cases also double the protection for waterproof cameras.
Waterproof and Underwater Camera Cases
Some camera cases and bags provide water resistance or waterproof protection for the camera during storage or travel. Other waterproof camera accessories< such as rain covers< are meant to keep the equipment dry during exposure to wet weather outdoors. On the other hand, underwater cases or pouches are specifically built to be submerged in water and used with the camera; therefore, they necessarily have higher waterproof ratings.
Hard and Soft Waterproof Camera Cases
It is strongly recommended that hard and soft cases be used for their intended purposes. Many hard cases are meant for protective storage of the camera only, while soft cases are designed for underwater usage. Some waterproof underwater cases combine a soft, flexible pouch for the camera body with a clear, hard window for the camera lens.
The table below lists common advantages and disadvantages of typical hard and soft cases, but they don't necessarily apply to all products.
Hard


Durable and made to last.
Tough exterior offers protection from being bumped or crushed.
Reinforced shell may also provide shock or drop resistance.
Some hard cases are made for underwater use as well.


Some hard cases function as protective storage cases only. The camera cannot be used when it is inside the case.
Heavier and bulkier.



Soft or Pouch


Lightweight.
Compact, flexible, foldable.
Serves as waterproof armour for camera, which
can be used underwater while sheathed in the case.


Not shock resistant or drop resistant.
No protection from crushing or crashing.
May be subject to damage under extreme water pressure.



Combination hard/soft

Example: soft pouch for the camera body and hard cover for the camera lens.


Can be used underwater.
Top brands guarantee the highest waterproof standards for their products.


Low-end cases have limited functionality (e.g., not for professional-quality shots).


Waterproof Cases and Bags
Besides the waterproof material, the closure of the case or bag is designed to keep water out. Three common closing systems are water resistant zipper, waterproof zipper, and rolltop style.
The water resistant zipper is sealed with a pair of rubberised fabric strips that come together when zipped close. It can keep the camera dry under a light rain shower or if the bag is accidentally dropped in the water as long as it is quickly retrieved and wiped dry. The waterproof zipper provides more secure protection with its double sets of seals, but this makes it harder to open and close. The tough zippers may also need to be lubricated occasionally to maintain proper functioning. The system can manage to keep moisture away from the interior when the bag or case is immersed in the water for a limited time.
The rolltop bag is sealed by rolling the open end (which may also have a zipper at the top) several times and securing it with a locking mechanism such as clips or velcro. The gear stays dry, but it takes longer to open, resulting in missed photo opportunities.
Underwater Camera Cases/Pouches
Made for underwater photography, underwater camera cases/pouches are specially constructed to withstand prolonged immersion in water at specified depths. The sturdier the material and the greater the depth performance rating, the better the case can bear extreme pressures encountered in snorkeling or deep water diving. It is also crucial to look for underwater cases that allow full control of all camera functions. Inspect the lens window for optical clarity in order to capture the beauty of the underwater scenery with clear, sharp images. It is best to purchase a premium-quality underwater case with durable materials and maximum waterproof rating for use with expensive photography equipment. Reputable brands have undergone rigorous product development testing and have passed international standards for waterproof performance. It is understandable that consumers may not want to put the waterproof capability of a case to the test with their sensitive camera equipment. A simple home test is to put some dry tissue paper in the interior of the camera case, close it tight, and submerge it in the bathtub filled with water. Leave it there for a specified time, depending on the underwater performance rating of the product being tested. Alternatively, use a plastic container or discarded toy of a similar size and shape as the camera that fits into the waterproof case to be tested. Anchor it with some weight and submerge it in a swimming pool, following the depth capacity of the case. Retrieve it after some time, based on the maximum period underwater recommended by the manufacturer.
Waterproof Rating of Camera Cases
High-end brand manufacturers that specialise in waterproof cases conduct in-house tests for their products in pressure chambers. They also have these products tested independently by research institutions. These well-known brands possess proprietary features such as watertight sealing systems. Their submersible cases carry a waterproof guarantee based on international standards. For example, a waterproof case that has an IPX8 stamp means that it can bear up to half an hour of underwater immersion at 15 feet depth.
The following table does not represent an official waterproof rating system. Rather, it presents a general guide on how to rate waterproof camera cases based on manufacturers' product descriptions. Read the features and functions stated on a product label, and compare them with the classifications on this guide to approximate its waterproof rating level.
Waterproof Rating

Water resistance or water proof capability

Applications

Submersion Capability – Depth Range

Class 1


Water resistant


Drizzle.
Light splashing.


N/A.



Class 2


Waterproof


Top-down watering.
Water coming from various angles.


Light submersion



Class 3


Waterproof


Water jets projected at all angles.
Low water pressure.


Quick, shallow submersion.
Tight enough to float.



Class 4


Waterproof


Some underwater sports (e.g., snorkeling, swimming).
High water pressure.


Prolonged submersion.
3-12 feet deep.



Class 5


Waterproof


Wide range of underwater activities (swimming, snorkeling, scuba diving, white water rafting, search and rescue, etc.).
Extremely high water pressure.


Prolonged submersion.
Greater than 12 feet.


Waterproof Camera Case Sizes
The dimensions of waterproof cases and covers should be measured to provide a snug fit for particular camera brands, types, models, and sizes. Camera cases produced by the same camera manufacturer provide a sure fit for specified models. It is also easy enough to match brand-compatible cases with particular camera models. The product descriptions of unbranded, generic or universal cases may also mention several brands and models that fit into the cases. Otherwise, it may simply be stated that a case fits most compact cameras or DSLR, SLR, or TLR types while specifying the dimensions of the size ranges available.
Conclusion
There are trade-offs when choosing which waterproof camera case to buy. Some reasonably priced cases may do a great job keeping the camera protected and dry. However, the photos produced with them may not be as crisp and clear as expected. A camera case may be claimed to have water repellent coating, yet images taken with it can still appear blurry with water drops. Superior quality usually comes with a higher price tag.