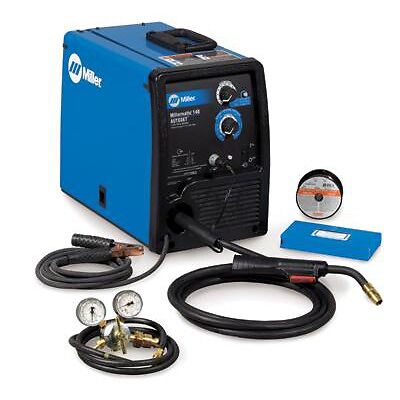 Welders make a lot of spark about what they do, but their equipment is not as tough as the job itself might suggest. Welding equipment must be regularly maintained for optimal performance, long-term cost savings, and most importantly, for safe working conditions.
If you have a welder that has begun to perform poorly when carrying out welding jobs, it is time to undertake some inspection work to see if you have done everything reasonably possible towards its maintenance, or if your equipment is simply old and worn out and needs replacing. eBay has an assortment of welding maintenance gear that can help keep your equipment clean and prolong its life, as well as some replacement parts for most welder types.
The key to looking after your expensive welding equipment is periodic checks by both yourself and a qualified technician, but it is the small and regular things you do that makes the biggest overall difference to the life of individual welding components.
Essential Maintenance for Welders
Welding equipment needs regular cleaning. Both tungsten inert gas (TIG) welding and metal inert gas (MIG) welding requires regular checks and maintenance cleaning, while shielded metal arc welding (SMAW) requires only very simple and routine checks.
Maintenance work varies with different welding equipment and applications because the components that are susceptible to damage are located in different parts of the various welders. Before commencing routine cleaning work, you must ensure that all electrical equipment is disconnected from the power source.
Maintenance for MIG Welding
Metal inert gas welders contain many exposed pieces that need regular attention, such as the shielding gas hose, the gun liner, and the gun contact tips. These components can be brushed clean, but it is a good idea to begin a cleaning procedure by blowing out as much dirt and dust with an air compressor. In fact, compressed air is the perfect tool for blowing out particles that cannot normally be reached without disassembling parts.
Base Unit
The base unit should be cleaned by removing the outside panels and employing an air compressor to blow away all dirt, dust, and other contaminants, taking care not to dislodge anything with the compressed air. Additionally, a standard handheld wire brush may be used to remove any corrosive build up. You should do this when appropriate according to your own set schedule.
Contact Points
It is advisable to conduct regular checks on the several different contact points on the welder, as these parts all wear and require periodic replacement. Regular cleaning with a non-flammable solution helps prolong their lifespan.
Welding Gun
The tip of the welding gun is the point at which metal turns to liquid, and this creates a build-up of slag. The gun tip needs cleaning after every job to ensure it does not clog. You need to unscrew the gun tip and cut off any slag with a metal cutting tool.
Welding Wire
For the sake of weld consistency, the welding wire must always be kept clean and protected from rust, corrosion and grease. Replace the wire if it becomes damaged.
Maintenance for TIG Welding
Tungsten inert gas welders require careful, thorough and routine maintenance to prolong equipment life and keep welders safe. This means paying particular attention to anything that could lead to an increased risk of electric shock. The workspace should be free from clutter and have properly earthed surfaces for standing on, such as a rubber mat.
Cables
Cover all equipment cables and hoses with woven nylon covers, and ensure they are all insulated. Replace if any exposed wires or corrosive damage is found. Keep cables organised according to OHS standards.
Welding Gun and Torch Handle
Remove the collet and its body periodically, and clean with a handheld wire brush and welding nozzle cleaner to remove any oxide build up. This helps prevent an erratic arc and maintains good working conditions. Make sure all TIG torch components are tight. Examine the nozzle for all signs of wear including cracking, blackening, and distortion. Such symptoms can reduce the coverage of shielding gas and lower job performance, so it is important to replace nozzle if any of these signs are apparent.
Inspect the torch handle for any cracks and replace if necessary. A cracked handle increases the risk of electric shock. You should also inspect the body of the torch for any cuts or cracks and replace it if any are found. Carefully examine the insert of O-ring on the rear cap. Replace if any signs of deterioration or cracks are evident, as this can lead to defects in the weld.
Maintenance for SMAW Welding
Commonly known as stick welding, nearly all the components of SMAW unit are internal; exceptions being the ground clamp and electrode holder. These parts are not prone to becoming dirty and therefore do not need regular cleaning. They do, however, wear over time and should be replaced when necessary.
Internal Servicing
The inside of a stick welder gun must only be serviced by qualified technician. This is important in the long term to address any build-up of grime, dirt, and dust on cooling fans, PC boards, wiring, and transformers, and having this done occasionally helps optimise performance and prolong the life of the equipment.
Electrode Maintenance
All electrode rods should be stored in an airtight container, as they collect moisture and develop the likelihood of rust when left out in the open. A good option for the regular welder is a rod oven, which helps keep the rods at the correct moisture level. Electrodes should also be stored in an upright position to avoid rubbing contact with other rods, as this can lead to damage, which can negatively impact on welding performance.
Cleaning Tools
General purpose methods for cleaning such as the use of a rag and handheld wire brush are very effective for much equipment maintenance, but they have their limitations. Specialised tools that provide access to difficult to reach areas, as well as purpose made solvents used as cleaning devices, can make regular equipment maintenance much easier. The various aids listed below are useful for most welding applications.
Welding Nozzle Cleaner
A welding nozzle cleaner is a must-have cleaning tool for general maintenance of the nozzle and may be used for other difficult to access parts. The tool enables you to perform the essential task of cleaning out the nozzle tip, which is otherwise difficult to access.
Anti-Spatter Cleaner
Anti-spatter cleaner is most commonly used to remove and prevent spatter build-up in the tip of the welder gun and can also inhibit the onset of corrosion on various metal surfaces. Anti-spatter also facilitates a broader industrial cleaning application, and comes in different compound formats according to manufacturer. These include spray, gel, paste, and liquid.
Weld Crack Detection
Weld crack detection spray identifies any cracks that begin to appear in metal. This is normally a three-step process, involving a cleaning action, a dye, and a dye lifting process, which reveals fine crack lines in welding equipment.
How to Buy Maintenance Equipment on eBay
Depending on the type of maintenance you need to give your welding machine or machines, you may or may not find what you need on eBay. Nevertheless, most spare parts and tools for routine cleaning can be found here by entering simple search requests, such as anti-spatter, into the search bar. Make sure you check a variety of listings to make product comparisons, and carefully read through all specification details. In case you make a purchasing error, you need to know whether the buyer accepts returns within a given time frame, so read all terms of sales and returns policies thoroughly.
Although optional, it is a good idea to find out whether your designated seller has an eBay shop where you may find other maintenance gear for your welding equipment. Also, investigate your designated seller before you purchase by checking their eBay seller reviews from previous customers. This gives you a good indication of not only your seller's reliability but also how long you can expect to wait for your order and the standard of packaging and despatch time.
Conclusion
Buying replacement parts for your welder can get expensive, and the breakdown of entire units can throw a huge cost-bearing burden on your hobby or business. Good maintenance is the most cost-saving measure anyone can invest in their welding machine and associated parts. Not only does it mean less frequent equipment replacements and repairs; it also amounts to a reduced likelihood of accidents and an increase in quality workmanship.
Putting in the time and effort to keep your welding equipment in top shape should be factored into the performance of any welding job, and it should become part of your welding routine. Although not particularly exciting, you are more than compensated with the securing of your own personal safety and that of those around you, the quality of your weld, and the longevity of your equipment. If you want to enjoy your welding work without the hassles and risks brought on through neglect, there is no other option.