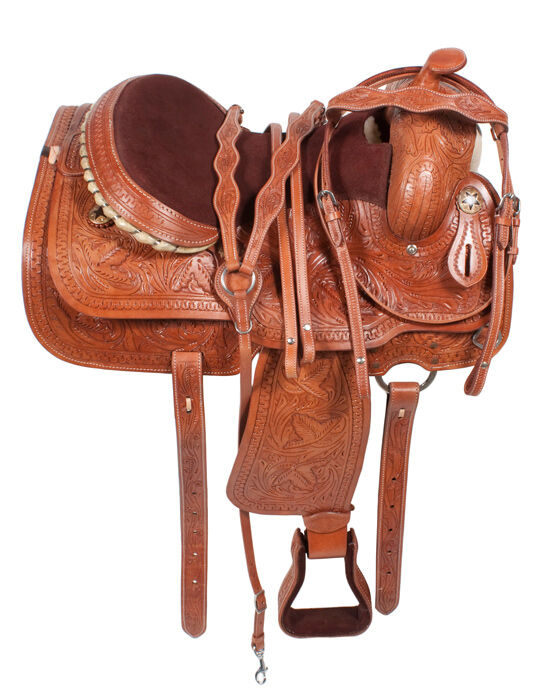 What to Look for in a Western Saddle
The modern Western saddle evolved from those used historically by Spanish cowboys (the Vaquero).
The design of the Western saddle as it stands today has barely changed since the early 19th Century. The saddle used by the Spanish Vaquero was mounted on a saddletree to form the Western saddle as it's known today.
A Western saddle is a decorative saddle suitable for many different types of horse riding. Western saddles are generally made from leather or man-made synthetic materials such as polyurethane.
Western saddles don't have any padding between the tree of the saddle and the skirting, which is a characteristic of English saddles. However, the Western saddle does require padding between the saddle and the horse to ensure both are comfortable when riding.
There are many styles, sizes and brands of Western saddles available to buy on eBay to suit riders of all ages, interests and abilities.
In the rest of this guide there is more information on the materials used in Western saddles as well as a list of popular manufacturers and things to consider when buying a Western saddle on eBay.
Western Saddle Materials
Western saddles tend to either be leather or constructed from man-made synthetic materials.
Traditionally all Western saddles were made from leather. This is still by far the most popular type of Western saddle material used in saddle manufacture today. Genuine leather is entrenched in the history of Western saddles dating back to the Wild West in the late 1800s.
The durability of leather Western saddles means there are still lots of them around today from the 19th and 20th Centuries, resulting in a thriving vintage saddle market on eBay.
Synthetic Western saddles can be made partially or fully from synthetic materials such as polyurethane. Synthetic saddles do not generally stand up to long periods of regular use but are suitable for more casual riders who perhaps ride for leisure purposes for shorter periods of time.
Western synthetic saddles require less maintenance than their leather counterparts but tend not to have the same levels of longevity.
Western Saddle Manufacturers
The list below features some of the most well-known Western saddle makers, many of which can be found on eBay.
Double J
Ideal
Rhinegold
Tex Tan
Wintec
eBay makes it easy to search for any Western saddle manufacturer by enabling users to enter any term into the search bar at the top of each page.
Western Saddle Trees
The Western saddle tree is made up of five separate elements as below:
Bars
Cantle
Fork
Gullet
Horn
The bars in a Western saddle tree are secured at the front by the fork and at the back by the cantle. The horn goes on top of the saddle tree at the front. The gullet simply refers to the gap at the front of the Western saddle tree that's created by the fork. Common Western saddle gullet sizes range from 6.5 inches through to 8.25 inches.
The two main kinds of Western saddle tree are the Wade and Flex Tree.
Not all Western saddles have trees. There are treeless Western saddles available to buy on eBay. These work by adding padding to the underside of the saddle to ensure there is not too much pressure on the horse's back when being ridden. A saddle tree works by creating a gap between the Western saddle and the horse's spine.
Wade Saddle Tree
One of the most important features of the Wade saddle tree is that it enables better weight distribution of the rider and is therefore more comfortable for the horse.
H4 Tag:
Flex Saddle Tree
As the name suggests, the flex saddle tree is designed to give more flexibility and be better aligned to the horse's movements when being ridden.
Western Saddle Parts
There are over 20 individual elements that come together to make up a complete Western saddle. Some of these are explained in more detail below:
Cantle
The cantle is found at the rear of a Western saddle. The Western saddle cantle has two main functions; the first is to stop the rider falling out of the Western saddle and the second is to secure the saddle tree bars together to provide stability.
Cinch
The cinch on a Western saddle is also known as the girth (mainly when referring to English saddles). The cinch stretches underneath the horse to secure the saddle via the rigging. The comfort for the horse should be the primary consideration when choosing looking at a saddle cinch.
Horn
The horn on a Western saddle can be found at the front. Saddle horns are usually made from:
Traditionally, the Western saddle horn was used to help with roping when rounding up cattle. While this activity is not so commonplace today, the horn remains a useful part of the Western saddle's design. It can be used to help a rider stay on the horse by gripping it, or just somewhere for a rider to hang their hat.
Saddle Jockeys
There are three different Western saddle jockeys, namely:
Back Jockey
Front Jockey
Seat Jockey
These jockeys are there for protection. They cover the saddle tree bars as well as making sure the rider's legs don't come into direct contact with the body of the horse as this can be uncomfortable for both parties on long rides.
Seat
Western saddle seats are curved and sloped to help a rider and the horse stay comfortable. The incline of any slope on the saddle depends on a rider's personal preference and the activities they'll be carrying out. The Western saddle seat sloping options are:
Low Slope
Medium Slope
High Slope
Western saddle seats come in a range of sizes from 8 inch to 20 inch to suit children, women and men of different ages, sizes and body shapes.
The table below is a general guide to the different Western saddle seat sizes.
| Western Saddle Seat Size | Type of Rider |
| --- | --- |
| 8-13 Inches | Children |
| 14 Inches | Young Adults |
| 15 Inches | Average Fully Grown Adult |
| 16 Inches | Larger Adults |
| 17-20 Inches | Very Large Adults |
Skirts
Western saddle skirts are large pieces of leather or synthetic material that hang down from the seat to provide protection for the rider and the horse.
Both round and square Western saddle skirts are popular and regardless of shape they make riding more comfortable for the horse and rider.
5 Things to Consider When Buying a Western Saddle
eBay has a whole host of new and used Western saddles available to buy online. The five considerations below will help any potential buyer make an informed decision on which Western saddle best fits their requirements. It's wise to consider the saddle before looking to buy a Western saddle pad.
Riding Discipline
The type of Western saddle a person chooses will to a large extent depend on the activity it's going to be used for. For example, one rider may want a parade saddle and another might want one for leisure riding.
Saddle Material
As mentioned earlier in this guide, Western saddles are either made form leather or synthetic materials. Budget may play a role in a rider's decision on which saddle to choose on eBay. Another consideration is when a Western saddle is being bought for a child. A more affordable synthetic Western saddle might be a better option as it can be replaced without as much expense as the child grows.
New or Used Saddle?
There are lots of good quality used Western saddles on eBay which are ideal for someone who's new to riding and just wants to try it out.
New Western saddles on eBay may be available at below the manufacturer's recommended retail price so it's worthwhile doing some research.
Saddle Colour
Western saddles are available in a range of different colours. The rider may want to choose one to complement the colour of their horse or perhaps their riding outfit.
Common Western saddle colours include:
Beige
Black
Brown
Grey
Tan
It's easy to narrow down search results by colour on eBay using the option on the left hand side of the Western saddle category page.
Longevity
When deciding on which Western saddle to buy, longevity is a key issue. For example, some riders will want to buy a brand new leather Western saddle to last them a lifetime, while others may be looking for a more short-term synthetic saddle for a specific purpose.
How to Buy a Western Saddle on eBay
The Western saddle market on eBay is a thriving one. A potential purchaser is able to choose from a whole host of Western saddle manufacturers, styles, colours and materials.
Searching on eBay for Western saddles is virtually effortless. Buyers can type a keyword or phrase into the search bar at the top of each page without having to log in first.
The search results can then be filtered by price or to only show Buy it Now items.
In addition to Western saddles, there are many other kinds of horse saddles and equestrian related items for sale online at eBay.
To find out any additional information about a specific Western saddle listed for sale, an interested buyer can Ask the Sellera question in order to get the extra details they need in order to Bid.
Due to its long-established partnership with PayPal, buying a Western saddle on eBay is fast, secure and simple to do.
· Conclusion
Western saddles are made from either leather or man-made synthetic materials such as polyurethane. Leather saddles provide more longevity as long as they are maintained properly.
A Western saddle is made up of over 20 different elements. As well as being able to buy new and used Western saddles on eBay, there are also a range of individual component parts should one need replaced.
The Wade or Flex Tree is one of the most important parts of a Western saddle and consists of five different parts. Some Western saddles are treeless and use padding to ease the impact on the spine of the horse.
Western saddles also come in lots of different colours to complement either the rider or the colouring of their horse. Searching on eBay for Western saddles delivers a number of choices for the potential buyer.