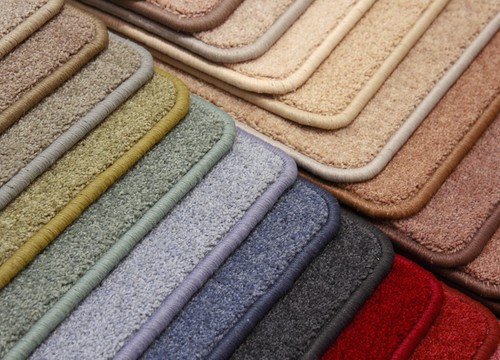 Carpets are usually long term investments and so choosing the right carpet is important. Carpets should look and feel good, and be durable and affordable. Although buying carpets may seem straightforward, a number of factors should be considered during the decision making process as there are a range of carpet options available. Durability, long term use, and your budget should be considered before you start shopping. Carpets come in a variety of pile and fibre types and there are two different manufacturing methods.
Understanding how different carpets are made and what common terminology means makes the options available clear and easy to understand. Carpet colours and patterns should be taken into account, as well as the room to be carpeted. Some carpet types are designed for high traffic areas and include built-in protection against wear and tear; this can also be added to carpets after installation. Finally, learn how to protect and care for carpets. Carpets are available from DIY and department stores, and online from sources like eBay.
Factors to Consider When Shopping for Carpet
It is important to remember that carpet needs to last for an extended period of time. This means that the carpet chosen should be resistant to wear and tear, appropriate to the amount of foot traffic in the area, and versatile so as not to become dated within a year or two. Consider what the carpet looks like with existing decor and in different lighting conditions. Set a realistic budget and do your best to stick to it. Calculate how many square metres of floor space needs to be carpeted and work out a per square metre price, including the cost of underlay. Although anyone can install carpet it usually looks and lasts better when done by a professional, so factor in the costs of installation into the budget
Types of Carpet Pile
Choose the right pattern and colours for your needs. Carpet pile refers to the upper layer of fibres. The table below lists carpet pile types and gives a short description of each.
Type of Pile

Description

Twist

Made from yarn twisted together tightly

Most common pile type

Offers widest variety of fibres and colours

Coarse finish

Loop

Pile consists of strong looped yarn

Textured finish

Durable and practical

Retains shape and does not show footprints

Not pet friendly

Berber

Type of loop pile

Random mix of coloured yarns

Multi coloured, flecked, textured look

Durable

Cut

Made from looped yarns that have been cut

Soft and textured

Velvet

Smooth, cut pile finish with velvet-like appearance

Short, very dense pile

Usually low maintenance

Saxony

Cut pile carpet with medium length fibres

Dense and luxurious

Made with twisted fibres

Shows footprints easily

More difficult to clean

Shag

Cut pile carpet made with longer fibres

Luxurious and soft

Requires more maintenance that shorter pile types

Flatweave

Made with interlocking vertical and horizontal threads

Looped, but without height

Pile appears flat

Does not show wear easily

Needle Felt

Created through electrostatic flocking

Dense and durable
Longer pile types require more maintenance as dust and dirt can be trapped between the fibres more easily. Loop type pile is not recommended for homes where pets walk on the carpets as their claws can pull the loops, increasing the chances of injury to the animal and damage to the carpet.
Types of Carpet Fibre
Pile fibres can be natural or synthetic. Wool is the main natural fibre used for carpets, and polypropylene, polyester, and nylon are common synthetic fibres.
Natural Carpet Fibres
Wool or wool-rich fibres are popular as wool is naturally flame resistant and an excellent insulator, is easy to maintain, durable, and retains its appearance. It is soft to the touch, keeps its shape, and resists dirt, wear and tear. As wool tends to be fairly expensive wool blends are common. 80 percent wool and 20 percent synthetic blends are designed to retain the best properties of both fibres. Wool blend carpet should contain at least 50 percent wool.
Synthetic Carpet Fibres
Polypropylene is easy to maintain as it is stain resistant. It is durable and colourfast, but tends to flatten easily and lose its original look. However, it remains a good low cost carpeting option. Polyester is easy to maintain, resistant to wear and tear, and is warm, but flattens easily and tends to lose its colour. Its glossy appearance makes it a popular choice for Saxony carpets and it is often used in wool blends to define tufts and reduce fibre shedding.
Nylon is the strongest synthetic fibre commonly available. It wears well and does not flatten as easily as other manufactured materials. It is easy to maintain and highly stain resistant. While it retains its appearance better than polypropylene and polyester, nylon does not retain its appearance as well as wool. Synthetic carpets are recommended for homes with young children or for wet areas.
Carpet Manufacturing Processes
Most carpet is either tufted or woven. Tufted carpet is created by punching pile yarn into pre-made backing fabric before applying a secondary backing fabric. These carpets are easy to manufacture and can be made with all types of yarn with a variety of pile textures and patterns. Woven carpets are manufactured through traditional weaving methods where the front and back are woven simultaneously. This takes longer than tufting and is more costly, but yields excellent pattern definition and high quality, long lasting carpets.
There are two types of woven carpet: Axminster and Wilton. Axminster carpets are machine woven and can have a wide range of patterns and colours. The yarn is woven with the weft, the horizontal threads. Wilton can feature up to five colours per pattern, but is more commonly used for plain carpets. These carpets are made up of a continuous strand woven through the carpet.
Carpet Patterns
Carpet patterns should be chosen with care as a trendy pattern may look dated within a few years. However, traditional designs or stripes can be timeless. Florals and similar delicate patterns work well in small spaces, while stripes are suitable for hallways and stairs. Large patterns in small rooms can create a cluttered feel. Patterns tend to hide dirt and wear and a well chosen pattern can act as the focal point of the room. Remember to keep the room's current decor in mind when choosing a pattern, opting for something complementary and avoiding patterns that are in competition with furniture or other items.
Carpet Colours
Carpets in solid neutral colours are the most popular as they are matched easily to a broader colour scheme. A carpet in a light colour can make a room appear larger, but shows dirt more easily. Darker colours make rooms appear smaller. Consider adding warm colours to rooms that do not receive a lot of natural sunlight to make them appear warmer. Borders and runners can be used to add accents to plain carpets.
Consider the Room to be Carpeted
Some rooms experience heavier foot traffic than others, for example hallways and stairs require more durable carpets than bedrooms. Choose a soft, indulgent carpet for the bedroom and a stain-resistant, durable variety for children's rooms. Bathrooms can be carpeted, but it is best to use a synthetic carpet with a synthetic backing to reduce the possibility of mould and water damage to the floor and carpet. Opt for a durable, practical carpet in the living room, and choose something more luxurious for the dining room if it is only used on special occasions.
Should I Use the Same Type of Carpet Throughout the House?
Different carpets can be used in different rooms, but using the same carpet throughout the house creates a feeling of decorative unity. Some carpets come in different weights, allowing you to use heavier carpets in high traffic areas.
Carpet Protection and Care
Some carpets have been treated with protective finishes to improve stain resistance and resistance to wear and tear. Depending on the type of fibre chosen and whether carpets are pre-treated, a protective finish can be added after the carpets have been installed. Add mats to areas at doors to prevent wear.
Vacuum carpets at least twice a week to prevent dirt building up in the fibres. Carpet cleaning solutions should be designed for the carpet's fibre type. If you are unsure about a product's suitability, test a small section in an unnoticeable place. Remember that furniture may not always be exactly where it is now, so choose the spot carefully. Clean up spills and stains as they happen, and blot stains instead of rubbing them. Have the carpets deep cleaned occasionally.
Buying Carpet on eBay
Finding the right carpet for you on eBay is as simple as knowing how to search. Type a search phrase, for example "red carpet", into the search bar that is located on every page, to see the items for sale. Choose the most appropriate category and item characteristics to narrow your search results.
Before You Buy on eBay
Evaluate the item and the seller before buying on eBay. All the information that you need to do this can be found on the item listing page, which is accessed by clicking on an individual listing. This page contains details including bidding and buying options, the item description, postage and packaging costs, the seller's accepted payment methods, and the seller's feedback information. Seller feedback is accessed by clicking on the number next to the seller's username and can be used to get an idea of what other buyers have to say about a specific eBay seller's products and customer service.
Conclusion
Carpets are available in a number of pile, fibre, and manufacturing options. Twist pile is the most popular pile type as it is versatile and durable. Plush carpeting is more suitable for low traffic areas and loop pile should be avoided if you have pets. Wool is the most popular choice for carpet fabric: carpets are often made from wool and synthetic blends. Purely synthetic carpets should be used in bathrooms and areas where water spills are likely. Consider durable and easy to clean synthetic carpets for children's rooms, especially if you have young children. Woven carpets tend to be more expensive, but wear better than tufted carpets.
The colour and pattern of the carpet chosen should match the rest of the room's decor. Be careful when choosing patterned carpets. Large patterns can make small rooms look cluttered, and trendier patterns may go out of style within a year or two. Light plain coloured carpets make rooms look bigger, but show dirt easily. Dark coloured carpets make rooms look smaller, but do not show dirt easily. Using the same carpet throughout the house creates a feeling of decorative unity.
If carpets do not have built-in stain protection, consider adding this once they have been installed. Keep carpets looking their best by vacuuming twice a week and dealing with spills immediately. Deep clean carpets every so often to revitalise them and to remove ground in dirt. eBay sellers offer a wide selection of carpet fit for any room.