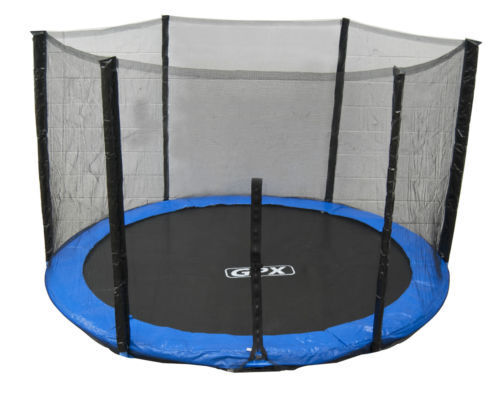 Trampolines are popular outdoor toys, which encourage active play and exercise, and can be used by both children and adults. Many different sizes and shapes of trampoline are available, while more easily stored folding models can also be found.
A wide range of trampolines are available for purchase on eBay, including sunken in-ground trampolines which offer a number of unique advantages.
What is a Trampoline
Trampolines consist of a few main components; the metal frame, the taut fabric 'bounce mat', the springs and the frame pad, which adds a soft barrier around the hard metal edges.
The bounce mat itself is not elastic, the force instead coming from the metal springs surrounding the mat. These means the springs take a great deal of force, and have to withstand a considerable amount of wear. Many trampolines are constructed with a metal frame which is placed upon the ground. In-ground, or 'sunken' trampolines, are also available, which are built into a trench in the ground.
Types of In-Ground Trampoline
There are two main kinds of in-ground trampoline widely available, which are suitable for different situations and users.
Raised In-Ground Trampoline
Raised in-ground trampolines are trampolines which are sunk somewhat into the ground, but are raised about 30 centimetres above the ground. These trampolines often include specially designed frame pads which feature air vents, which allow air compressed by the downward pressure of the bounce mat to escape.
These trampolines are easier to install than flush to ground trampolines, and they require a less deep ditch. Raised in-ground trampolines are a popular choice for those who plan to install the trampoline themselves, rather than hiring professionals to dig the hole. It is important when installing this kind of trampoline to ensure that the ground is stable enough to support the trampoline and that there is adequate drainage.
Flush to Ground In-Ground Trampoline
Flush to ground in-ground trampolines have the bounce mat flush with the ground. This kind of trampoline often uses an ordinary model of trampoline sunk into the ground, combined with the use of a retaining wall which helps to maintain the structural integrity of the hole.
This kind of in-ground trampoline has the benefit of a strong structure, which ensures the hole will not erode around the trampoline over time. A downside of this is the added cost of the deeper hole, and that of the retaining wall. These can also be more complex to install, with some opting for professional installation. Often, this kind of trampoline is installed with a sloping incline in the ground around it. This makes the trampoline invisible until close up, which some find desirable for the aesthetics of their garden.
Key Advantages to In-Ground Trampolines
There are a number of key advantages which in-ground trampolines have over their above ground counterparts, from looks to increased safety.
Visual Prowess
Conventional above ground trampolines can take up a significant amount of space, and are an immediately visible addition to a garden. For those conscious of the presentation and look of their garden, this can be a significant drawback. This is not a problem with in-ground trampolines, as their lower profile can make them less obvious, or indeed hard to spot at all.
This is particularly the case with flush to ground models, which can easily blend in with the surrounding garden. Some build a sloping incline in the ground leading to an in-ground trampoline, which can completely obscure the trampoline itself from view.
Safety
While standard above ground trampolines are suspended above the ground by the legs of the frame, in-ground trampolines have little or no distance between the bouncing mat and the ground. This adds a level of safety not found in other kinds of trampoline, as children using the trampoline have less distance to fall if they do fall off the trampoline. This can negate the need for a safety net to be added to the trampoline, which is recommended for on ground trampolines in order to prevent children from falling off and injuring themselves. As the area beneath the trampoline is inaccessible, this removes the risk of small children or household pets from wandering beneath the bounce mat during use, which poses a risk of injury.
Better for Children
In-ground trampolines are more suitable for children, particularly young children, than the conventional trampolines. Not only are in-ground trampolines safer in the event of a fall, with less distance to fall between the mat and the ground, but they are also much easier to access for young children. As they are close to the ground, there is no need to climb up onto the trampoline, meaning small children can access the trampoline without the aid of an adult or the risk of falling. This also means there is no need for a ladder.
Easier to Maintain
* In-ground trampolines require less maintenance to keep in a good condition than conventional on ground models. Less of an in-ground trampoline is open to the elements, which makes it easier to fully protect with a trampoline cover.
* This helps prevent the development of rust, and protects the trampoline from water damage in general. Another benefit is that unlike standard trampolines, there is no need to sweep the area beneath the trampoline of debris, as this area is sheltered.
* The in-ground trampoline also has the benefit of not having any grass beneath it which needs to be maintained, and saves owners the inconvenience of having to move around a trampoline to mow the lawn.
* Furthermore, in-ground trampolines are a good choice for those living in very windy areas. This is because the trampoline is securely sunken into the ground, removing the risk of the trampoline being blown over and causing damage both to itself and other objects in the surrounding garden.
Size and Shape
A key decision to be made when purchasing an in-ground trampoline is the size and shape of the trampoline. The primary consideration to make here is the garden the trampoline is being set up in. It is generally considered a good idea to choose the largest size of trampoline that will comfortably fit into a particular garden, with enough room for a surrounding safety area, free of objects in case a user falls from the trampoline.
The shape of a trampoline partly depends on personal preference, and partly on the shape of the space a trampoline is being fit in. There are three main shapes of trampoline which are widely available:
* Circular trampolines are among the most widely available. This shape is popular due to the fact that the circular shape of the mat causes a user to bounce towards the centre, which provides added safety. It is also easier to dig a circular hole for a circular in-ground trampoline, and many consider these trampolines to look better in a garden.
* Rectangular or square trampolines are less commonly favoured, as they lack the bouncing towards the centre effect of the circular bouncing mat. These trampolines may often fit well into some gardens, however.
* Octagonal trampolines are far less commonly available, and can be awkward when it comes to replacing components such as the frame pad, as these can be difficult to find. It is also difficult to dig a hole to fit an octagonal in-ground trampoline.
Buying an In-Ground Trampoline on eBay
* A variety of trampolines are available on eBay, suitable for a variety of spaces and in-ground installations.Trampolines can be found in the Outdoor Toys & Activities section, under Toys & Games. The listings can be arranged by categories such as location, price, condition and distance to seller. It is also possible to sort between Auction and Buy it Now buying options, providing flexibility in how a trampoline can be purchased.
* Key information about the product, such as the size and shape of the trampoline, is generally prominently displayed in the item listing. This helps to identify whether a particular item meets any specific requirements. Further information can be accessed on the items page. As well as more detailed information about the item, information about the seller can be accessed here. This includes information such as item reviews and feedback ratings, meaning a purchase can be made with confidence. It is also possible here to ask the seller a question regarding the specific item.
* If a specific size or shape of trampoline is required, it may be easier and more effective to use the search function available at the top of every page. This function can be used anywhere on the site, and can be used to return search results from all available categories, or from within a specific category. Further information on how to use the search function is available on the Search Tips page.
Conclusion
Trampolines are a popular piece of outdoor play equipment, and various sizes and shapes are available to fit a range of needs and users. In-ground trampolines offer numerous advantages over traditional on ground trampolines, including additional security, safety and ease of use and maintenance. A wide range of trampolines suitable for in-ground installation are available on eBay.