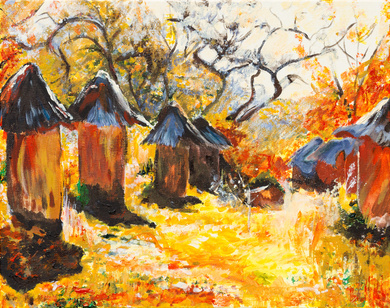 Prints have long been a popular type of art for collectors, and can feature many different materials and styles. Open edition prints are often easier to obtain and more affordable than limited edition prints, due to their wider availability, and a wide range can be found on eBay.
Open Edition Prints
Open edition prints are one of the two possible ways an artist can produce and release a print.
Open edition prints have an unlimited production run, with no limit set on the number that can be made. Production generally runs until demand dwindles, or the printing plate wears out.
A print produced as an open edition is often more widely available, and less expensive to obtain, making them a popular choice for art lovers looking for a less expensive piece.
Open edition prints are distinct from limited edition prints.. These are prints which have a specific set limit on how many can be produced, often increasing the value of individual pieces. Limited edition prints can be harder to obtain, and considerably more expensive than open edition works.
Authenticity is often of much concern with limited edition pieces, as this is where much of the works value comes from. Limited edition prints will often be signed and numbered by the artist, which is not often the case with open edition prints.
A Wide Range of Different Types
There are a wide range of open edition prints available, including those of many different types of print. A variety of materials have been widely used in prints.
A Variety of Art Styles
Many different kinds of art style are also available when buying an open edition print. These encompass numerous different artistic movements, ranging from realist works, including prints of paintings and photographs, and the very abstract.
Realism
Realist pieces are those which focus on reproducing reality in art, such as paintings of landscapes or accurate sculptures of individuals. Realism is a widely used style, and has a long history in painting, sculpture, and print. Popular subjects of realist prints include people, landmarks, landscapes and other physical subjects.
Abstract
Abstract art first emerged in the early Twentieth Century, rejecting the tradition realist styles and rapidly becoming a popular art style, remaining so into contemporary works. Abstract pieces often use an apparently anarchic combination of colour, form and lines in order to present many different concepts and emotions. Abstract art can offer stylised representations of reality, as well as abstract concepts and emotional states and ideas in their work.
Art Deco
Art Deco first emerged in France in the 1920's and was a highly popular art style throughout the Twentieth Century. Art Deco pieces often exhibit bold geometric shapes and rich colours, inspired by machinery and the industrialisation that was rapidly unfolding throughout the world at the time. Art Deco is a common style among older pieces, particularly from the modern period.
Pop Art
Pop Art is a style that emerged during the 1960's, rapidly gaining popularity and remaining so into the contemporary period. Pop art includes references to characters, themes and other elements from contemporary popular culture, representing a break from, and rejection of, the more traditional fine art. Pop art often references popular musical acts and film franchises, and can represent many different styles.
Surrealism
Surrealist art emerged in the early Twentieth Century, and emphasises surprising combinations of objects and situations, offering unexpected contrasts and juxtapositions. Surrealism is sometimes seen as similar to abstract work, though they are separate and distinct styles. Surrealist art remains popular in the contemporary era.
A Range of Subjects
Open edition prints can be found which cover all kinds of subject matter, making them a popular choice for collectors, as a print of a desired subject can be easily found.
Portraits
Portraits and imagery of individuals has long been a widely used type of subject matter, throughout the history of art. Portraits can be found in a variety of different styles, and from throughout the different eras, particularly in older and antique works, and are often of significant individuals from history.
Landscapes and Cityscapes
Landscapes and cityscapes are a widely available and popular kind of print, and have long been a mainstay of paintings and other media. Older works will often feature countryside and rural scenes, while newer pieces may be photographic imagery of city and urban environments. Nautical and seascape works are also a popular subject matter.
Animals
Animals are a popular subject for prints, featuring both realist depictions and abstract representations of their movement and other themes. Domestic animals, wildlife and birds are all popular subjects for this kind of print, and animals are often featured in a variety of different poses and situations.
Still Life
Prints of still life works are a popular choice amongst collectors. Still life use inanimate objects as their subject matter, with fruit and flowers being a popular subject. Many still life works are highly realist in style, though abstract works are also available. Some of the early abstract pieces experimented with this subject matter.
Time Period
Open edition prints are available from a number of time periods, and are often easier to obtain than limited edition prints, due to their often larger numbers. The time period of a piece refers to when that piece was made, though this can also refer to the piece that a print is a reproduction of, for example a modern print of an antique painting.
Antique art is generally considered to be that which was produced before the start of the Twentieth Century. Due to their age, works from this era are often hard to obtain. Serigraphs and lithographs are likely types of prints from this time. Modern prints, such as giclees, of popular works from this period are also popular. Realism was much more prevalent here than in other eras.
Modern pieces are generally considered to be those created during much of the Twentieth Century. Many different styles and print types are available from this period, and abstract style rose to prominence during this time. Prints from this era are available, and prints of work from this time are widely popular.
Contemporary work is that which has been made from the last decades of the Twentieth Century, up to the present day. A wide variety of subject matters and artistic styles are available at this time, while developments in printing and photographic technology have allowed for new kinds of work and easy reproduction of older pieces. Contemporary open edition prints are one of the most easily obtained and inexpensive type of prints.
How to Buy an Open Edition Print on eBay
A wide range of open edition prints, featuring a variety of styles and subject matters, can be found on eBay. The full listing of available prints can be found under the Collectables & Antiques section. Prints can be found under the Art section, where items can be further categorised by price, condition, distance to seller, subject and style as well as between open and limited edition prints. The Auction and Buy it Now buying options are also available, offering flexibility in how an open edition print can be purchased.
Key information about a print is often displayed prominently on the item listing, making it possible to quickly and easily discern if an item meets any requirements. More detailed information about an item is available on the item page. This includes information about the seller such as item reviews and feedback ratings, meaning a purchase can be made with confidence. If any further detail is required, it is also possible here to ask the seller a question regarding the item.
If a specific print is required it may be easier and more effective to use the search function available at the top of every page. Searches can be made within specific categories, or to return results from the entire site. Further information on getting the most out of the search function is available on the Search Tips page.
Conclusion
A wide range of open edition prints are available, featuring a variety of styles, subjects and materials. Open edition prints are often more widely available, due to the greater number that is often produced, and are also generally more affordable than limited edition prints. It is easy to find an open edition print on eBay.