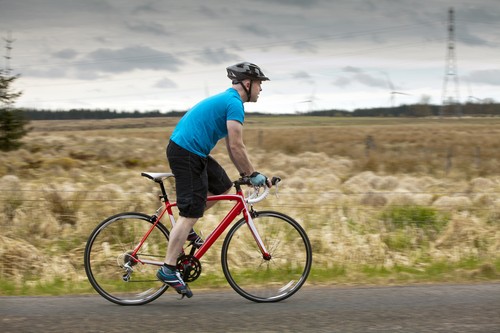 Join the Road Bike Revolution
One road bike can have quite different characteristics to another but both can be equally good. When looking to buy a good road bike there are many criteria that need to be considered before a correct buying decision can be made.
Some of these considerations relate to the road bike itself, be it the design or the materials used. Buyers will also need to think about how and when they are going to ride their road bike e.g. during races, for leisure riding or commuting.
A good road bike can be many things:
A cheap mode of transport.
Used for keeping fit & active.
Used for racing & competition.
For recreation & leisure.
What Will The Road Bike Be Used For?
Before even looking at the road bikes available to buy on eBay the buyer will need to take a look at him or herself. This will help them decide what characteristics are most desirable from a road bike first in relation to what kind of riding it will mostly be used for. For example, a children's road bike will have some different characteristics than an adult's road bike.
Commuting & Touring
When searching for a good road bike to use for cycle touring the main characteristics a buyer should be looking for will be:
Strength
Suitability
Adaptability
A good, strong road bike will be required to deal with the rigours of daily commuting and long-distance cycle touring. This type of rider may want to turn away from ultra-lightweight carbon fibre bikes and head towards those made from materials like steel or aluminium alloy.
For a commuting road bike it might be best to search for one that has a compact chainset, rather than the higher spread of gears found on some pure racing bikes. It may also be preferable to head toward a bike with a gear hub, a band drive-train or even a single, fixed gear, as these tend to require less maintenance.
As commuting road bikes are generally heavier than their racing counterparts, and will be laden with the added weight of all that travelling kit, the rider will need to choose a bike with suitably low gears. Ideally, look for a bike with a triple chainset (three cogs at the front) and a wide spread of cogs at the back. This means there will always be a gear low enough to pedal up any mountains encountered, and also one high enough for going down the other side.
Remember that heavier also means harder to stop, so look for a bike that has suitable brakes – ideally either cantilever-style or hydraulic discs.
A sturdy road bike will be required to cope with the punishment that regular commuting entails. A more upright riding position may also be beneficial as it helps the rider to see over cars and makes them more visible to other traffic, especially in the city.
When looking for a men's or women's road bike that's going to be used for commuting or cycle touring, try and select one to which mudguards can be easily fitted – especially if it will be ridden in a rainy part of the world. This will either involve selecting a road bike that has frame and fork eyelets to which mudguards can be ready-bolted, or ensuring that there is sufficient clearance (at least 5mm) between the frame/forks and the tyres, so that clip-on mudguards can be easily attached.
If the bike will be carrying lots of luggage then look for a road bike with a frame that also has eyelets for the fitting of pannier racks.
Racing
When searching eBay for a good road bike to be used for racing the buyer should consider looking out for three main characteristics:
Low weight
Good frame rigidity
Fast handling
Low Weight
When racing a road bike the last thing anyone wants to be doing is dragging unnecessary weight around the circuit –a bike's extra bulk can slow things down.
The top-end road racing bikes can weigh anywhere between 14 and 22 pounds (approximately 6 to 10 kg) - although it's possible for a good road bike to be either lighter or heavier than this.
Rigidity
Whatever material the road-racing bikes for sale on eBay are made from, and no matter their weight, it is best to make sure that they are latterly stiff. This characteristic means that it won't display too much sideways flex from the bottom-bracket area whilst being ridden. Basically, any lateral movement is energy wasted; power that could instead be going into propelling the bike forwards faster.
Fast Handling
The frames of road racing bikes designed for serious competition tend to be constructed with steeper head and seat-tube angles, thereby providing them with faster, but perhaps less predictable handling characteristics. They may also have a longer top tube and a longer stem, providing a more aerodynamic position.
Long Distance Leisure or Sportive Riding
Those searching for a bike to be used for long-distance leisure riding or for competing in sportive-style events may want one that features a mix of characteristics.
Ideally they will want a road bike that is relatively low weight, but may also prefer a more comfortable and upright position to a road bike that's designed for pure racing.
These types of rider may also look for a road bike to which mudguards can be fitted, to keep them comfortable during those long, wet days in the saddle.
Low (compact or triple) gearing might also be something to consider to help reach the top of the last climb at the end of a long sportive.
Popular Road Bike Brands
The road bike market is packed with numerous brands but here are some of the most popular names that can be found for sale on eBay:
All brands, including the ones mentioned above produce road bikes with many different characteristics. These characteristics will be dependent on the overall design, as well as type of frame, forks and various fitted components.
Frame & Forks - What To Look For
Material of Construction
The frame of the bike is the tubes that constitute the main body to which the wheels etc. are attached. The forks are the two pieces of material that connect either side of the front-wheel axle to the frame.
Traditionally, road bike frames and forks were made from high-tensile steel tubing. Today eBay-buyers can choose from road bikes with frames and forks constructed from a whole host of different materials, some of which are pretty high-tech.
On eBay it is possible to find many good road bikes made from the likes of:
Steel
Aluminium
Carbon Fibre
Steel
Road bikes with steel-alloy (such as chromoly) frames and forks tend to have different characteristics to those made from more modern materials. Steel is generally the heaviest of the material types but it is often the sturdiest. Steel can often make for road bikes that are more comfortable to ride than those made from alternative materials.
Those searching eBay for a good, solid road bike to take on a long-distance overseas trek might seriously consider steel. Getting a steel frame repaired by a local blacksmith in some remote village is much more likely than finding a technician with the skills to rebuild a shattered carbon-fibre frame.
Look for steel that's made by a well-known manufacturer like Columbus or Reynolds and tubing that's double or triple-butted, as this makes for a lighter and often more comfortable ride.
Aluminium
Aluminium alloys, such as 6061 and 7005, tend to have a better strength-to-weight ratio than steel. A road bike with an aluminium frame will therefore tend to be lighter than a steel-framed bike. Aluminium-framed bikes, like those found for sale on eBay, will also tend to be stiffer and perhaps slightly less comfortable than those made from steel, as more of the road vibrations will travel up through the frame and to the rider rather than being dissipated through flexing of the material.
Carbon Fibre
Carbon fibre is used to make many of top-end road racing bikes found for sale on eBay. It provides frames that are stiffer, lighter and often more aerodynamic than those constructed from traditional materials. Carbon fibre can also be layered in certain ways to provide a bike that is not only lighter and faster, but also more comfortable. Carbon-fibre-framed road bikes tend to be more expensive but for many riders it's an additional cost worth paying.
Titanium
Titanium-framed road bikes are less common as this metal is more expensive and often harder to work with, however, titanium-framed road bikes can still be found for sale on eBay. These will have distinctly different characteristics to those constructed from other more common materials.
Titanium-framed road bikes will often be much lighter than those made from materials such as steel or aluminium. They can often be more flexible, therefore providing a road bike that is fast yet also comfortable to ride.
What Groupset Will a Good Road Bike Have?
The groupset on a bike constitutes the various components that include the gears, drive-train and brakes.
There are three main groupset brands that will be common to most of the road bikes you'll find for sale on eBay:
Each of these companies offers a range of groupsets, from low-budget to top-end race specification. Bikes with top-end groupsets will tend to display different characteristics to those with budget groupsets. However, buyers should mostly consider the frame of the bike when making their buying decision, as upgrading that in the future will be more costly than any gradual replacement of the various components.
The characteristics of the frame will also tend to have a greater impact on the handling of a bike and therefore on its suitability to the overall cycling requirements.
Campagnolo groupsets in rank from top-end to lower budget in the following order:
Super Record EPS
Record EPS
Super Record
Record
Chorus
Athena
Centaur
Veloce
Shimano groupsets rank from top-end to lower budget in the following order:
Dura-Ace Di2 [9070]
Dura-Ace [9000]
Ultegra Di2 [6770]
Ultegra [6700]
105 [5700]
Tiagra [4500]
Sora [3400]
2300 [2300]
2200 [2200]
SRAM groupsets rank from top-end to lower budget in the following order:
Gearing
A good road bike will very often feature gears from one of the top-end groupsets. Buyers may want to look out for 10 or even 11-speed gearing, however, their choice should be based on what the road bike will be used for. Selecting the right range of gearing for the rider's needs is as important as looking out for the name imprinted upon the components or counting the number of cogs.
Electronic Gearing
Certain manufacturers produce top-end groupsets that come with electronic, rather than purely mechanical gearing. If a road bike for sale features electronic gearing then it will probably be a top-end machine. However, buyers may want to consider the cost involved, as replacement parts for electronic groupsets are generally higher than for those with purely mechanical drive-trains.
Wheels
The type and brand of wheels on a road bike can make a big difference to its overall characteristics. Many of the road bikes found for sale on eBay come fitted with factory-made wheels, whilst some may come with hand-made wheels and those made to a custom specification.
The type of riding that will be done on the road bike will be a factor in deciding which types of wheel are best.
Wheels with deep, carbon-fibre rims and flat-bladed spokes may be more suited to road racing. Lighter wheels have a lower rotating weight and will provide an overall speed advantage.
More traditional spoked wheels with lower-profile rims will be sturdier and perhaps more suited to those looking to use their road bike for commuting, touring or general leisure riding.
Wheel Manufacturer Brands
Some of the big-name wheel brands found on good road bikes for sale on eBay include:
Bontrager
Campagnolo
Easton
Fulcrum
Mavic
Shimano
SRAM
Zipp
Tyres
The type of tyres fitted to a road bike can make a big difference to its overall characteristics. A wider, heavier and more treaded tyre might be better in the wet and be less prone to punctures but a lighter tyre will make a road bike feel much faster and more maneuverable to ride.
As with many of the other components on a bike, the tyres can be readily and relatively inexpensively changed at any point after the initial eBay purchase has been made. Buyers should therefore take the tyre type into consideration but shouldn't make it the sole basis of their buying decision.
Conclusion
Road bikes are typically made from aluminium, carbon fibre and steel. Road bikes can be used for commuting, racing, and for general recreation and keeping fit.
There are various types and brands of gears, wheels and tyres available, all of which can play a part in a road bike's overall performance.
It is worth remembering that a good road bike is the sum of its parts. The characteristics of a good road bike can be many and varied and choosing which is best can be down to deciding how you the rider will most use their road bike.
The serious racer may be looking for different characteristics to those preferred by the long-distance leisure rider, but it's highly likely both will find the road bike they require on eBay.