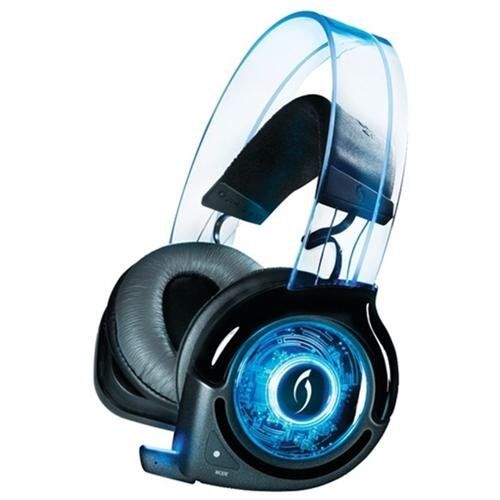 When shopping for a headset it is important to understand what is available. With the plethora of makes, models, and types, finding the right headset can seem like a challenge. However, knowing what to consider and how various types differ simplifies the buying process. The two main types of headsets available are full-size and in-ear. There are significant differences between the two and each has advantages and disadvantages. The most important factors to consider are audio reproduction and comfort. As with headphones, the design of a headset determines these two qualities.
Learn about the design and features of full-size and in-ear headsets, focusing on features such as sound isolation, sound quality and reproduction, comfort and build, additional features, and the pros and cons of each type. Compare these features to establish which type of headset is best suited to the user's needs. Headsets can be sourced from gaming and computer shops, and online from eBay.
Overview of Full-Size Headsets
Full-size headsets are also known as over-the-ear, ear cup, or circumaural headsets, and include models that fully enclose the ears. These headsets offer accurate, rich sound reproduction, while eliminating environmental noise. Their larger design makes them better at reproducing low bass sounds, but also makes them heavier. Most users feel that the benefits derived from the sound quality more than compensate for the additional weight. These headsets usually feature a headband and a boom microphone. They are not particularly portable and, as they block out external sound, should not be worn in a space where the user needs to be aware of his or her surroundings.
Sealed vs. Open Full-Size Headsets
There are a number of different types of full-size headsets. They are typically distinguished from each other according to the design characteristics of the earcup section. Sealed ear cups isolate the user's ears from the environment and limit the amount of sound that leaks out. The degree of isolation varies from one model to the next. These headsets are ideal for private listening. Headsets with open ear cups are relatively rare. This design allows sound into and out of the ear cups, making them more suitable for listening to music at home or being used outside when it is important to hear environmental noise, for example while walking or jogging.
Features of Full-Size Headsets
Full-size headsets are available with a folding design, making them easier to store and transport. The controls for the microphone, volume, and other features are typically situated on the cable, making it easy to adjust settings.
Advantages of Full-Size Headsets
Larger headsets potentially offer more bass and volume, with the ear cups creating a bigger sound stage and sealing in the audio. The surround sound produced has a noise blocking effect, eliminating environmental sounds. The more robust design makes the addition of a boom microphone convenient. These can usually be adjusted to suit the user's needs and produce good quality audio.
Disadvantages of Full-Size Headsets
Full-size headsets are generally not easy to store or transport. Although full-size headsets are rarely used outside the home, there are times when portability and ease of storage are important. Depending on the design of the ear cups, the headset may make the user uncomfortable by either pressing or otherwise interfering with the ears or causing excessive heat on the ear. They may also be uncomfortable for people who wear earrings or glasses. Full-size headsets can be fairly expensive, especially when it comes to high-end models.
Overview of In-Ear Headsets
In-ear or earbud headsets are found commonly in accessory bundles for mobile phones and other portable audio devices. They come in a range of designs, but all feature an earbud that sits in the ear. The earbud may be close to the ear canal, but does not fit in it as in the case of ear canal headsets. In-ear headsets are cheaper than other types, but the loose fit allows quite a lot of sound to leak in and out. Sound isolating in-ear headsets block external noise and channel sounds from the device to the ear more effectively. As the sound is produced very close to the eardrum, it is important not to turn the volume up too high as this can result in hearing damage.
Features of In-Ear Headsets
Most in-ear headsets offer in-line controls that allow users to adjust volume and sound at the touch of a button. It is common for sellers and manufacturers to include a number of earbud sizes, and these are available in a range of materials, such as silicone or foam. Over-ear guides can be used to keep the headset in place.
Advantages of In-Ear Headsets
One of the greatest advantages of in-ear headsets is their compact, lightweight design, which makes them easy to store and transport. Microphone controls are usually built into the cable, making it easy to control sound levels and other features. This type of headset may be more comfortable for those who wear earrings or glasses. A good quality in-ear headset can provide adequate sound isolation.
Disadvantages of In-Ear Headsets
The sound quality and bass reproduction of in-ear headsets rarely come close to that offered by full-size headsets. They can become uncomfortable if used for extended periods, causing ears to ache or itch. Those with cables running from each ear to the central cable can become tangled easily and could be irritating. Depending on the design and location of the microphone, it can be difficult to manoeuvre into a position that is both comfortable for the user and produces good quality voice audio.
Full-Size vs. In-Ear Headsets
Those who remain undecided about the type of headset to buy can use the table below to compare the most important features of each type. The table lists important features and comments on the effect each type of headset has.
Feature of Headset

Full-Size Headset

In-Ear Headset

Sound quality

Excellent

Good

Sound isolation

Excellent

Good to excellent

Bass reproduction

Good

Poor

Size and portability

Large

Not portable

Not easy to store

Small

Portable

Easy to store

Common microphone type

Boom

On the cable or at the throat level

Comfort and fit

Can press on ears or cause excessive heat

Headband may be uncomfortable

Earbuds can cause itching or pain

Cables tend to tangle easily

Cost

Can be very expensive

Budget models are available

Cheaper
When buying a gaming headset, choose a make and model that is compatible with the user's gaming console or chose one that can be used with a number of different consoles. PC headsets are not always compatible with gaming devices.
How to Buy Full-Size and In-Ear Headsets on eBay
Finding great deals on headset on eBay depends on three things: effective searching, evaluating items, and getting to know sellers. To view the items on offer, type a key phrase, such as "Microsoft Xbox 360 over the ear headset", into the search field, which is located conveniently on every page. Refine your search by choosing the most appropriate category and the desired item features. Use the advanced search function to further narrow or expand your search.
Evaluate the Item
Click on an individual listing to view the item listing page where you can find all the information you need to evaluate the item. Look here for additional details such as the full item description, buying options, the seller's accepted payment methods, postage and packaging costs, and the seller's feedback information. Always add postage and packaging costs to the item's final selling price to calculate the item's total cost. If you have any questions about a listing, contact the seller via the "Ask a question" link.
Get to Know the Seller
eBay ' s seller feedback feature makes it easy to get to know the seller before you buy. Seller feedback can be viewed by clicking on the number next to the seller's username. Buyers leave feedback about individual sellers' products and customer service at the end of each transaction.
Conclusion
When choosing between full-size and in-ear headsets it is important to understand the differences between these two types. Full-size headsets tend to offer better sound quality and reproduction, and noise isolation. As these headsets are bigger with cups that fit over the ears, they can produce richer and deeper bass sounds. However, some users may find the common design, which features a headband, uncomfortable and some ear cups tend to get hot. They are also bulky and not as portable or easy to store as in-ear headsets.
In-ear headsets are small and compact. While they rarely produce the same sound quality as full-size headsets, these devices are easier to transport and not as big, heavy, and potentially uncomfortable as full-size models. They also tend to be cheaper.
Do not neglect microphone quality when choosing a headset. The ability to mute the microphone is handy as is microphone monitoring. Microphone monitoring lets the user hear what he or she says over the audio. This means that the user does not have to speak loudly. Choose a microphone that delivers clear, crisp sound that is free of distortion.
Ultimately, the choice of headset type depends on the user's preferences. It is important to take care of the ears while using any type of headset. Allow them to rest often and do not give in to the temptation to listen to audio for hours at high volumes. eBay sellers offer a wide range of full-size and in-ear headsets at competitive prices.