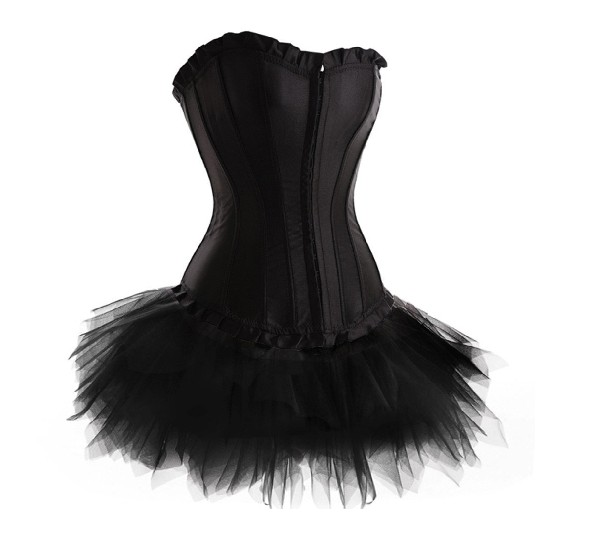 The corset remains the quintessential example of medieval and Renaissance women's fashion. It is a piece of fashion history that dates as far back as the ancient civilisations of Greece, Egypt, Rome, and Assyria. While the garment has evolved and come in and out of fashion throughout history, it remains a popular choice, often used in formal dresses, lingerie, and costume wear, as well as high street fashion. Wearers can choose from two main types of corset: the overbust and the underbust, and there are further variations within these types. In addition, there is a great deal of distinction between fashion and authentic corsets.
Corsets vary in material and styling, so buyers have a wide array of items to choose from. Fashion corsets can sometimes be found in department stores and authentic corsets are available from independent specialist retailers. Shopping online for a corset at eBay is a convenient option that gives buyers a wide array of items in one place.
Fashion Vs. Authentic Corsets
One of the biggest distinctions between corsets is whether they are fashion or authentic. Fashion corsets do little to shape the body, whereas authentic corsets can have a significant effect on the apparent dimensions of the waist.
Fashion Corsets
Fashion corsets are mass produced and designed for casual wear, therefore they are less expensive than their authentic counterparts. In addition, they use fewer layers of fabric and more flexible boning. They do not shape the body as well as authentic corsets because they use lightweight or even stretchy fabrics.
Authentic Corsets
By contrast, an authentic corset may be made ready to wear or customised. The authentic corset is heavy, shapes the body, and is much more durable. Depending on the manufacturer and whether it is a customised or off-the-peg design, an authentic corset can be much more expensive than a fashion corset. In addition, authentic corsets are often more comfortable than fashion corsets because they are sized more effectively.
Corset Terminology
Corsets come in a wide variety of styles and a few key terms are required in order to understand the garment. These refer to the construction of a corset, from the boning to the gusset. Understanding the definitions can help buyers to gauge the quality of a corset more effectively and to identify the features or styles that they want.
Boning for Corsets
Boning refers to the vertical ribs, or stays, of a corset, which give the garment its rigidity and shaping abilities. Corsets have used a variety of materials for boning throughout history, ranging from fabric cording and feather quills to whalebone, ivory, and metal. Authentic corsets today typically use steel boning, while fashion corsets often use plastic boning, which does not provide the same degree of support.
Busk for Corsets
The busk is a form of boning. It is the main bone in a corset that is placed in the centre at the front. Until the 1830s, corsets had a single busk. However, manufacturers began using a divided busk, which was split into two pieces that clasped together. Both styles still have lacing at the back. The divided busk makes it easier to put on and remove the corset, because it does not have to be substantially unlaced.
Modesty Panel and Gussets for Corsets
A modesty panel is a piece of fabric that rests underneath the back lacing of a corset, hiding the woman's skin. This is typically made from the same fabric as the rest of the corset. Some corsets may have gussets, which are triangular inserts of fabric at the bust and hips, to provide additional support and help to shape the curves.
Waist Tape for Corsets
Quality corsets also include a waist tape, sometimes called a stay tape. This is a tape that runs horizontally across the waist of the corset to help it to keep its shape.
Garter Hooks for Corsets
Some corsets may provide tabs or hooks for garter belt straps to hold up stockings. These hooks can often be removed if not desired, so a corset with tabs is always a safe investment as it allows for more options.
Fastenings for Corsets
Most modern corsets use a divided busk at the front, which snaps together with several clasps. Other corsets may use a hook and eye design with numerous smaller clasps, laces, or a zip.
Laced Corsets
Many corsets are fastened at the back with laces. The laces are usually made from either a wide ribbon or strong cording that keeps the laces in good shape and allows them to withstand the strain of being tightly laced.
Grommets for Laced Corsets
A corset that laces at the back should have grommets, which are rings that fit into the holes to reinforce them. In fashion corsets, these are often made from metal. Higher quality corsets place the grommets between two bones rather than at the edge of the corset panel.
Types of Corsets
Now that the terminology and fastenings have been detailed, it is possible to define the different types of corsets. There are two main types: underbust and overbust, and the subcategories, waistcoat and waist cinchers.
Underbust Corsets
Underbust corsets sit under the wearer's bust. They can vary in length, either falling immediately below the bust or several inches below. The purpose of an underbust corset is to pull in the waist to create an hourglass shape; it does not offer much support to the bust. Styles of underbust corset include those that sit low or high on the hips. A longer hip length provides more control over the shape of the hips and torso, but may not provide as much freedom of movement. Beyond standard underbust corsets, there are two subcategories, the waistcoat and the waist cincher.
Waistcoat Corsets
The waistcoat corset works well as outerwear. It as it has shoulder straps and a higher back, much like an elaborate version of a traditional waistcoat.
Waist Cinchers
Waist cinchers are much smaller than typical underbust corsets, typically no more than 20 centimetres wide. They frequently make good belts for a stylish outfit if worn as outerwear.
Overbust Corsets
An overbust corset covers the bust and hips. As with the underbust corset, it can vary in length, and therefore can shape the torso and hips in addition to the waist. Some overbust styles may even offer a shoulder strap that resembles a halter neck. Overbust corsets are designed to support and show off the bust and to provide support to the back. These types of corsets have several neckline options, including straight, scoop, sweetheart, and the plunge neckline, which dips down low between the breasts.
Fabric for Corsets
Good quality corsets are made of multiple layers of fabric. The inner lining that lays against the skin is meant to keep the wearer comfortable and to protect the corset by absorbing the skin's natural oils and moisture. Cotton is a good option for the lining. The base fabric is the core of the corset, providing its structure. A common material used is coutil, which is a type of stiff cotton with a herringbone weave that gives it structure without stretching. Corsets also use face or fashion fabrics, which are entirely decorative and cover the outside, or face, of the corset. The table below outlines a few common fabrics used as the face fabric for corsets.
Fabric

Definition

Natural fibre that comes from silkworms

Creates a shimmery, light-reflecting effect

Shiny fabric made from a variety of materials, including silk and polyester

Brocade

Woven fabric with a raised pattern stitched over it

Often made from silk

Synthetic material that is slick and stretchy

Also called vinyl

Available in matte and shiny finishes

Natural fibre made from a variety of animal hides

Soft

Available in a variety of finishes and patterns

Velvet

Tufted fabric with a soft, luxurious feel

Can be made from silk, cotton, nylon, or wool, among other fabrics
When properly cared for, any quality fabric used as a face for a corset can last for a long time. The different fabrics can be used to create different looks. While leather and PVC may be popular for fetish wear, a silk or brocade has a more classic appearance.
Buying Corsets on eBay
When you are ready to buy a corset on eBay, go to the site's home page. You can enter what you are looking for into the search box, such as a "red underbust corset" or "black waist cincher corset". The results can be filtered from there by category, price range, and a variety of other features. When searching for a corset, have your measurements handy and pay attention to the seller's location, as sizing can vary by country. Check that the seller has a returns policy just in case the corset does not fit.
Researching Sellers on eBay
Before making a purchase, research the seller by checking his or her feedback. A high rating is a strong indication that the seller is reputable, but the comments left by previous buyers can give you a better idea of what the complete customer experience is like. If you need to contact the seller, then use the "Ask a question" link. After your purchase is complete, leave your own feedback for the seller.
Conclusion
Corsets are available in a range of styles, cuts, materials, and colours. However, they are most easily distinguished by whether they are a fashion corset or an authentic corset, and whether they have an overbust or underbust cut. Fashion corsets are lightweight alternatives to authentic corsets, typically with fewer fabric layers and less durable boning. An authentic corset uses high quality materials, typically metal boning rather than plastic and has at least three layers of fabric. In addition, an authentic corset shapes the body, while a fashion corset offers little shaping. An overbust style covers and supports the bust and back in addition to shaping the waist. By contrast, an underbust style is solely for shaping the waist. Variations of the underbust style include waistcoat corsets, which have shoulder straps and a high back, and waist cinchers, which are shorter than standard underbust corsets. Whichever style of corset a woman is looking for, eBay is an excellent place to start the search.