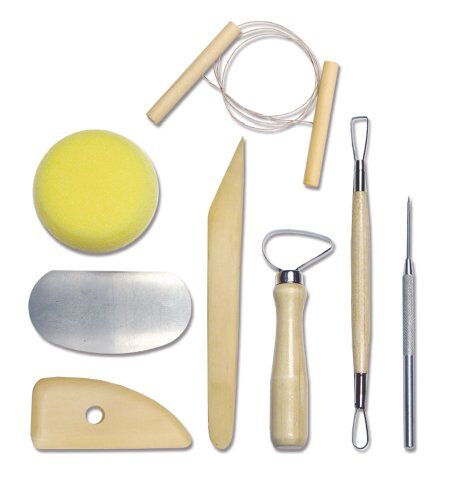 Pottery, in the broadest terms, is any object made of clay and fired. It includes China's first century Terracotta Army and figurines estimated to have been formed as much as 30 millennia ago. The fine porcelains used in dinnerware were first made in China in the seventh century. Stoneware is another kind of pottery, distinguished in part by the types of clays used. The Potteries in Stoke-on-Trent have been known for fine English bone china among other dinnerware over the last 250 years, since such firms as Wedgwood, Royal Doulton, Spode, and Royal Worcester helped the area gain pre-eminence among English potteries.
Pottery tools used today begin with the tools that prepare clay. They include the turntables and wheels on which the potter works and moulds in which ceramic clay is formed. Many modelling tools help to shape clay, including the clay gun. Special tools are used in cleaning up the finished shape and in glazing. Finally, kilns for firing are offered in various sizes and configurations. A professional potter seeking additional equipment or a potter just starting out may review the range of tools available to wisely select among pottery tools available from eBay.
Tools to Prepare Clay
Before beginning to work clay, the artist must prepare it to the correct consistency. Wire clay cutters are helpful in removing the desired size chunk of clay from the block; after that, the wedging is up to the potter's strength.
Turntables and Pottery Wheels
Turntables and potters wheels are used in the familiar process of handbuilding and throwing pots. Turntables provide convenient platforms for the handbuilder, allowing the work to be turned instead of the builder needing to move around it. They are available in table models and floorstanding models.
Both manual and electric pottery wheels are available, with most potters preferring the electric wheels. The speed of an electric wheel may be controlled very precisely with a foot pedal, allowing the potter to focus on the pot instead of on making sure the wheel is turning at the proper speed.
Electric Pottery Wheels
Most electric potter's wheels have 14-inch wheel heads. Their motors range up to 1.5 horsepower. The smallest motors, which are typically 0.25 hp, may be stressed under low speed operation. When selecting a wheel, one factor to consider is the type of piece typically thrown. Those who frequently produce large, broad platters or bowls require more horsepower than those who produce vessels where more of the clay's weight is in the centre of the wheelhead. For most potters, a 0.5 hp drive is sufficient. If the wheel has a three-cone drive, one-third horsepower is the comparable measure. For those who often throw larger objects, a wheel with 0.75 hp or 1 hp may be preferable.
Manual Pottery Wheels
The most popular type of manually powered wheel is the kick wheel, powered when the potter kicks a flywheel connected to the wheelhead by a vertical shaft. They are large and heavy, weighing roughly 135 kg. Some have a power option to help maintain the wheel's momentum intermittently, but this power is not sufficient to keep the wheel turning over time. Another manual wheel is operated by a foot treadle, and these types are less common and more expensive.
Pottery Moulds
A great diversity of moulds are available for shaping ceramics. Ceramic moulds allow for the creation of relatively complex forms with ease and consistency. They are sold sometimes individually and sometimes in job lots of multiple pieces.
Modelling Tools
The same creativity that shapes clay forms would appear to have equally shaped the tools used to shape clay. The number and variety of tools used to model clay on the wheel or in handbuilding is remarkable. Over the centuries that people have worked clay, it seems that new tools have been created with regularity to meet the potters' new desires. The chart below lists various tools and their uses.
| Tool Type | Use |
| --- | --- |
| | Different end shapes; sold individually or in sets; used in handbuilding and on the wheel; include stem turning tools |
| Wood or Rubber Pottery Rib Tools | Help shape pots on the wheel |
| | Measure dimensions where pots meet other parts of a set: for instance, the edge of a jar where it meets the lid |
| | Locking devices used in moulds |
| | Various sizes to cut different sized holes |
| | Used in smoothing and spreading |
| | Used to create flat layers of clay for hand building |
Potters can refer to the above chart to get a quick overview of pottery tools. The chart can help a beginner potter ensure that they have the necessary tools and know their uses.
Clay Gun
The clay gun deserves special attention. This tool for producing clay decorations is modelled after the pastry press and used to extrude clay forms through a mould. The mould may create the shape of a bas relief object used in decoration of another clay piece, or it may be used to extrude a ribbon that may be used as, for instance, a tile trim. Ironically, the clay gun has recently become the tool of preference for many pastry artists because of its superior durability and superior handling of such stiff materials as fondant.
Decorating Tools Used to Texture Clay
Whether a potter is building on the wheel or handbuilding, certain kinds of decoration may be accomplished by creating textures directly in the clay. The tools designed to make this possible include:
Textured peeler
Patterned wooden paddle
Wooden comb
Some of these tools may be packaged in sets with basic pottery tools. Others, such as a wooden comb, may sometimes be improvised from the supplies used in a different craft such as paper marbling or from a wooden comb found among imported beauty care items.
Clean Up Tools
Several kinds of tools are designed specifically for cleaning up thrown or built work preparatory to glazing. Those tools include the items listed below.
| Tool Type | Use |
| --- | --- |
| | For trimming greenware and handbuilds |
| Stem Turning Tool | To clean excess clay off finished greenware |
| | To smooth greenware; made of steel, rubber, or wood |
The potter may use these tools to remove the marks left by fingers on the wheel, to trim excess clay from joins, or to otherwise smooth greenware surfaces. The goal is to complete the surface for glazing to the potter's preference.
Decorating Tools Used in Glazing
After creating the shape itself, glazing is a challenging and enjoyable part of potting. A wide range of types of glazes are made for firing at different temperatures to accomplish different kinds of effects. Glaze may be applied to pottery greenware by dipping, pouring, brushing, sponging, or spraying it onto the piece. A spray booth may be desired by those who spray their pottery regularly. Additional colour effects may be achieved with the use of such tools as these:
Stamps and ink pads
Batik pens
Brushes
Sponges are used both in throwing pots to wet clay and remove excess water from the clay and in some decorative techniques.
Kilns
Kilns are used for firing the finished pieces. A pottery kiln is likely to require a power supply other than standard home power if it is an electric kiln; gas-powered kilns are also available.
Some of the questions to be decided in selecting a kiln include how many pieces are to be fired at once and how large, which help determine the kiln size. Many kilns are conveniently front-loading, but a top-loading kiln may be appropriate for some kinds of work. A potter may also wish to consider the kinds of control system the kiln offers. Digital controls available today allow multiple programmes to be preloaded into the kiln if the potter regularly does different kinds of firing. Furthermore, useful additional purchases are sets of kiln stilts in various diameters to hold pots off the rack or kiln floor during firing.
Buying Pottery Tools on eBay
Many kinds of pottery tools may be found on eBay. Those seeking very specialised items may find that these are most frequently available in a pottery tools set. For those seeking to build their equipment inventory with a range of items in varying sizes, these sets are quite useful. Some items used in pottery, such as sponges, are also used in other crafts and may best be sought with a general search.
Take Shipping Costs into Account
Many kinds of pottery tools are small and light so shipping costs are nominal. However, those purchasing potters wheels or pottery kilns are choosing items likely to weigh from 135 to 250 kg. Various sellers handle the transfer of these heavy items in different ways. Some provide for courier service. The buyer may wish to inquire in advance about the price of service to his or her location in order to ascertain the total price of the purchase. Other sellers make the item available for "Collection Only". In these cases, the buyer is responsible for the transportation and so should confirm that the item is located in a place where it may reasonably be collected.
Conclusion
Pottery has such a rich tradition in the U.K. that engaging in it allows one to feel a part of a very long heritage. Indeed, reaching back to the earliest known pottery, the potter joins a tradition that has been practised for at least 25 millenia.
Today's potters have the benefit of such tools as electric pottery wheels and ceramic moulds to facilitate their production. The many tools that potters have created over the centuries also benefit today's potters. Whether creating the basic shape, smoothing the clay, shaping an opening in it, or forming a clean edge, potters have a choice of modelling tools to help do the job most effectively. Likewise, if the piece is to be textured, a range of texturing tools have been created. The clay gun, designed after the pastry gun, is a relative newcomer with its own special uses.
A potter in need of new tools or a new potter just getting started may find the equipment and tools they need on eBay, where sellers across the world provide pottery tools to the U.K. marketplace.