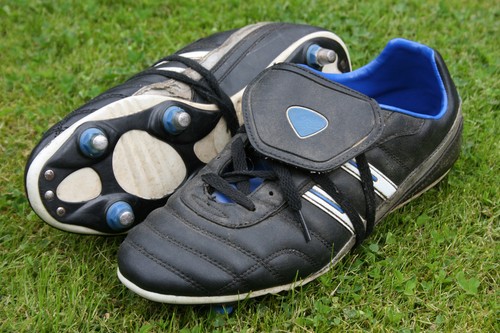 Find Out More About Football Boot Soles
There are various types of soles available for football boots so when buying from eBay it is important to have the correct sole for the surface you will be playing on. Playing with the right sole can prevent poor performance on the pitch as well as injuries so it is essential to choose a sole that suits the surface.
The soles of football boots now come in a variety of different colours which can be chosen to stand out on the pitch or complement the colour of strip worn by a player in a specific team.
Within this buying guide there is a host of information on the history of football boot soles, types of stud, the most well-known boot manufacturers, and what to consider when thinking about changing or buying a new pair of football boots.
Football boots are often called cleats in North American countries.
A Brief History of Football Boot Soles
Traditionally all football boots were made with six thick, leather studs hammered into the sole but in the 1920's, the Dassler brothers in Germany developed football boots with six or seven replaceable, nailed studs which could be changed to the suit the weather conditions.
The 1940's saw the creation of interchangeable screw-in studs made of plastic or rubber for the first time.
With international football becoming more commonplace, the skill and technical ability of South American players began to captivate a worldwide audience and boots were soon made of a mixture of synthetic materials and leather to allow for a lighter boot that let a player's flair shine through.
Technology continued to advance after the millennium with new research and development leading to lighter, more comfortable boots with a variety of different soles available, including metal and plastic studs that snap rather than screw in, making it easier for players to change quicker and easier to adapt to the weather conditions.
Different Types of Soles Available on Football Boots
The variety of soles available on football boots allow for comfort, stability and maximum traction while running at high speeds, changing direction or planting feet at extreme angles on any surface.
Below is a general overview of the different types of football boot soles available on eBay.
Changeable studs or blades are essential for achieving maximum grip on soft ground. The metal studs are longer so sink into soft or muddy surfaces allowing more traction when running and turning. Changeable studs allow the player to screw-in or snap-on a different size of studs depending on the weather conditions or state of the playing surface. Typically made from either metal or thermoplastic polyurethane plastic, the length of these studs or blades usually ranges from 12mm – 18mm. They are also easily replaceable if they become worn or damaged over time and many varieties can be found by searching on eBay.
Rubber moulded studs are the ideal choice for playing on harder grass pitches. The moulded studs or blades are shorter than the metal equivalent allowing a solid grip on a dry pitch and are generally more comfortable under foot. These studs are also suitable for some artificial rubber crumb pitches.
Astroturf soles generally feature short, sharper studs that are moulded onto a long-lasting carbon rubber sole that provides a strong grip on any synthetic surface, including artificial rubber crumb pitches and harder sand-based Astroturf pitches.
Indoor soles are typically made of non-marking gum rubber to allow for maximum grip at any speed on indoor wooden surfaces without leaving streaks on the floor. The gum rubber sole also warms up while playing on wood which helps achieve a better grip. The grip and stability provided by these soles is perfect for all indoor football or futsal games.
The table below provides a summary of the different types of football soles.
| Type of Football Boot Sole | Main Benefit |
| --- | --- |
| Astroturf Soles | Strong grip on a variety of synthetic surfaces. |
| Changeable Soles | Provide versatility and good in soft ground. |
| Indoor Soles | Good grip and stability on wooden surfaces. |
| Moulded Studs | Safer on hard grass pitches with no give. |
Popular Brands of Football Boots on eBay
Adidas
Asics
Diadora
Joma
Kappa
Lotto
Mizuno
Nike
Puma
Reebok
Umbro
Valsport
These brands of football boots and many more can be found by searching on eBay.
8 Things to Consider When Buying Football Boot Soles
It's important that the football boots purchased from eBay are suitable for the surface the player is most likely to play on. For example, if the player plays in an indoor league on a wooden surface, a non-marking gum rubber sole will offer the most traction for the fast-paced style of football. However if the player typically plays on a muddy grass pitch, then changeable metal studs or blades would be the best option.
While choosing the material that is most suitable for the surface the player is most likely to play on is important, there are some soles which are more flexible than others. A pair of football boots with a carbon rubber Astroturf sole would be perfect on any synthetic pitch as well as wooden indoor surfaces. Football boots with moulded rubber studs, designed for hard grass pitches, will also allow the player to play on artificial rubber crumb pitches and all but the wettest or muddiest of grass pitches. Soles with changeable studs are also flexible as different lengths of studs can be used to adapt to varying weather conditions.
While combining suitability and flexibility, it is also important to take personal preference into consideration. Many players have their preference as to which sole feels better for them on the pitch and must consider whether they like a mixed sole, rubber Astroturf sole or moulded rubber studs for an artificial pitch or metal studs or blades for grass pitches.
The price of football boots on eBay varies depending on the make and model of the boots. Typically boots with changeable studs are the most expensive with moulded studs coming not far behind. Astroturf and indoor soles are generally more affordable.
As with normal boots and shoes, there may be some subtle differences in sizes between football boot manufacturers. The size of boots worn can affect the general performance of the player as well as how comfortable the sole is. A well-fitting football boot bought from eBay will ensure a player can turn quickly and comfortably providing they have chosen the best sole for the surface.
Availability of Replacement Studs
From time to time it may be necessary for a player to change the studs on their boots if possible. With this in mind, it's a good idea to search how readily available replacement studs are on eBay when buying boots or some extra studs.
If a player is having difficulty on the pitch due to their boots, they may want to invest in a new pair they've seen on eBay with a different type of sole. Even small changes to the studs on the sole of a boot can help to increase a player's confidence and on-pitch performance, whatever level they're playing at.
With so many football boot manufacturers and players worldwide, fashion has become a consideration for many. The soles of football boots were traditionally always black, but now come in a variety of different colours including the following which can be found on eBay.
- Blue
- Green
- Red
- Yellow
In many cases, parts of the studs are coloured in order to match that of the sole itself.
How to Buy Football Boots on eBay
eBay has a wide selection of football boots available with many different makes, models and types of sole to choose from, either used or new. As well as football boots for adults, there are also children's boots for sale. Children's football boots tend to have moulded soles or screw in studs.
It's easy to search eBay for the football boots that you need and results can be filtered by size, brand, condition, price, type of sole and colour to narrow down the options to suit the player's specific requirements.
To ensure inclusion of all relevant items in the eBay search for football boot sole options, enter football boots then scroll down to type of sole on the left hand side of the page.
There are also relevant accessories available on eBay including changeable studs and boot bags for carrying football boots to games.
When perusing the available products on eBay, it's best to pay attention to the quality of photographs, the item description, the price and the described condition of the product.
If any details are missing from the listing, or further clarification is needed by the would-be buyer, it's possible to Ask the Sellera question. Once satisfied with the item, buyers can place a Bid and pay using PayPal or other method specified by the seller.
Conclusion
The types of soles on football boots have evolved a great deal since boots were first used in the professional game.
A good football boot sole will provide the player with comfort, stability, and confidence on the pitch, irrespective of the surface they're playing on and the level they're playing at.
As the parts of the football boot which is in most frequent contact with the playing surface, the sole of the boot and stud choice are arguably the most important any footballer has to make.
Once a player has decided the kind of sole they need, whether it's changeable metal or plastic studs, moulded rubber studs or non-marking gum rubber, they can begin browsing the huge range of boots available on eBay.
Football boots come in a range of different styles suitable for varying surfaces, from wet grass pitches to indoor wooden halls and eBay has a variety of boots to suit all kinds of player.