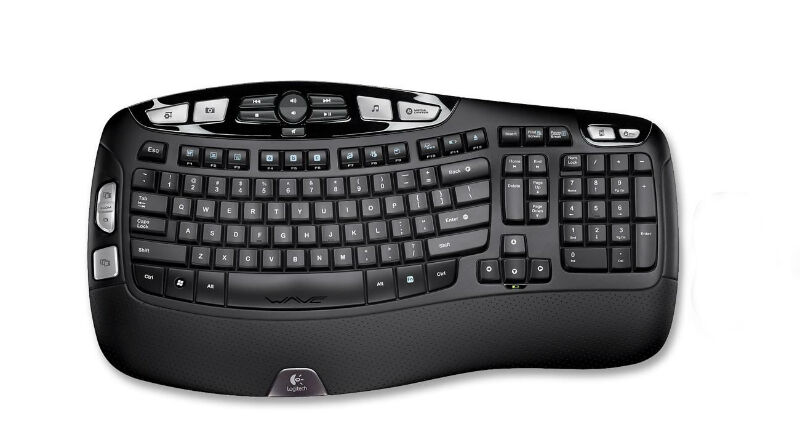 While most users appreciate the portability and flexibility of a laptop, many find working on a laptop for extended periods uncomfortable. A laptop keyboard is more compact than that of a desktop and usually has fewer keys and functions. In addition, the distance between the screen and the keyboard cannot be adjusted. A wireless laptop keyboard is the perfect solution to this problem. Some even feature a touch pad to take the place of a mouse. Laptop and desktop computers can use the same wireless keyboards, but size and portability is important when buying one specifically for a laptop.
To find the right wireless laptop keyboard, learn what types are available. Keyboards are classified according to how they connect to the laptop. A knowledge of special keyboard designs makes the buying process easier. Tips on how to find the perfect wireless laptop keyboard are included. Wireless laptop keyboards are available from computer and electronics shops and online, from sites like eBay..
Wired vs. Wireless Keyboards
A laptop can work with a wired keyboard,, but this is not the most practical option for all users. The main benefits of wired keyboards are their price and responsiveness. Wired keyboards can be bought for next to nothing and little lag is evident between typing and computer responses. Most users would not be concerned with the lag, but gamers may find even a slight delay hampers their progress. As a keyboard is seldom moved around once a user starts working, this option should not be discounted entirely. In the case of laptop computers, the user's needs and requirements dictate which type of keyboard is more suitable.
Types of Wireless Laptop Keyboard
Wireless laptop keyboards can be connected in three different ways: via infrared, radio frequency, or Bluetooth. The table below lists and describes each connection type.
Type of Wireless Laptop Keyboard Connection

Description

Keyboard emits a signal at a frequency just below that of visible light

Must be a clear line of sight for the signal to be received

Keyboard must be in front of the IR port to work

Usually the cheapest type

Not prone to interference from other devices

Maximum range of approximately 3.5 metres

USB transceiver may be required

Usually works on 2400 MHz radio band

Radio waves are transmitted between the device and the transceiver

Line of sight not required

Some electronic devices may cause interference with the signal

Interference becomes less common with advances in technology

Maximum range of approximately 2 metres

USB transceiver required

Uses radio waves on 2400 MHz band

Rapidly changes frequencies within a set range to eliminate interference

No line of sight required

Standardised across manufacturers

More reliable than RF keyboards

Tends to be the most expensive option

Maximum range of approximately 9 metres

Laptop must be Bluetooth enabled or a USB transceiver is required
As most modern laptops are Bluetooth enabled, this type of keyboard is probably the only one that does not require a transceiver. The use of a transceiver uses a valuable USB port. As these are in limited supply on most laptops, it may be necessary to buy a USB expansion hub.
Special Wireless Keyboard Designs
Aside from standard full sized keyboards,, a number of special wireless keyboard designs are available. One of the most practical options for laptop users is a mini wireless keyboard.. While these keyboards do not have the same number of keys as full-sized versions, they are compact, light, and portable. Slim keyboards come in a range of sizes, but are thinner than usual, making them lighter and easier to transport.
Washable wireless keyboards are perfect for use in messy areas, such as garages and food preparation areas. As the name suggests, these keyboards can be washed, keeping them clear of grime and germs. A foldable keyboard is another excellent option. Simply fold or roll the keyboard up for storage and travel.
If a mouse is not used with the keyboard, consider a wireless laptop keyboard with a touch pad.. This saves space when travelling and makes it easier to operate when work surface space is limited. Look for multimedia and hot keys for added functionality.
Factors to Consider When Buying Wireless Laptop Keyboards
Several factors should be considered when buying wireless laptop keyboards. While connectivity and the availability of USB ports is important, the needs and preferences of the user must be taken into account. If the keyboard is used to control a home entertainment system, consider investing in a backlit keyboard that is easy to operate in the dark.
Full-Sized vs. Compact Wireless Laptop Keyboards
If the keyboard is used mostly at work or at home and not while travelling, then consider buying a full-sized wireless keyboard. This allows greater comfort while typing, additional features and keys, and the designs tend to be more ergonomic. If the keyboard is used while travelling, choose a more compact, portable design.
Power Source for Wireless Laptop Keyboards
Wireless keyboards are battery powered, while USB transceivers are powered by the laptop. Ensure that the keyboard works with batteries that are easy to buy and replace; most work with AA or AAA alkaline batteries. However, some wireless keyboards may have unusual batteries that are expensive or difficult to source. Look for special features such as power saving functions and on/off buttons. Although batteries usually do not run down particularly quickly, it is always best to switch devices off when they are not in use.
Spill Proof Wireless Laptop Keyboards
Accident-prone users should consider spill proof keyboards. They resist spilt drinks and crumbs. This type of keyboard is not suitable for everyone as the keys tend to be low and the keypads sealed.
Layout of Wireless Laptop Keyboards
Most keyboards feature the QWERTY layout.. Although it may be tempting to buy a keyboard with a non-traditional layout, remember that this may take some getting used to. Ergonomic keyboards often feature split designs that may also seem uncomfortable to begin with. However, ergonomically designed keyboards are intended to reduce stress and strain on the body while in use and are usually a good investment.
Buying a Wireless Laptop Keyboard on eBay
Once you understand the different types of wireless laptop keyboards, finding the right product on eBay is easy. Simply type a phrase, such as "Logitech mini wireless keyboard&" into the search field, which is located on every page, to see the items available from eBay sellers. Choose the most appropriate category and the desired item features to make your search more specific. For more search options use the advanced search feature.
Evaluating Items and Sellers on eBay
Before buying on eBay, evaluate the item and the seller. Simply click on an individual listing to view the item listing page where you can find additional information such as the full item description, buying options, accepted payment methods, the seller's policies, postage and packaging costs, and the seller's feedback information. Add postage and packaging costs to the item's final selling price to work out the total cost of the item. If you would like to know more about the listing, contact the seller via the "Ask a question&" link.
eBay ' s seller feedback feature makes it easy for you to see what other buyers think of specific sellers' products and customer service. Click on the number next to the seller's username to view this information. Detailed seller ratings provide additional details on aspects such as the seller's communication, the accuracy of the item description in the listing, and the length of time that elapsed before the item was sent.
Conclusion
A wireless laptop keyboard allows a user to control certain functions remotely, to type more comfortably, and to adjust the distance between the laptop's screen and the keyboard. Wireless keyboards for laptops and desktops are the same; they can be used interchangeably provided the transceiver equipment is compatible. Wireless keyboards connect in three different ways: via infrared, radio frequency, and Bluetooth. All three options may require a USB transceiver, but laptops with integrated Bluetooth or infrared do not require additional hardware.
Choosing the wireless keyboard's design depends wholly on the needs and preferences of the user. Some users may prefer transporting a standard keyboard due to the comfort of using it, while others may sacrifice some comfort for portability. One of the most practical choices is a mini keyboard, as this is both portable and easy to use. Foldable keyboards are the most convenient to transport, but some users may find them awkward to work with due to the design and depth of the keys.
Consider additional functions, such as multimedia or programmable keys, to make program access easy. Backlit keyboards can be used in poor lighting conditions, making them a perfect option for those who intend to control a home entertainment system linked to a laptop. Always take ergonomics and comfort into account to ensure that using the keyboard does not cause strain. eBay sellers offer a wide selection of wireless laptop keyboards in various sizes and with a range of additional features.