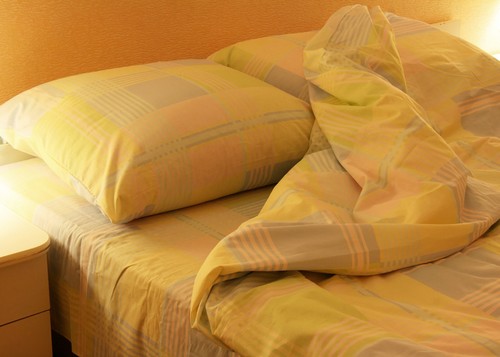 Cotton sheets are soft against the skin, breathable, and absorb moisture, so sleepers never wake up feeling sticky or uncomfortable. Cotton also releases stains in the wash, so the sheets are easy to care for. Cotton sheets are available in a wide variety of colours and prints, so all buyers can find something to suit their bedroom. Cotton sheets can have different thread counts and weaves, such as sateen, percale, and flannel. In addition, the sheets can be made with a variety of cotton types, including Egyptian cotton, pima, and Supima.
The softness and texture of the sheets is determined by the weave as well as the type of cotton plant the fibres are derived from. This results in a wide variety of comfortable sheets that the buyer can purchase. While some buyers may prefer to visit a department store or other bricks and mortar retailers for their cotton sheets, buying online from an auction site such as eBay is convenient, and gives shoppers great deals and a large selection of products.
Features of Cotton Sheets
Cotton sheets have both flat and fitted types, and can be bought as part of a set or separately, allowing buyers to mix and match. When choosing sheets, bear in mind that they need to be sized appropriately for the bed.
Cotton Sheet Sizing
When choosing any sheets for a bed, it is important to fit them to the size of the mattress. Mattresses are available in an array of sizes from small single to super king size. The chart below provides the mattress sizes and the corresponding sheet sizes.
| Mattress Type | Mattress Size (cm) | Fitted Sheet Size (cm) | Flat Sheet Size (cm) |
| --- | --- | --- | --- |
| Small Single | 75 x 190 | 75 x 190 | 180 x 260 |
| | 90 x 190 | 90 x 190 | 180 x 260 |
| | 120 x 190 | 120 x 190 | 220 x 260 |
| | 135 x 190 | 135 x 190 | 230 x 260 |
| | 150 x 190 | 150 x 200 | 275 x 260 |
| | 180 x 190 | 180 x 200 | 305 x 260 |
Note that the first number in the dimensions always refers to the width of the sheet and the second number to the length. In addition, it is important to consider the depth of the mattress, because this affects the fitted sheet. Standard fitted sheets are about 26 cm in depth and deep fitted sheets are from 27 to 32 cm in depth. However, buyers should bear in mind that all sizes can vary slightly according to the manufacturer.
Thread Count of Cotton Sheets
Thread count, sometimes abbreviated as TC, is a measure of how many threads there are, both vertically and horizontally, in a square inch of fabric. Vertical threads are referred to as the warp threads, and horizontal threads are referred to as the weft threads. In general, the higher the thread count, the softer the sheet. Cotton sheets can range from a low 100 thread count to a 1,000 thread count. Quality sheets, however, are generally considered to start at a thread count of 180, luxury sheets at 300, and ultra luxury sheets at 600.
Cotton Weaves
Although thread count plays a large role in how soft a sheet is, the weave is also important. Most cotton sheets are woven, with the threads crossing over and under each other to create different appearances and textures. Three common weaves used in cotton sheets are sateen, percale, and pinpoint.
Cotton Sateen Weaves
Sateen, not to be confused with satin, refers to a weave with a lustrous finish and slick surface. Sateen is created by using a four-over, one-under type of weave, where four threads cross another single thread. It may be soft, but sateen is not as durable as other types of sheets: it can easily pill. However, a sateen sheet made from good quality cotton can still outlast a sheet made from a low-grade cotton, if cared for properly.
Cotton Percale Weaves
Sheets with a percale weave have a soft, powdery finish that is most often associated with cotton. While sateen shimmers, percale has a matte finish. Considered a plain weave fabric, percale cotton is created with a simple one-over, one-under weave that makes it highly durable.
Cotton Pinpoint Weaves
A pinpoint weave is a somewhere between percale and sateen. Also referred to as an oxford weave, it is softer and more durable than percale, but not as soft as sateen, nor is it lustrous. Pinpoint cotton tends to soften after multiple washes.
Types of Cotton Sheets
In addition to thread count and weave, cotton sheets are often categorised by the type of cotton that they use. This includes Egyptian cotton, pima, and supima. These varieties are often considered the highest quality cotton sheets available. However, buyers can also choose from flannel and jersey cotton sheets, which have a different manufacturing process than woven cotton. There is also a synthetic polycotton blend and many manufacturers now offer organic and Fairtrade cotton for environmentally conscious shoppers.
Egyptian Cotton Sheets
Long considered the premier option for sheets, Egyptian cotton is derived from cotton plants typically grown in the Nile valley. The fibres are soft and supple, but they are also long, which in turn creates a longer thread. As a result, Egyptian cotton is much stronger than standard cotton, and more durable. The threads are thinner because the fibres are fine, so Egyptian cotton sheets tend to have a higher thread count.
Pima and Supima Cotton Sheets
Pima cotton is named after a Native American tribe from the southwestern United States. However, the cotton itself is grown in the United States, Australia, and Peru. Like Egyptian cotton, it has long fibres that create a strong, but soft final product. In addition, some pima cotton products from the United States may be sold as supima cotton, a trademarked name that signifies that the cotton has met specified standards and criteria as laid out by the Supima Association of America.
Cotton Jersey Sheets
Jersey and flannel sheets are not defined by the origin of the cotton, but by the manufacturing processes used to produce them. Jersey is a knitted, rather than woven, cotton. So, the thread count does not apply. Jersey is stretchy, durable, and somewhat warmer than woven cotton.
Cotton Flannel Sheets
Flannel on the other hand, is a woven fabric that is brushed on one or both sides to create a soft napped surface. Flannel sheets are prized for their warmth in colder weather. Like jersey, flannel is not measured by thread count. It is important to note that both jersey and flannel can be made from multiple materials, including polyester, so check whether that the sheets are 100 percent cotton before buying.
Polycotton Sheets
Polycotton is a blend of natural cotton fibres and synthetic polyester, mixed in various ratios. The resulting product is typically less expensive than pure cotton, and it is less prone to wrinkling. Blending the fibres helps to extend the life of the sheets and makes them shrink-resistant. However, the polyester in the blend results in a material that is less breathable than cotton, so it may not be as comfortable.
Organic and Fairtrade Cotton
Organic and Fairtrade cotton refer to how the cotton is grown, not necessarily how it is processed. Organic cotton is grown without the aid of pesticides or chemical fertilisers. As a result, organic cotton sheets are sustainable and less harmful to the environment. Fairtrade cotton, which is certified by the Fairtrade Foundation, is produced by farmers who have been paid a fair wage for their crops. Fairtrade cotton may be organic, but not necessarily so.
Buying Cotton Sheets on eBay
Start your search for cotton sheets by visiting the eBay homepage. You can enter whatever you are looking for, such as "blue cotton sheets" or "sateen sheet set" into the search box, and then filter the results by category. In addition, you can also choose to narrow down your choices by selecting only items that have free postage and packaging or express delivery. Have your mattress measurements to hand before confirming the purchase. Read the seller's listing carefully and be aware of his or her location, as mattress sizes can vary by country.
Tips for Shopping on eBay
Signing in to My eBay while browsing offers a variety of advantages. For example, you can monitor items that you are interested in, save searches, and communicate with sellers. In addition, you can easily save items to a wish list, which you can share with friends and family. You can even customise the appearance of the My eBay page to suit your needs.
Conclusion
Cotton sheets come in a variety of types. They can differ in terms of their thread count, weave, and manufacturing process. All of these factors affect the appearance and feel of the sheets. For example, a sateen sheet has a lustrous appearance, while a percale sheet has a matte finish; a 1,000 thread count sheet feels much softer than a 200 thread count sheet. While most cotton sheets are woven, buyers can also purchase jersey knit sheets and brushed flannel sheets.
Two of the best regarded cotton sheets are Egyptian and pima cotton, both of which are known for their long fibres. As a result, sheets made from these types of cotton are softer and stronger than other types. Polycotton is a blend of cotton and polyester, which is more affordable than pure cotton, but also less breathable because of the synthetic fibres. For the environmentally conscious, organic cotton is a good choice because it is grown without the harsh chemicals and pesticides used in standard cotton crops. Finally, some cotton may be Fairtrade certified, which ensures that the farmers growing the plants are paid fairly for their crops. eBay is an online marketplace where buyers can find whatever type of cotton sheets they are looking for.