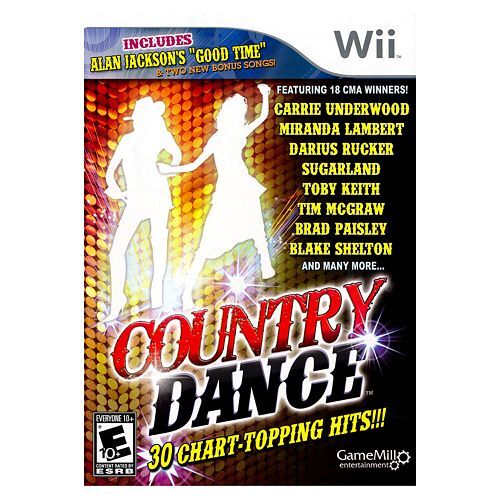 Music video games are interactive and centred around musical scores or songs in some way. The player either controls the music, creates it, or reacts to it in one of several ways. For example, some games are rhythmically generated puzzles and require the gamer to dance, sing, or tap out the correct rhythm on their controller. Others allow the player to compose their own music or play games that involve finding the right notes.
The music oriented video games have been around for some time. The first games geared towards art and music was "Mario Paint" for Super Nintendo. It was released in 1992 and played with a mouse controller and a plastic pad to move it around on. The game encouraged creativity and learning through art and music. Players could draw freehand, download pictures to colour in, make animated clips, and compose music by moving around sound pieces on music sheets. Since then, many different kinds of musical video games have been released and they are now very popular. They also still continue to capture the attention of educators around the world. Some of the interactive games are considered to be so beneficial to a child's education that they are being used in classrooms.
However, when it comes to shopping for music games, there is more to it than just picking out the game. Each console is different and there are a lot of kinds of games that use different forms of interaction. One thing that determines the kind of interaction is the controller. There are many controls used for these games such as motion sensor ones, dance pads, and imitation instruments.
Types of Music Video Games
Before shopping for the controller, people need to decide which kind of music video game they want. They are each beneficial in different ways. For example, some help develop the short term memory better, while others exercise creativity, or coordination.
Music Memory Video Games
Music memory games such as "Rock Band" and "Dance Dance Revolution" require that the players remember patterns or notes and either replay them perfectly, or react to them. "Dance Dance Revolution" and other dancing games have a setup of arrows that scroll down the street at a consistent speed and rhythm. The player has to react to each signal by moving their feet onto the appropriate button on the dance pad. A hidden benefit of the dancing games is that they are a good form of exercise. Other memory games play a sequence of notes, then the gamer has to replay the notes in the same order. If they fail, they have to start over.
Sight-Reading Music Video Games
The sight-reading music video games are usually rhythm oriented like the dancing or note playing games. People have to watch the screen as certain musical notations are shown and then they have to press the correct button or react in a specific way. The prompts can alter in a number of ways and as the player progresses through the game, they have to develop more and more skill.
Rhythm Music Video Games
These games focus mainly on a rhythm that has to be matched by the player. "Guitar Hero" is a popular rhythm game in which the player holds a guitar controller and has to press the correct notes as the prompts appear on the screen. The notes they press create the music, making the gamer feel as though they are actually playing the song themselves. These games help develop coordination as well as self-confidence by allowing gamers play popular songs without having to take real instrument lessons.
Dancing games are another example of rhythm based video games. Like "Guitar Hero", the player has to basically dance out a pattern as it is shown to them. It also inspires confidence by instructing people how to dance to music one step at a time.
Pitch Video Games
Pitch oriented video games are voice-activated. They are basically a form of karaoke in which gamers sing popular songs and have to get the pitch of each note correct. They are evaluated on their singing based upon whether they hit the correct notes.
Music Management Video Games
Music management video games require the most amount of skill and creativity. In these, players make their own music composition, bands, and songs. Some of the games are more geared towards the music industry in which the player has a band that they have to promote and get to rise in stardom. Others focus more on the music itself. Popular music management video games include "Make My Video" and "The Idolmaster".
Controllers for Music Video Games
Before anyone can shop for the controllers, they need to know what video game they are going to purchase. It is important to note that not all of the popular music games are available on every video game console. For example, the Xbox uses a different kind of motion sensor technology so the dance games that may be available for the Wii, Wii U, or PS3 are not going to be made for the Xbox.
The next step is to figure out what controllers are needed to play the games. To find this out, look at the back of the game's case, or read the online description. It should be noted if there are any additional items needed to play the game. Sometimes, the games come as a bundled set with the additional controller. Occasionally, games also only recommend getting an accessory. A standard controller may work, but it may not feel as realistic to play the game that way.
| Types of Music Game Controllers | Description |
| --- | --- |
| Dance Pad | Dance pads are mats that are laid out on the floor; sensors in them that record a command when stepped on; used for dance and aerobics games |
| Drum Set | Video game drum sets are electronic and set up to look just like real drums; usually made for one specific game and are not compatible with any others |
| Guitar | The guitars are large and plastic with buttons where the strings on a real guitar would be; like the drums, they are made specifically for the game and are not interchangeable |
| Kinect | The Xbox does not have any motion sensor capabilities without the Kinect accessory; designed for those who prefer to interact physically with the music games; does not use motion controllers, instead it reads body motions |
| Microphone | The microphone is used for the karaoke singing games; must be specific to the console, a microphone that is manufactured for the PS2 does not work for the Wii |
| Motion Controllers | The Wii and Wii U come with motion sensor controllers which many music games use; a motion controller can also be bought for the PS3 if it has the PS3 move accessory |
| PS3 Move | Like the Xbox Kinect, the PS3 Move is an accessory that allows people to play motion activated games |
| Regular Controllers | Some games only require the traditional standard controllers, or they recommend purchasing a specific controller, but are still operational with a standard one |
The more realistic the game feels, the more fun it is to play and the more educational benefits it has. People have a tendency to learn more when the games are realistic and they are enjoying themselves.
Shop for Music Game Controllers on eBay
Since eBay is a central hub for thousands of sellers, it is easy to find any new or used product on their site. Since video games, their consoles, and their accessories add up quickly in cost, shopping on a website where you can compare prices and find the best deals can save a lot of money; especially since you have access to used and refurbished products as well.
How to Search for Products on eBay
eBay makes it easy to find the products that you need. On every page there is a search bar. All you have to do is enter the item's name into that bar and then click the search button. For example, you can type "Wii dance pad" or "PS3 Move".
Read the Seller and Product Reviews
In order to help customers purchase quality products from trustworthy sellers, eBay has set it up so that you can leave reviews on anything you buy from the site. This allows you to inform others about your experience and read what past customers have to say about a product that you may be interested in buying.
Conclusion
Shopping for any video games is always exciting because they offer hours of digital entertainment. There are many options to choose from, making it easy for people to find exactly what they want. Even though music is not the first thing people think about when they consider video games, there is still a large selection of music games available from a multitude of manufacturers.
Simply look at the game requirements to find out if it is a perfect fit. First, it must be compatible with the gaming system that is owned. Second, the right accessories and controllers may have to be purchased along with it. Third, read the age requirements to make sure that the game is appropriate for the audience playing it. Some games are more advanced players and require a higher skill level to play, while others are made specifically for younger children to help them learn the basics of music.