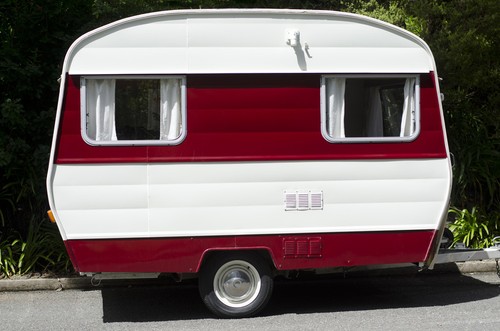 Owning and operating a catering trailer is an excellent way to earn money, whether you choose a semi-permanent location or attend festivals and other special events. As these units are mobile, you can even move around according to the day of the week or time of day. However, success depends on a number of factors. The most important of these are food quality and choosing the right food for the area or occasion. Opening a juice bar next to a building site is probably not the most lucrative business plan, but moving it to an area central to a number of offices could be the perfect solution.
While the space in catering trailers tends to be limited, you can prepare some hot and cold foods in the unit. The type of food you intend to sell determines the equipment needed inside the trailer. Learn what is available and structure your catering trailer accordingly. Find the right site for reaching your target market and ensure that you have the required licences, registrations, and permissions before you start trading. Catering trailers can be bought from specialist suppliers, custom outfitters, private sellers, and from eBay.
Hot Foods That You Can Prepare in Catering Trailers
Although the space available in a catering trailer tends to be limited, the variety of foods you can prepare is not. Popular hot foods include:
hot dogs
hamburgers
fish
chips
bacon rolls
sausage rolls
toasted sandwiches
baked potatoes
pizzas
kebabs
filled pitta bread
roast or fried chicken
crepes
Do not forget about hot drinks. Coffee, tea, and hot chocolate are firm favourites with most customers. Also consider pre-prepared foods that are cooked in a larger kitchen and simply warmed up or kept warm in the catering trailer. This can include anything from curries or pasties to nourishing soups.
Cold Foods That You Can Prepare in Catering Trailers
Almost any cold dish can be prepared in a catering trailer. Provided there is adequate workspace available and enough refrigeration equipment to keep the raw ingredients cool. Cold foods include:
sandwiches
rolls
salads
fresh fruit
ice cream
Cold drinks are another option. Freshly squeezed fruit juices, smoothies, fizzy drinks, and bottled water are always popular.
Equipment Required to Prepare Food in Catering Trailers
Before you start shopping for a catering trailer, consider what type of equipment you need to prepare your chosen food. Whether you decide on hot or cold food or a combination of the two, you need refrigeration units. If the majority of the food needs to be kept at a low temperature you may need more than one unit, a freezer, or a chilled display unit. Remember to set space aside for washing up and hand washing.
Cooking Equipment
If you intend to sell fried food or hamburgers, a griller plate is essential. The size should be adequate to allow you to prepare the right amount of food during busy periods. One or two deep fryers are needed to prepare fried fish or chips, and a boiling table allows you to heat up or cook sauces and other extras. A bain-marie can be used to keep food warm or as a warmed display case to show off your wares while keeping the temperature up. A microwave oven always comes in handy. Add extras such as rotisseries, freezers, or other product specific equipment.
Counter Space
If you intend to sell mostly cold food, make sure that there is enough counter space to allow you or your staff to prepare salads and sandwiches. Take the height of the counter into consideration and make the items displayed as attractive as possible without cluttering the space available. A stainless steel finish is recommended because this is the easiest surface to keep clean. The counter should not be too high as this makes it difficult to serve customers and safely hand them their orders.
Utensils and condiments can be set out on the counter, but the space may be better used as a display area. Consider setting out fresh sandwiches, hot pasties, sweets, or pastries. This could lead to add on sales, especially if people were not aware that you stocked the items on display. It is an excellent way to advertise new additions to the menu.
Finding the Perfect Site for Your Catering Trailer
Finding the perfect site is as important as deciding on the type of food to serve. Firstly, decide when you would like to open. If you would like to work from Monday to Friday, from early morning to just after lunch, choose a site where you are exposed to as many people who keep office hours as possible. If you prefer working later, consider opening near a shopping centre or other leisure spot. For weekends, look into a beachfront site or, for evening trade, close to popular nightspots. If you intend to open occasionally, find the nearest large events, festivals, agricultural shows, and similar activities to ply your trade. Ultimately, the choice of site is up to you and depends on whether you are granted the licences required to trade in your chosen spot.
Catering Trailer Licensing and Registration
Since the catering trailer is towed on public roads, it needs to have number plates. As you are serving food, you have to register with the local Environmental Health Department. Contact the local council for more information. In addition, if you want to trade in a public place you have to obtain a council licence; a fee may be payable. Council licensing may be required to operate late at night; you may need an entertainment licence. If you want to trade on an industrial estate, office car park, shopping centre car park, or similar site, you need the landowner's permission to do so. You also need a Food Hygiene Certificate to operate; most councils offer this training for a small fee.
Insurance
You should consider getting insurance before you start trading. Third party insurance covers damage to the towing vehicle. If you intend to employ other people, consider Employer's Liability Insurance. Also think about taking out Public Liability, Product Liability, and Mobile Catering Trailer Insurance.
How to Buy a Catering Trailer and Equipment on eBay
To find the right catering trailer and equipment for your business, type a phrase, for example "fish and chip trailer", into the search field, which can be found on every page, to see the items available from eBay sellers. This displays all the available items tagged with the keywords you choose. To refine your search, choose the most suitable category and the features that you require. For more control over your results, use the advanced search feature..
Before You Buy on eBay
Before buying on eBay, learn all that you can about the item and the seller. This is easy to do: click on a product to view the item listing page. Here you can find information such as the full item description, any available images, the seller's accepted payment methods, delivery costs and preferences, buying options, and the seller's feedback information. Always read the whole description to ensure that the item meets your requirements and expectations. If you would like to ask the seller any questions before you buy, contact the person via the "Ask a question" link.
Get to know the seller by viewing the person's feedback information. This can be done by clicking on the number next to the seller's username on the item listing page. Checking someone's seller feedback allows you to form your own opinion of his or her products and customer service, based on what other buyers had to say after previous transactions were completed.
Conclusion
Buying a catering trailer is a great way to start your own business with a relatively low capital outlay. The type of food you would like to prepare determines where you sell your wares and the type of trailer you require. Hot foods that can be prepared in a catering trailer include fish and chips, burgers, bacon rolls, kebabs, rotisserie-style chicken, and a variety of other dishes. Cold foods include salads, sandwiches, and rolls. Do not forget to include drinks, fridges, or kettles when choosing the equipment for your trailer.
Decide on the type of food you would like to offer before buying a catering trailer as this determines the type of equipment that you need and the layout. Most come with deep fat fryers and griddle plates as standard. Opt for extra space and refrigeration if you intend to sell cold food. Take the type of food and the hours you want to operate into account when choosing a site.
The catering trailer needs a licence plate as it is towed on public roads. Various licences and registration documents are required to run a catering business. Talk to your local council about these, as well as the fees and any other documents required. You should consider taking out the most appropriate types of insurance to protect yourself from financial worry as far as possible. eBay sellers offer a range of catering trailers suited to a number of food types.