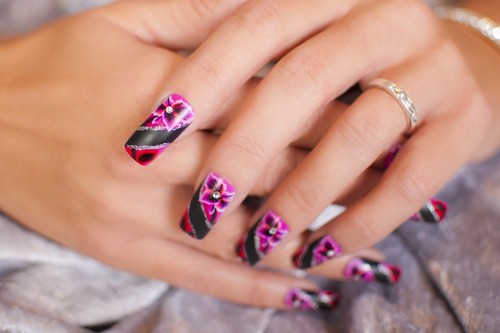 Nail art has become nearly as ubiquitous in fashion as cosmetics, such as lipstick and mascara. It has been popularised by celebrities, who are often seen sporting intricate designs at red carpet events. Nail art takes many forms, from patterns and abstract designs, to depictions of characters. Many people visit nail salons for stylish and complicated nail art designs, but there are many imaginative types who create their own nail art at home, using a few essential tools. Tools for nail art include nail polish, stamps, dotters, brushes, and transfers.
Before investing in a set of tools, a nail artist should decide whether to create the art on natural or false nails. Although beauty supply shops, chemists, and department stores may have the supplies to create nail art, visiting an online retailer, such as eBay,, is a convenient way to ensure a greater selection of products than can be bought from many other sources.
Nail Art Techniques
Nail art can be applied in several ways. In many cases, it is simply painted on the nail using a small implement. However, nail art can also be stamped on or airbrushed. Airbrushed nail art is particularly popular in nail salons, but it is becoming easier to do at home. Another technique is simply to apply decals to the nail and seal them with a clear polish. Nail art is becoming increasingly three-dimensional, with rhinestones, ribbons, and other embellishments added to the nail.
Natural vs. False Nails in Nail Art
Nail art is equally suited to natural or false nails,, but buyers should decide which type is best for them. Nail art can be done on nails of any length. Buyers who have naturally long nails that are not prone to breakage can create nail art on their natural nails. For special occasions, those with short nails may decide to use false nails.
Types of False Nails
False nails can be divided into three categories: acrylic,, gel,, and silk nails. Acrylic and gel are largely meant to extend the length of the nail and enhance its appearance. They are designed to be long-lasting and can be worn for more than a few weeks. However, they do require maintenance. In contrast, silk nail wraps are designed to help to strengthen a nail and last for a much shorter time, only two to three weeks. Other wraps can be made from linen or fibreglass.
Nail Polish for Different Types of Nails
For natural nails, silk wraps, and acrylic nails, standard enamel nail polish is more than able to create nail art. However, acrylic nails can also be painted with special acrylic nail polishes. Gel nails have their own special gel polish,, which is typically set using ultraviolet (UV) light.
Tools for Nail Art
Nail artists use a variety of tools to achieve different effects in nail art. For many basic techniques, it is easy to substitute manufactured tools for items found at home, such as toothpicks, hairpins, or straws. However, buyers may prefer to purchase professional equipment such as airbrushes, paint brushes, dotting tools, nail art pens, and stamps.
Airbrushes for Nail Art
Airbrushes are available in several forms, so buyers should do a some research in order to decide which works best for them. There are three main factors to consider in an airbrush: how the controls are managed, where the air and nail polish mix is, and where the colour is fed into the brush.
Single vs. Dual Action Airbrush
The controls can be single or dual action. In a dual action airbrush, the trigger on the brush manages both the amount of air and colour, so the artist can control the thickness of the line, the colour, and the opacity of the paint with ease. A single action brush, controls only the air flow.
Internal vs. External Mix Airbrush
An airbrush can have an internal or external mix, which means that the air and colour combine inside or outside of the brush. An external mix produces a larger dot spray and an internal mix creates a more uniform spray.
Colour Feed to the Airbrush
Colour can be fed into the brush in one of three ways: bottom, gravity, or side. Each method is outlined in the table below.
Colour Feed Type

Description

Benefits

Bottom

Colour fed through a cup or tube at the bottom of the brush

Easy to change colours

More versatile

Gravity

Colour cup is top mounted and therefore, fed from the top

Less pressure required

Allows for more precise control

Side

Colour cup is attached to the side

Allows for work on horizontal or vertical surfaces

Less obstruction to sight line
Nail artists who want to use airbrushing techniques need to consider the colours that they are going to use. In addition, many nail artists use stencils to create patterns, though it is also possible to create freehand artwork.
Brushes for Nail Art
Nail art brushes take many forms. Buyers can purchase specialty brushes designed exclusively for nail art, but ordinary craft paint brushes can also suffice. However, nail art brushes typically withstand nail polish remover and chemicals much better than ordinary brushes. Brushes with synthetic bristles are better for enamel nail polish, but for acrylic nail polish it is better to use natural horse hair brushes. It is a good idea to purchase brushes with several thicknesses and tips to allow the artist to create a variety of visual effects and fine detailed work.
Nail Foils and Decals for Nail Art
Foils and decals are another easy way to decorate nails. Nail foils are metallic sheets that are applied to the nail using a layer of adhesive. These can take a variety of forms, from holographic and solid prints to exotic patterns. Nail decals,, also sometimes called nail stickers,, are similar to foils, but they have built-in adhesives. Some decals are designed to cover the entire nail, while others are used to create a particular pattern. In addition, some stickers may be raised or include rhinestones.
Dotting Tools for Nail Art
Dotting tools resemble pens, with a pointed tip with a small ball on the end. They can be found individually or as sets, and they range in size from small to very large. Dotting tools are very affordable, but can be substituted for hairpins, pin heads, the ends of nail brushes, dried out old ballpoint pens, or toothpicks.
Pens for Nail Art
Nail art pens are a great alternative to traditional brushes when fine detailed work is required. Nail art pens come in two forms: standard, with only the tip, and two-way, which have a brush and a pen tip. Also note that some pen tips are just very fine brush tips.
Nail Stamps for Nail Art
Nail stamps are another way to create intricate patterns and details without needing the perfectly steady hand that freehand painting requires. Nail stamps require three pieces of equipment: the image plate, which holds a reverse imprint of the stamp to be created, a scraper, and the stamp. Many makers of nail stamps also make specialised nail polish, but most nail polish apart from the quick drying variety works well for stamps. When creating a nail stamp, apply the nail polish to the image plate and use the scraper to remove any excess. Then, roll the stamp over the image plate to pick up the image, and then press it to an already painted nail.
Nail Glue for Nail Art
Nail glue is used to attach false nails or to repair cracks and tears in a nail. However, it can also be used to attach rhinestones and other embellishments. Nail glue comes in several formulas, including quick drying or extended wear varieties. The applicator can also vary from a brush to a pen.
How to Buy Nail Art Supplies on eBay
eBay is home to a large selection of hand and foot care products, including nail art supplies. You can start the search by entering a keyword in the box that appears on every page, such as "nail art brush set&" or "nail art rhinestones&". You can filter the results by product features or refine the search by including more descriptive terms in the search box to find exactly what you are looking for with ease. Research sellers on eBay before committing to a purchase, as this ensures that you know what level of service to expect. You can gauge how reputable a seller is easily by checking his or her feedback history, which is left by other eBay members who have bought from the seller.
Tips for Shopping on eBay
If you are new to shopping online, visit the eBay Help Centre for a wealth of resources and tips, from how to register to buying basics and how feedback works.. After you have become comfortable with navigating the site, consider taking advantage of eBay's advanced search feature, which allows you to search for products more precisely. For added convenience, you can go mobile with eBay and download tools to make your shopping experience more portable.
Conclusion
Nail art is a great form of individual expression, with limitless possibilities in terms of creativity. From sophisticated designs to fun and funky ones, nail art can be worn in nearly any environment. Although nail art is readily available from salons, many choose to create their own nail art at home. Before purchasing any nail art supplies, buyers should consider whether they want to paint their natural nails or use false ones. This also influences the type of polish used.
Nail art tools can make the process much easier. Objects found around the home, such as pins or straws, can be used, but investing in some good quality implements makes creating nail art much easier. Airbrushing tools can be purchased for home use. An even easier approach is to use nail foils and decals, which can cover the entire nail or just a part of it. Buyers should also consider nail art brushes and pens, as well as dotting tools and stamps. To stock up on nail art supplies, visit the online marketplace eBay, which offers a large selection and convenient shopping.