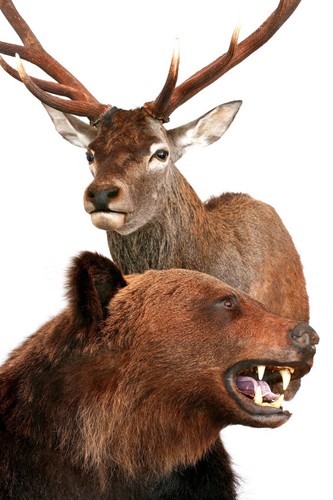 Movement of Skin
Taxidermy is an art form which involves preparing, stuffing, and mounting the skins of animals with lifelike effect, especially vertebrates, for display purposes. You will find some on eBay.
The word "taxidermy" is derived from two Ancient Greek words; taxis, meaning movement, and derma, meaning skin. When loosely translated, taxidermy means the movement of skin.
Modern day taxidermy incorporates a variety of crafts which include:
woodworking
carpentry
tanning
moulding
casting
Requiring high levels of artistic talent, taxidermy also involves sculpture, painting, and drawing.
Taxidermy can be carried out on different types of vertebrate species including mammals, fish, reptiles, birds, and amphibians.
A person who practices the art of taxidermy is referred to as a taxidermist. In order to practice taxidermy, a taxidermist must be familiar with anatomy, as well as sculpture, tanning, and painting. Professional taxidermists practice their art for museums or as businesses, catering for hunters and fishermen. Amateur taxidermists are often hobbyists, hunters, and fishermen.
History of Taxidermy
Man has, for thousands of years, hunted for food, using the skins of animals for clothing and shelter. Early taxidermists were primitive hunter-gatherers; they formed the skins of animals over mud and rock, to be used as part of their hunting rituals. As demand for tanned skins increased, the tanner became one of, if not, the most important member of the tribe.
In the 1700s, almost every town had a tannery business, and by the 1800s, hunters would bring their kill to upholstery shops, where they would be stuffed with rags and cotton, and sewn up.
Taxidermy began to evolve into its modern form in the early 20th century, and it was artists such as Carl E. Akeley, Coloman Jonas, Leon Pray, and William T. Horneday, who created anatomically accurate manikins or mannequins if you prefer the French term.
Types of Taxidermy
Fish Mounting
Agreed to be the most difficult type of taxidermy, mounting a fish can be a challenge for even the most experienced of taxidermists. Professional fish taxidermists have the ability to draw, paint, and sculpt, accurately recreating the anatomy of the subject. When a fish dies, its skin loses colour, leaving brownish patterns. A fish taxidermist therefore has to recreate the colours of the fish's skins from scratch.
Warm water fish, such as bass and bream, are commonly mounted as they have tough skins and large scales. When they are skinned, the skin is preserved, and then either mounted over a manikin, or the fish's body is packed with filler, which is shaped and then allowed to harden. The natural skull is usually still attached to the skin when they are mounted.
Trout, salmon, and char, all coldwater fish, have smooth skins and fine scales, making mounting them more difficult, as any lump under the surface of the skins can easily be visible. Because of this, these types of fish are usually mounted over a foam manikin, with an artificial head attached to the natural skin-mounted body.
Most saltwater fish, as well as many cold water fish, are recreated from man-made materials, and are the most long-lasting taxidermy mounts. When caught, whilst the fish is still fresh, a mould is made. The body and fins are then cast in polyester resin reinforced with fibreglass. The mould is known as fibreglass "blank", as it has no colour or markings. The taxidermist has the task of creating the colouration to make the fish appear as it would if it were alive.
Game Head Mounting
Usually including the shoulders, neck and head of the animal, gameheads are mostly created to be hung on a wall; however, gamehead pedestal mounts have become popular over the years, incorporating habitat displays which can be viewed from 360 degrees.
When recreating a gamehead, a taxidermist chooses a manikin that matches the size and pose of the animal. The skin is then removed from the animal, and preserved with chemicals, or it is tanned. If the animal is a deer for example, the chosen manikin will then have glass eyes installed. If appropriate the animal's natural antlers are then added.
The skin is then glued over the manikin, and the incision is sewn closed. The hair of the animal will then be groomed, and the gamehead mount set aside to dry slowly, and naturally.
The mount is then finished by restoring natural colour to any exposed areas of the skin, and rebuilding any shrunken areas of the animal's body.
TIP: Beware; some years ago there was a craze for adding antlers to stuffed animals such that the antlers and the 'mask' or head of the animal did not accurately match. They were designed to be a countryman's riddle; a test to see whether anyone would notice the mismatch.
The first stage in the process of mounting a bird is to skin it. During this step, all of the meat and bones are removed from the bird, with only the feet and talons being kept in place.
After the bird has been skinned, the skin and feathers are rinsed in warm water with an everyday washing up liquid which cleans them and removes any greases.
The skins and feathers of the bird are then dried with a towel.
The feathers are then dried with a hair dryer, which fluffs the feathers up.
Any remaining moisture is soaked up using a salt preservative.
The bird is then turned inside out. The head cavity is then filled with non-shrinking hard clay.
The bird's body and neck are sculpted using a polyurethane foam material.
The main body is then set to one side while wires are put in place of the wing, leg, and tail bones.
Wire is then put in under the skin of the bird's wings. This is then tied off with dental floss. The same is procedure applies to the bird's tail and legs.
The bird's skin, together with its legs, wings, and tail are pulled taut by the wire that was inserted earlier.
Next, the foam body and neck are then installed, with the wires from the legs, wings and tail being inserted into the body of the mount until firm.
The moulded neck is then placed into the clay area of the head.
One of the last steps is to stitch up the bird around the body mould, using dental floss or carpet thread.
Once this has been done, the bird has glass eyes inserted into the clay sockets. The bird is now ready to be shaped and mounted.
Why Choose eBay for Taxidermy or Stuffed Animals?
EBay is a popular place for people to buy taxidermy or stuffed animals, mainly due to the diverse selections available in the relevant sections, and low prices not found elsewhere.
How to Search for Taxidermy on eBay
Now that you've found out about the many different types of taxidermy or stuffed animals available, you can now begin your search on eBay. To start your search, go to the All Categories link on the homepage of eBay. Click Collectables, select Animals, and then click Taxidermy under Item Type.
Keyword search
Search eBay listing titles for specific words. For example, if you want to find a taxidermy or stuffed fox, type the keywords "taxidermy fox" (without quotation marks) into the Search box. Click, "Search title and description" to expand your results. Visit eBay's Search Tips page for more tips on searching with keywords.
If you can't find exactly what you want, try browsing eBay Stores or tell the eBay Community what you're looking for by creating a post on Want It Now, or save a search on My eBay and eBay will email you when a matching item becomes available.
Buy Taxidermy or Stuffed Animals on eBay with Confidence
Make sure that you know exactly what you're buying and understand how eBay and PayPal protect you.
Know Your Item
Read the details in the item listing carefully.
Remember to add delivery costs to your final price. If you're buying a high value item, check that the seller will insure it until it is delivered to you.
If you want more information, click the "Ask seller a question" button on the seller's profile or the "Ask a question" link at the bottom of the item listing page.
Always complete your transaction on eBay (with a bid, Buy it Now or Best Offer) otherwise you will not be covered by eBay Buyer Protection.
Never pay for your eBay item using an instant cash wire transfer service like Western Union or MoneyGram. These are not safe ways of paying someone you do not know.
Know Your Seller
Research your seller so that you feel safe and positive about every transaction.
What is the seller's Feedback rating?
How many transactions have they completed?
How many positive responses do they have?
What do buyers say in their Feedback?
Are they positive about the seller?
Most top eBay sellers operate like retail shops and have a returns policy.
Do they offer a money-back guarantee?
What are their terms and conditions?
Buyer Protection
In the very unlikely event that you do not receive your item or it is not as described, eBay Buyer Protection covers your purchase price plus original delivery cost.