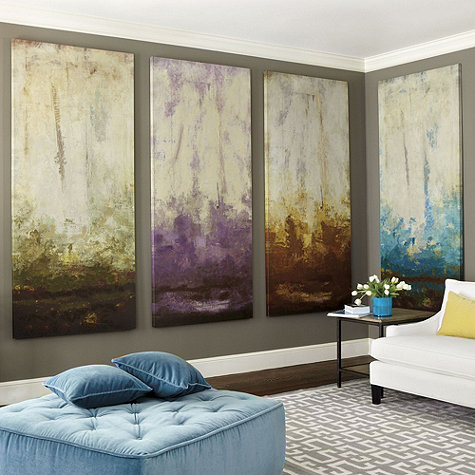 People looking for quality pictures on eBay are increasingly finding that many of the works are described as giclee prints. Sometimes these appear to be paintings on canvas, sometimes photographs, sometimes limited edition prints. They cover a whole range of art from pre-Raphaelite paintings to classic photographs to original signed artworks.
But there is seldom an explanation of what giclee means or what makes giclée reproductions any different from, or better than those made using conventional kinds of printing. That is the purpose of this introductory guide.
The Definition
Giclée (pronounced'jee-clay') – a digital process for printing fine art created by conventional means (drawing, painting, photography etc) using very fine droplets of ink to produce highlyaccurate reproductions.
Giclee derives its name from a French word meaning to spray, squirt of spurt. Jack Duganne a printmaker working at Nash Editions in California, wanting to avoid the everyday connotation of computer generated or inkjet printing, adopted it to describe a fine art technique he had developed in 1991.
At the time, new IRIS large format inkjet printers were being used to produce proofs of advertisements and illustrations to be placed in magazines and newspapers. For extra accuracy the proofing was done using the actual paper they would finally be printed on. It followed that the same kind of printer could be used to reproduce original works of art on high quality paper stocks and on real canvas. It worked beautifully.
The Process
The crucial point of difference in the giclee method is that it is digital. The original artwork is scanned; the image is proofed then inputted to a large format inkjet printer with eight or more heads to be printed on demand onto the chosen surface. All this demands specialist expertise. Operators must carefully monitor the colour system through the use of colour profiling techniques and understand the colourspace in which the machine functions.
Scanning
Scanning or origination is the most crucial step in producing exceptional prints. The original is placed in a high resolution flatbed scanner, but if it is too large or cannot be taken off the stretcher frame, a transparency must be taken of the artwork and this is then scanned. Each aspect of colour and tone has to be examined individually and as a whole. This requires understanding of:
highlight
shade
sharpness
chroma
hue
colour management
To scan, to screen and then finally to print all this subtle colour correcting demands skill, experience and advanced Photoshop masking techniques.
Proofing
Making sure that the image is right to print is done on-screen using a colour calibrated monitor. This provides a good reference for fine tuning and digitally editing the image. Once the scanner operator and, often, the artist are satisfied with the on-screen representation, a hard copy is made onto the desired, previously selected medium:
digital fine art paper
canvas
cotton rag (or "watercolour") paper
photographic material
Usually a small section is printed and compared with the original. Any further adjustments in tone and hue are then made before proofing to the full size.
Printing
A Giclee printer is not the same as a standard desktop inkjet printer. Over a metre wide and made by companies such as Epson, Colorspan and Hewlett Packard, these large format printers are sometimes referred to as a "knitting machine" because they look very similar.
Using eight to twelve different coloured inks they are capable of producing a far wider range and depth of colour than conventional offset litho printing. Rather than simply arranging inks together to form the illusion of 'continuous tone' colour, Giclée print devices actually mix a wide palette of colours together to produce truly vibrant, accurate colour reproductions with wide tonal ranges that extend to the perceptual limits of the eye.
The Difference
Over 95% of colour printing today is produced using an 'offset lithographic' printing process employing 4 coloured printing inks (CMYK).
Cyan
Magenta
Yellow
Black (K)
These four inks are applied to paper in small dots of varying size.
The different dots of ink are 'offset' from one another on the paper. Look closely enough at any magazine and it's clear to see that what is apparently an image with a wide range of colours, is in fact produced using only four coloured inks.
In contrast, with giclee printing no screen or other mechanical devices are used and therefore there is no visible dot screen pattern. Microscopic dots of pigment based ink are sprayed or squirted on to high quality art paper or canvas. Latest technology printers are capable of producing incredibly detailed prints for both the fine art and photographic markets.
The image has all the tonalities and hues of the original painting. That is why conventionally produced CMYK art prints look a little dull and lifeless when compared to real giclée prints. A further distinction is the ability to print on real artist's canvas. The result is stunning, glowing colour reproduction combined with the texture of real canvas – prints that look amazingly like an original work of art.
The Advantages
As a technique giclee should not be thought of as printmaking, such as etching, linocuts, lithographs or silk screen. These are arts in themselves. It is a means of reproducing an original image as accurately as possible in all respects. As such it has to be compared with four-colour offset litho. For both the artist and the buyer, Giclee offers a number of advantages.
For the Artist
1. There are no expensive printing plate setup costs.
2. No marketing and storage expenses needed for large four-color offset print runs.
3. Giclée provides opportunity to follow a just-in-time business model since art pieces can be printed and sold individually in accordance with demand.
4. There is freedom for artists to take total control of the production of their images, including the final colour correction.
5. Giclee allows a choice of substrates to match the original paper or canvas or photographic paper as closely as possible and add to the look of authenticity.
6. There is an option for the individual artist to go digital and own and operate his own printer.
7. Instead of looking for a faithful match to the original, the artist has the further option of manipulating the process to make print editions which become works of art in their own right.
8. Digital images can be reproduced to almost any size, allowing the artist to customise prints for a particular client.
9. Giclée prints command a price premium because of their superior quality.
For the Buyer
Fidelity
Say goodbye to prints which look good but don't bear a closer examination for detail and depth of colour. Once a giclee print is hung on the wall there's no going back to litho, so faithfully does it match the original.
Exclusivity
Giclee is a reasonably priced route to possessing a limited edition. Just as traditional printmakers destroy the plate or "matrix" once the last print of the edition is made, the scanned file is deleted from the printer's archive.
Quality
The quality of Giclee printing rivals traditional silver-halide and gelatine printing processes and is commonly found in museums, art galleries and photographic galleries.
Texture
Giclée prints seem identical to the original not only in appearance, but in texture. If the original is a watercolour, a soft paper is used; if it's a photograph, then a photographic paper is the choice; if it's on canvas, then canvas it shall be for the giclee print.
Longevity
Giclee prints are for keeps. That's because the inks which are used combine the best of pigment and dye based inks to produce and maintain authentic colour. They are light-fast and non-water soluble. These 'archive' quality inks have been independently laboratory tested to show they resist any visible fading for a projected 100 years.
Ask the Seller
There is no universal standard of authentication for Giclee prints. Some prints which are claimed to be Giclee prints are reproductions using conventional four colour (CYMK) printing processes. It's hard to tell the difference on screen. Buyers should strive to verify the process used with the seller and check the returns policy.
Buying Giclee Prints on eBay
The benefits of buying from eBay include access to hundreds of trusted sellers, as well as PayPal secure payment systems. This offers choice as well as protection. Read carefully over the listings that are a good match and study the photographs and details given. To answer any queries, or to have certain details clarified, do not hesitate to Ask the Seller. To buy the chosen product, either place a Bid, Buy it Now or put down a Best Offer.
To begin an eBay search for limited edition prints go to the Art portal under the Collectables heading. Then navigate to the Prints section where there are sub-sections for Antique, Modern and Contemporary prints.
Results can be filtered using the boxes in the left-hand side panel. This will reduce the number of results. Check the box 'Limited Edition' as well as in any other sections such as 'Subject', 'Condition', 'Price', 'Style', 'Medium' or 'Signed/Unsigned'. When the search has been narrowed down enough, and there are several suitable options, the search is still not complete. It is important to spend some time researching the product and gathering as much information as possible before thinking of buying or placing a bid.
There is a search box on every page and also an advanced feature where the search category can be specified. To find prints quicker for limited edition prints search in the "Art" category. For more search tips use eBay's Search Tips page. Use key words to narrow down preferences and carefully read through the search results to check that they are suitable.
If the searches are unsuccessful then save a search on My eBay which will send an email notification when the search is matched.
Summary
Ultra high resolution, digital, inkjet based printing process
Printing on standard or non-standard media – e.g. canvas
Print process uses more inks (8 – 12 colours) than conventional printing
Reproduces a much wider range and depth of colour than conventional offset litho printing
Produced using archive quality inks for permanence
Produced on expertly calibrated printing devices to ensure highest reproduction accuracy.