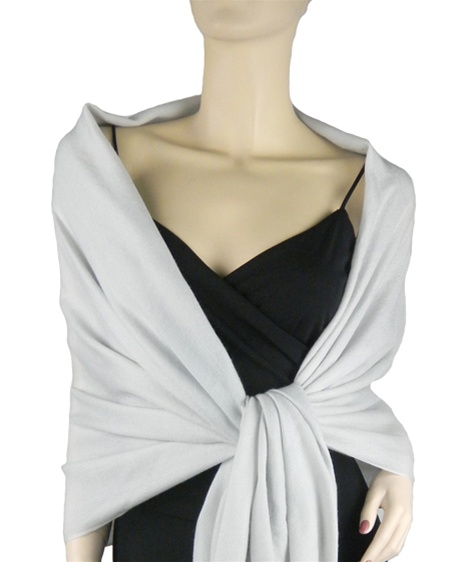 Prevalent in the fashion world for many years, pashmina is a term that many women may have heard again and again. This exotic sounding word has become synonymous with luxury and is familiar to a woman who likes to treat herself to a welcome bit of indulgence. While many women may have a vague frame of reference for what a pashmina is, they may not be entirely certain of its provenance and what exactly a pashmina involves. After all, the term does seem to apply to a variety of products on the market, including wraps, shawls, and even scarves. That being said, what exactly is a pashmina? Where do these luxury items come from and how are they made? If a woman is looking for a quality pashmina, what types of vendors are the best options for finding and purchasing a quality pashmina? Having a clear answer to all these questions, including whether to shop locally or via online auction sites such as eBay, can help women get a handle on this important accessory and incorporate it into their wardrobes.
What is a Pashmina?
Colloquially speaking, a pashmina is a shawl-like garment that is woven from cashmere wool taken from the high elevation changtangi goats who live in the mountains of the Himalayas. These goats are only able to thrive and produce the right type of wool, it is said, if they are living at elevation, hence the rarity of their wool. The term pashmina literally refers to the wool used in the weaving of the garments themselves. Attempts have been made to breed true changtangi goats in other high elevation regions of the world, with some success in the steppes of Mongolia. However, Nepal, Pakistan, and Northern India still have the best reputation for harvesting and weaving this precious wool.
There are two popular varieties of pashmina wool from these regions. Changra pashmina is from Nepal and is gathered from goats that live at around 4200 metres. The pashmina gathered from goats living at a similar elevation in the Indian and Chinese border region of Kashmir is known as Ladakh pashmina. The quality and fineness of the pashmina fibre is said to come from the delicate, extra inner coat of wool that the goats develop to deal with the demanding and cold temperatures of the mountainous regions.
A History of Pashmina Garments
The word "pashmina" comes from "pashm", the Persian term for wool. The first shawls woven from pashm are said to have been created as early as the third century B.C. during the reign of Emperor Ashok in India. The shawl industry in Kashmir, however did not reach its full momentum until the reign of Sultan Zain-Ul-Abidin in the 15th century. The Sultan is said to have promoted the weaving arts and was a patron of the nascent weaving industry as it gained momentum.
Pashmina found its reputation growing in the West during the late 18th and 19th centuries as the British began moving into and trading with the region of the Himalayas. The British began exporting garments woven from pashmina, and eventually the enthusiasm for these soft shawls spread to France.
Pashmina's Place in Fashion
In the mid-1990s, a fad for pashminas began making its way through the world of fashion. Pashmina shawls, scarves, and wraps became must-have items for style-conscious women around the world. Since that trend swept through fashion, it has lasted, and the pashmina has remained an essential staple that many women value for its warmth and chic simplicity.
Types of Pashmina Blends
Because of both the high cost and the fine structure of true pashmina wool, many modern pashmina shawls and scarves are made from pashmina wool that has been blended with other wools or fibres. Garments made from 100 percent pashmina can not only be very expensive, but they can also be very gauzy and delicate, since the pashmina fibre is too fine for a tight weave. The most common blend of pashmina available today is a blend of 70 percent pashmina and 30 percent silk. A blend of 50 percent of each fabric is another common variety. Both options offer a sturdier garment with a tighter weave that nonetheless is as soft and supple as a 100 percent pashmina weave.
Pashmina Colours
Pashmina garments come in an enormous range of colours. True pashmina is often found undyed to bring out the purest and truest quality of the wool, but most fashion pashminas are dyed in a literal rainbow variety of colours. Pashminas are typically each dyed in one solid colour, with a range of pashminas covering every centimetre of the colour spectrum. Certain on-trend colours may become prevalent in specific years or seasons but, by and large, pashminas are sold in every hue imaginable.
Types of Pashmina Products
The following is a summary of some of the more popular products being sold in the pashmina market today. These options give women a choice of minimal and ornate pashminas, as well as larger and smaller pieces.
The Pashmina Shawl
By far, the most popular type of pashmina garments is the pashmina shawl. Also known as a pashmina wrap, the shawl can measure as much as 0.91 metres in width and 2.0 metres in length. It can be worn folded over in a double fold and then wrapped loosely around the shoulders. Pashmina wraps are popular amongst women because they can provide a good deal of warmth while still maintaining a refined and elegant silhouette unlike, say, a warm sweater or coat. Pashmina shawls can make excellent accompaniments to a cocktail dress or other dressier attire that may be dressed down by almost any other warm garment besides a pashmina.
The Pashmina Scarf
The pashmina scarf is a shorter and narrower version of the shawl wrap and is typically worn as a loosely draped scarf around the neck. A pashmina scarf can measure on average 0.31 metres in width and 1.5 metres in length. Like its sister shawl, a pashmina scarf delivers comprehensive warmth with a look that is feminine and elegant, sidestepping the bulky warmth of a knit wool scarf. Given their width, pashmina scarves can also be draped over the head for added protection from the cold.
Patterned Pashminas
While traditional pashminas are dyed one colour, there are options that incorporate ornate designs and patterns on the pashmina garment. The motifs on these patterned pashminas can run from the traditional and Eastern to geometric and paisley. These types of pashminas are usually wool or silk blends by necessity, as the weave and fibre must stand up to the printing or complicated weave it takes to imbue pashmina with a pattern.
Shopping for Pashmina Products
Certain offline, local retail shops may have a limited selection of pashmina-style garments. Since local clothing retailers must stock based on seasonal demand and prevalent trends, shops in a consumer's neighborhood may not have pashminas in stock at certain times of the year. A much more reliable option for consumers is to leverage the online auction site, eBay, as a resource in their search for a pashmina product. As a fashion aggregator, a site like eBay offers myriad options and can help interested parties find any variety of pashmina.
Buying a Pashmina on eBay
To begin the process of buying a pashmina on eBay, you can run a search for the term "pashmina" utilising the search bar on the site. Running a search for a general term like this gives you an idea of the overall range of options in pashmina available on the website. The site itself may make related search suggestions. These tips can lead you toward listings you might not have considered on your own and can help refine your search. If you have a particular type of pashmina in mind, use a specific search term, such as "pink pashmina wrap".
When shopping for pashmina on eBay, it is recommended that you take the time to evaluate each seller from whom you are considering making a purchase. You can do this by looking through the seller's past auctions to get an idea of their practices. You may also review the feedback they have received from other customers. This process can help ensure the quality of your pashmina and your purchasing experience on eBay.
Conclusion
Pashminas, long a symbol of luxury, have become a staple of women's fashion today. These easy, flexible pieces can warm a woman's shoulders on a cold night in the fanciest or the most casual dress. With their dynamic range of colours and cuts, pashminas can give almost any woman the exact fashion solution she needs when it comes to scarves, wraps, stoles, and more. Finding and purchasing quality pashmina products does not have to be a complicated process either. By carefully researching her options and then accessing the enormous catalogue of options on online auction sites such as eBay, a woman can quickly begin the process of finding any type of quality pashmina product. Then, by making her selection and taking the time to vet her seller, a woman can complete a pashmina purchase on eBay. The website makes it easy for a woman to incorporate one of these timeless accessories into her wardrobe, adding an essential element of style to any ensemble.