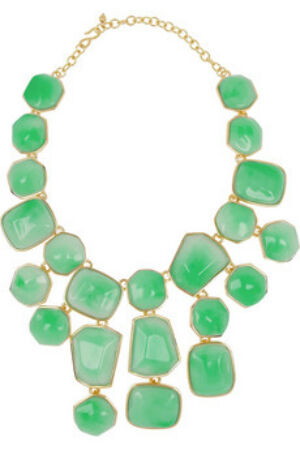 Women and jewellery are like a match made in heaven. They should have several sets of earrings, a few bracelets, and a selection of necklaces to accommodate a diverse wardrobe. While earrings and bracelets should never be overlooked, a necklace has the ability to be the focal point of an entire outfit. Dainty chains and charms are modest and versatile, but for women who want all eyes around the neckline, then none other than a statement necklace will do.
Statement necklaces are large necklaces with an excessive amount of dangle, beads, or intricate details and are made from a variety of materials and come in an infinite number of colours and colour combinations. Because they are designed to really pop, statement necklaces have their own set of fashion rules wearer's should abide by. Statement necklaces are flashy and bold, and in order to find the right one, women should have an idea of what colour, size, and style suits them before buying one.
Choosing a Statement Necklace
Finding a statement necklace that looks and feels right does not have to be overwhelming. Shoppers should make a list of priorities to help them choose the right one. Many ladies have colour as one of the most important decisions when selecting any accessory, including a statement necklace. The materials are also an essential factor to consider since they often go hand-in-hand with price.
Statement necklaces are by default on the large side as the size is how they make their statement. Women must learn to walk the line between couture and too clunky. The following sections outline all the considerations women should make when choosing the right statement necklace.
By Colour
When it comes to choosing a statement necklace, women often think colour is the top priority. Whether matching a single piece or several in a wardrobe, the colour of the statement necklace is an important factor. Plain metal, stainless steel, gold, or silver, can match with many outfits. Not all statement necklaces must match identically. For instance, a complementary colour can really stand out. For example, a purple top or dress paired with a turquoise statement necklace looks simply stunning.
By Material
Statement necklaces come in a variety of materials, and the cost if often closely associated with what they are made from. The least expensive option is typically a plastic statement necklace, and enamel is also cost efficient. Metals are in a more expensive category. Alloy metal statement necklaces look sleek and contemporary. Some models are all metal, and others have rhinestones or other decorative embellishments.
High-end statement necklaces look fetching with the right neckline, but many of them can be quite expensive since they are much larger than other necklaces. Solid gold statement necklaces are costly, but women who opt for gold-plated statement necklaces can save some money and still retain the look. Similarly, sterling silver statement necklaces are of superior quality, but silver-plated necklaces appear nearly identical. Precious gemstones, such as diamonds, always raise the value of the statement necklace, but cubic zirconia is a cost effective substitute.
By Size
All statement necklaces are designed to be big of course, but some are bulkier than others. Bulk is not necessarily a bad thing, but it is a factor that should be considered. A statement necklace should lay flat against the neckline. Wearing a heavy necklace out for a few hours can be tolerable, but keeping it on for an extended period of time could prove uncomfortable. A big necklace is great, but one too big can make an awkward statement.
By Chain Length
Statement necklaces are often sold in three popular lengths. Collar statement necklaces sit close to the neckline; these are the smallest style, and women should be careful not to buy a necklace that is too tight. Choker statement necklaces have a bit more room, and they hang just below the neckline; they are perfect for petite women and those with slender necks. Princess statement necklaces are the longest of the styles, but these are the most common length. The necklace rests below the collarbone and is much less constricting than the other two options, so it can be worn comfortably all day.
| Style | Length (cm) | Length (in) |
| --- | --- | --- |
| Collar | 30.5 to 35.5 | 12 to 14 |
| Choker | 38 to 40.5 | 15 to 16 |
| Princess | 43 to 48 | 17 to 19 |
Collar, choker, or princess length each have their benefits. However, there is no best length for a statement necklace for a woman; the decision is up the wearer and her preferences.
By Neckline
Ladies buying a statement necklace for a particular outfit should consider the neckline before choosing their accessory. A low, plunging V-neck top or dress can be paired with a statement necklace of any length. Women who want to accentuate their bustline should opt for a princess length necklace. If wearing a collared shirt with the top few buttons open, a choker is best. Petite women may want to try a collar.
Do's and Don'ts When Wearing a Statement Necklace
The purpose of a statement necklace is of course to make a statement, and an accessory of this magnitude speaks volumes. Before donning one, women should make sure their necklace is making the right statement about them. Ladies interested in some pro tips for wearing a statement necklace should heed the following advice.
Do Wear Hair Up
A woman's hair should never be in competition with the statement necklace. Therefore, statement necklaces with intricate details or large designs should be worn with the hair pulled back. Smaller or more reserved statement necklaces can be worn with the hair down and simple. This rule works better with shorter hair.
Don't Be Too Funky
Like hair, apparel can get in the way of a perfectly awesome statement necklace. Wearers are encouraged to wear these necklaces with clean, flat necklines. Funky cuts, patterns, and other odd shaped tops are a distraction and should be avoided at all costs. Wearers should never clutter the neckline. A simple rule to remember is the more complicated the necklace, the simpler everything else should be.
Do Colour Coordinate
Many women are under the impression that the colour of the necklace should at least partially match the outfit. Matching is great, but there are other stylish alternatives women can employ. For example, choose colours that complement each other instead of looking for an exact match. Neutral coloured outfits can be paired with a red statement necklace for a bold, empowering appearance. On the opposite side of the spectrum, bright coloured dresses and tops are best complemented by black, metals, and pearls, to name a few.
Don't Be Afraid to Go Bold
Statement necklaces can be an intimidating accessory at first. Women must learn to distinguish between just enough and way too much. Statement necklaces are bold, fun, and in style, so women should embrace them. Going bold can refer to the colour or size of the necklace. Women with a bit of height can go for oversized; however, the same necklace on someone with a shorter stature may be a bit too much.
Do Look Girly and Fem
Even though statement necklaces are bulky and huge, they have the ability to soften a look. Pink statements necklaces are uber-feminine; soft pastels can also achieve a similar effect. Diamonds and pearls, real or fake, add an element of femininity no matter what kind of necklace it is, and with a statement necklace, the look is that much bolder.
Buying a Statement Necklace on eBay
eBay has an impressive of statement necklaces available to fit nearly any buyer's preferences and piggy bank. Type "statement necklace" into the search bar to see everything eBay has to offer. With so many results to choose from, the use of keywords can help you narrow your search. By adding in a few keywords, such as "rhinestone statement necklace" or "gold-plated statement necklace", buyers can control what type of results they receive.
After receiving your initial results, you have the option to custom sort the items by what matters most. For example, shoppers on a budget can sort statement necklaces by price to see the least expensive options first. On the other hand, if you are looking for an extravagant statement necklace, arrange them from highest to lowest price. Furthermore, customers also have the opportunity to sort items from distance from seller, time left in auction, and new or used condition.
Conclusion
Selecting a statement necklace fits the wearer and the budget is easy as long as the buyer has prioritised their preferences. If buying to match a certain outfit, colour and size are paramount. Shoppers should keep in mind the statement necklace does not have to match exactly, and coordinating hues are perfectly acceptable. Small statured women should avoid going too big. Statement necklaces should never engulf a woman's neckline. Taller women can get away with the super chunky statement necklaces without worrying about it being too much.
Buyers must also consider the neckline of the top to buy the appropriate chain length. Collar and choker statement necklaces sit high above the collarbone. Chokers are ideal for exceptionally large or dangly statement necklaces, and collars are best for petite women. Princess length is the most versatile and looks divine with V-necks. When it comes to wearing one of these necklaces, the statement wearers want to makes is that they are fashion forward and not a fashion disaster.