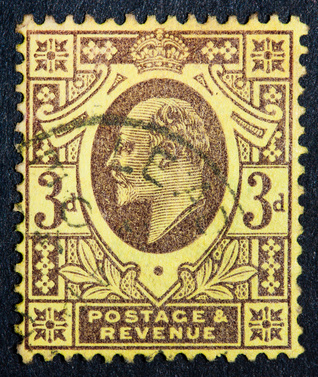 With the introduction of perforating machines, the process that was employed to work with embossed stamps was looked upon as very slow, and recess printing resulted in stamp paper stretching, owing to moistening. Surface printing, as a technique to print postage stamps, was first introduced in Great Britain in 1855, and this technique went on to replace previously used embossed stamps. The credit of creating the first public use surface-printed stamp, a 4d stamp, goes to Thomas De La Rue & Co., and was introduced to serve as prepayment for letters sent to France.
Collectors have various alternatives when it comes to buying surface-printed issues. Some of these alternatives include stamp dealers, stamp auctions, buying directly from collectors, and online through shopping portals like eBay. Before actually buying these stamps, it is suggested that buyers know about surface-printed stamps, how they evolved with time, and know about aspects like stamp damage and collecting stamps as an investment.
What Is Surface Printing?
Surface printing, also referred to as letterpress, involves using a printing plate to print onto a stamp's surface. Surface-printed stamps tend to come with a smooth, yet solid, feel. The oldest form of automated printing that is still used, it involves the use of an inked press bed carrying the stamp's illustration and the stamp paper is pressed or rolled against it. This method allows duplication through the use of stereotyped and electrotyped images from original dyes, and the printed plate is formed by locking these dyes together. De La Rue, in the late 1950s, came up with a process that worked to plant the dyes with steel, which not only improved surface printing quality, but also resulted in reduced printing costs.
The Evolution of Surface-Printed Stamps
The first surface-printed stamps were printed using handmade paper, which led to variations in the thickness of paper. During the period between 1855 and 1901, there were a number of design changes, as well as changes in colours and plate numbers, and a total of 10 watermarks were used, which include: the small garter, the medium garter, the large garter, emblems, spray of rose, Maltese cross, large anchor, small, anchor, ors, and the imperial crown. The four basic families of Victorian Era surface-printed stamps can be classified under no corner letters, small white corner letters, large white corner letters, and large coloured corner letters.
From 1855 to the 1900s
The period from 1855 to the 1900s, in UK's stamp history, is looked upon as a period of experimentation, and the evolution of stamps went from designs that came without check letters to those that incorporated small and large white check letters as well as coloured check letters. The first issues of British surface-printed stamps continued to be used until 1862, albeit with a few watermark changes, and a new issue was made available only in 1862. Surface-printed again, this issue included stamps in values of 3d, 6d, 9d, and 1/-, along with a revised edition of the previously released 4d alternative. The 9d stamp is looked upon as rather rare, and was used as prepayment to send letters to South America, Australia, and India.
Britain began issuing high value surface-printed stamps in 1867, and in 1882 it released a 5/- stamp. The next year, 1883, saw more releases, and these came in the form of a 5/- stamp, a 10/- stamp, and a one pound stamp. The five pound stamp was in circulation until 1903, and around 250,000 were printed and sold in all.
The later part of this period, post-1880, saw even more experimentation with the use of fugitive inks and attention being paid to values being identified easily. This is also when lower value stamps were printed without check letters, when imprimatur sheets were discontinued, and when the use of control numbers began.
From a collector's perspective, what is interesting to note is that a higher proportion of high value stamps from this period have been saved in comparison to their lower valued counterparts.
Different Runs
A number of issues were run through the course of surface-printed stamps, and changes were made with almost every new issue. The table below shows how Britain's surface-printed stamps evolved with each new issue.
| Issue Year | Distinct Traits |
| --- | --- |
| 1856 | No check letters; 6d and 1/- emblems |
| 1857 | Small, medium, and large garter; different shades of paper |
| 1862-1864 | Emblems or large garter; small corner check letters |
| 1865-1867 | 3d to 1/- with emblems or large garter; large uncoloured corner letters |
| 1867-1880 | Spray of rose; large coloured corner check letters |
| 1872-1873 | Different shades and colours of a 6d release |
| 1867-1883 | An assortment of watermarks; release of high value stamps |
| 1880 | Issue with no corner check letters, 1/2d to 5d |
| 1883-1884 | Issue of new high value stamps; large corner check letters |
| 1883 | Issue of lilac and green; some without corner squares, some with check letters; all carrying the imperial crown |
| 1887-1901 | Introduction of Jubilee series; no check letters, imperial crown |
As can be seen, the evolution was fairly constant, with new issues being released from time to time. Changes came in various forms, and these include changes made with watermarks, colours, check letters, and denominations.
Surface-Printed Stamp Damage
Surface-printed stamp damage is one aspect that should be addressed when buying surface-printed stamps. The two main areas that require a buyer's attention include the print's quality and the stamp's existing physical condition. When checking the print quality of a stamp, centring, perforation, and colour accuracy should be scrutinised. Folds, missing perfs, fainted colours, and other damage is indicative of poor preservation. While avoiding torn stamps is a given, this does not imply that they cannot be of any value, wherein a torn stamp that serves as an example of a valuable stamp can still find a buyer. For example, a used, orange five pound issue that is in good condition, except for the fact that it comes with a 2 to 3 mm tear, could still end up finding a buyer for around a third of its catalogue price. Bends in surface-printed stamps can lower their value by around 15 per cent, and a crease, depending on its severity, could lower a stamp's value by up to 90 per cent of its catalogue price.
Buying Surface-Printed Stamps as Investments
A number of Victorian Era surface-printed stamps are valued very highly, and many can be purchased without having to spend too much. Collectors who view their stamp collections as investments should ideally look at investing in the best alternatives they can find, simply because these come with the best possibility of price appreciation. A number of people look at investing in stamps, and the fact that they are small and easy to store only helps.
Businesses that deal with stamp investing point out that investing in stamps over the last century has resulted in an average 10 per cent per annum return, which is something that helps draw even more enthusiasts to the realm.
Buying Surface-Printed Stamps on eBay
Interested buyers have scores of options when it comes to buying surface-printed stamps through eBay. Surface-printed stamps belonging to the Victorian Era can be found in large numbers, and buyers can also come by surface-printed stamps belonging to the Edward VII, Elizabeth II, George V, and George VI eras. The choice also extends to choosing stamps of various denominations, some of which include 1d, 3d, 4d, 5d, 6d, and 1/-. Further choices extend to choosing singles, blocks, and multiples; and buyers also have the ability to look for regional and local issues that came from Scotland, Wales, and Northern Ireland.
eBay allows users to look for stamps using its search feature that can be found on each page. Users simply have to type in the terms of what they are looking for and click search, which produces relevant results. For example, if a buyer is looking for a 1/- surface-printed stamp, entering "1/- surface-printed stamps" in the search box, and clicking on search should do the trick.
Conclusion
Investing in surface-printed stamps can be a good idea, especially if due attention is paid during the buying process, simply because these stamps can see a significant increase in price over time. What is important, though, is to get some kind of an understanding of market trends, failing which, losses may be incurred. Buying stamps can require a fair amount of patience, and trying to find any particular stamp can call for a lot of hard work and research.
Asking for certificates of authenticity is suggested when it comes to buying rare and expensive surface-printed stamps, and so is looking for well-centred, damage-free stamps. Once a stamp is acquired, suitable measures should be taken to ensure that it is not subjected to any kind of damage, and when it comes to starting a stamp collection, investing in the right kind of philatelic supplies, like stamp albums, stock books, tweezers, magnifying glasses, and more is definitely recommended. Lastly, since there is no telling what tomorrow may bring, thinking about insuring valuable surface-printed stamps is suggested as well.