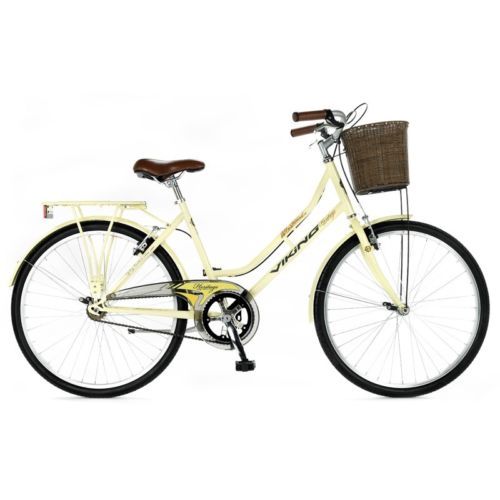 If you're looking for a great way of getting from A to B in the city, why not consider a town bike?
More and more people are finding cycling to be a great alternative for their city commute. It is easy to understand why. There are many benefits to biking:
* One more bike equals another car off the road
* Biking is healthier
* You spend less money on public transport
* It is the most environmentally friendly way of getting from A to B
eBay has a comprehensive selection of town bikes. Whether you are interested in buying a brand new bike or purchasing one from our thousands of trusted resellers - you will find the bike that is just right for you. This guide will help you understand what a town bike is and how they can benefit you.
Town Bike Types
Town bikes go by many different names.
* European bike
* City bike
* Upright bike
* Dutch bike
As all these names imply, a town bike is suited to urban use. It affords the rider an upright and comfortable ride. They are well suited to flat terrain for short to medium commutes. Generally, town bikes are pre-equipped with mudguards and enclosed chains. This means the rider can even use them in adverse weather conditions whilst wearing smart clothes. They are easy to maintain, thanks to their simplified gearing and braking systems. Town bikes are quite extendable and you can find many accessories to customise it to your needs.
Is A Town Bike Right For Me?
If you plan to mostly use a bike for city commuting and running short errands, you may find that a town bike is just right for you. They are designed to give you a similar feeling to walking down the street. Town bikes are very comfortable to ride and require very little maintenance. They are extremely resilient and easy to use.
Town bikes are ideally suited to cities that lie on flattish terrain. This explains why they are so incredibly popular in very flat, northern European countries like the Netherlands, Belgium and the Nordics. However, if you live in a hilly city, take heart in the fact that town bikes are quite prevalent in cities with undulating terrain as well. Almost a quarter of the populations of the Swiss cities of Basel and Bern commute per bike.
A key question is whether you would want to extend the use of your bicycle for recreational purposes. If that is the case you may rather consider a hybrid bike. Hybrid bikes are a cross between town bikes and mountain bikes. They can be used for city commuting and running errands, but are also suited for taking leisurely rides in the country on many different types of surfaces. Hybrid bikes can be used on anything from mud tracks, to dirt roads and even mountain biking trails.
To give them their sturdy feel, town bikes are a little heavier than folding and hybrid bikes. In most European cities, they are not often taken on public transport and they are stored outside. If you are considering a town bike because of your specific use case, think about how you would like to store your bike. Town bikes are almost impossible to carry up stairs. They are generally not allowed on trains or buses either. If you are happy to forego on public transport, or to store your bike outside your workplace or home, then a town bike is right for you. If not, you may rather consider a folding bike.
Along with town bikes, eBay also has a large variety of folding and hybrid bikes available.
The Typical Attributes Of A Town Bike
The following are features, attributes and accessories that are considered typical for town bikes:
Mud-guards
Town bikes come fitted with mud-guards on the front and rear wheels to prevent water spraying up onto the cyclist. This means the bike can easily be used in wet conditions even whilst wearing smart work attire.
Chain casing
Similarly, to protect clothing, town bikes feature chain casing. This allows for the chain to run inside a closed casing to prevent any oil or grease to get onto the rider's pants, skirt or dress. An added benefit of chain casing is that the chain itself is kept clean of mud, sand or other dirt. This means the bike runs more efficiently and wear on the chain is decreased to further extend its life.
Drum brakes
Most town bikes manufacturers favour drum brakes over rim brakes. The benefit of drum brakes is that they have more stopping power in wet conditions. They require less maintenance than disc brakes or rim brakes. These type of brakes also wear slower as they are enclosed inside the drum. They are very well suited to low maintenance, work horse bikes that travel at relatively slow speeds over flattish terrain.
Hub gearing
In contrast to other bikes like hybrids, mountain bikes and street racers, town bikes feature hub-gearing over derailleurs. This type of gearing is favoured for their simplicity and ease of maintenance. A town bike will typically come in 3, 5, 7, 8 or 11-speed variants. Some higher end models do have more gears available. This type of system is cleaner than their derailleur counterparts. Importantly, the hub gear system can be used in conjunction with a chain case - which helps to keep the rider's clothing clean and free of dirt, oil and grease. The entire system consists of fewer parts which adds to the reliability of the town bike.
Hub gearing also do away with gear ratio overlaps. In derailleur systems some front and rear combinations will deliver inefficient overlaps. This makes hub gearing ideal for urban biking in high traffic conditions. It is also not necessary to shift gears while pedalling which is a bonus in frequent stop/start conditions that city bike commuters often find themselves in.
Angled-back handlebars
One of the contributing aspects of the town bike's upright, comfortable riding position is the design of the handlebars. They rise up sideways from the stem and sweep back towards the rider's torso. This means the bike can be easily steered with a light touch while sitting upright.
The design of the handlebars allow for users and manufacturers to add storage and rack options. For some bikes this can have a negative affect on the steering. However town bikes have extraordinary geometry and stability. The combination of a curved fork and angled tubing gives the bike a very solid steering feel. Even with one hand, the bike is easy to control. The extra hand can be used to perform hand signals or even hold an umbrella. The stability of the town bike, combined with the upright riding feel almost emulates the feeling of walking very fast through a cityscape.
O-lock
Many town bikes feature o-locks for added security. They provide added peace of mind by uniquely securing the bike's back wheel to the frame. O-locks are sturdy, strong and almost impenetrable.
Keep in mind, that if you're only using an o-lock, the bike can still be lifted and carried away. Most town bike users opt to have a second lock for added security. It is for this reason that these types of lock are sometimes referred to as cafe locks. They are ideal for keeping your bike safe when your bike will be left alone for a short space of time or where you can see the bike.
Dynamo, automatic and magnetic lights
Most town bikes will feature a high-quality lighting system of some description. Most commonly, town bikes will feature the dynamo system which will be attached to the hub. They are more environmentally friendly and efficient than battery powered lights. They offer extra peace of mind as you don't have to concern yourself with battery charge level. You won't be caught in the dark with a dynamo lighting system.
Skirt/coat guard
Skirt or coat guards prevent long winter clothing from getting entangled in the bike's moving parts. This enables the rider to use the bike in cold or rainy weather conditions.
Luggage racks
Town bikes can be equipped with front and rear luggage carriers. This enables the commuter to transport anything from a laptop bag to another person. In European cities, it is common for town bikes to be fitted with child or passenger seats.
Kickstands
Most town bike manufacturers pre-fit kickstands to the frame. There are two varieties. A dual-leg stand that is pushed down whilst the back is pulled back at the same time. This provides a lot of stability when the bike is standing on its own. The centre stands are the simplest to deploy, but slightly less stable. They swing out to the left to create a tripod effect with the two wheels.
Tires and wheels
Town bikes have wide wheels that are often puncture resistant. The tread pattern is shallow and semi-slick, ideally suited to the tar and cement surfaces of the urban landscape. Often the rims carry extra reflectors for added visibility to other motorised traffic.
Platform style pedals
Open style pedals, or platforms, as they are often called, are ideal for town bikes. They are ideal for bikes that have to weave their way through high-density traffic situations.
Saddle
Town bike saddles are generally designed for comfort. They are broader with plenty of spring and cushion.
Bells
In busy cities, where the town bike shares the road and pavement with other cyclists and pedestrians, it is essential to have some auditory way of signalling its presence. Bells are most commonly fitted to town bikes by most manufacturers, however if you choose a model without a bell, it is a good idea to purchase one separately.
The Benefits Of The Town Bike
In summary, the benefits of the town bike are:
* Ease of maintenance
* Reliability
* Cleanliness
* Suitability to all types of weather
If this sounds like the kind of attributes you are looking for in a bike, then a town bike is right for you.
Buying A Town Bike On eBay
You will find a large variety of quality town bikes on eBay. There are also a large variety of accessories to choose from that will extend the use of your new town bike.
* Panniers
* Lights
* Locks
Spend time to browse through eBay selection of bikes and accessories. You are sure to find everything you need for your perfect town biking experience.