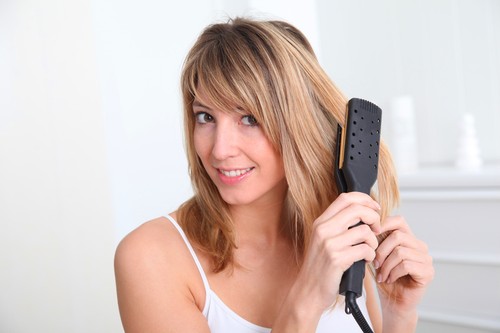 Hair straighteners, also called flat irons, transform wavy, curly, or frizzy hair into smooth, straight locks. When heated, flat irons break down the hydrogen bonds found in each hair strand, which cause hair to bend and curl. When these bonds are broken, hair is unable to maintain its original, natural form; however, the hydrogen bonds re-form once the hair gets wet.
Although the desire for sleek, straight hair has been around for a long time, hair straighteners have not. In fact, it was not until 1912 when Lady Jennifer Bell Schofield, a Scottish heiress, created a hinged, two-plated iron to straighten her wavy hair. Her design became very popular. In fact, modern-day flat irons closely resemble the original. Although Schofield's (and subsequent) flat irons only worked on dry hair, wet-to-dry hair straighteners now simplify the hair straightening process.
Before deciding on a wet-to-dry flat iron, consumers should familiarise themselves with some hair straightening terminology. Moreover, understanding hair structure is also helpful when making a selection. Finally, buyers should consider what brands they like and which features they require. Buyers can find wet-to-dry hair straighteners at general merchants, in salons, and at online marketplaces like eBay.
Hair Straightening Terminology
The terminology on the packages of flat irons may sound foreign to many consumers. Words such as "ionic", "nano", and "tourmaline" refer to different types of hair styling technologies, and different hair straighteners utilise different technologies. Understanding these terms will make the shopping process easier. Each is discussed in detail in the sections below.
Chrome
Chrome is a metal used in inexpensive hair straighteners. Although it was used to construct early flat irons, chrome is not as popular anymore because it does not distribute heat evenly throughout the hair. This causes the hair to dry out. However, because of its price, some buyers choose chrome flat irons for occasional use. Those with chemically treated, fine, or dry hair should avoid chrome hair straighteners.
Silver
Silver is stronger than chrome, and silver flat irons are ideal for those who want a hair straightener that is average in cost and performance. These work best on normal hair, and do not dry out hair follicles. The composition of silver eliminates bacteria from the iron plates and the hair, thus creating a sterile condition each time it is used.
Ceramic
Ceramic plates heat up quickly and maintain a constant temperature. Because of this, ceramic flat irons straighten hair in half the time it takes chrome or silver-plated models. In addition, they seal the hair cuticle for shiny, frizz-free locks. Because there are so many models available, ceramic flat irons vary greatly in cost. Ceramic hair straighteners work well on all types of hair, including thick, curly, normal, thin, short, or long.
Ionic
Ionic hair straighteners set ions to work when heat is applied. When dry hair carries a positive ionic charge, it lacks lustre and shine. Since positive and negative ions negate each other, the ionic flat iron produces a negative charge that neutralises the positively charged hair. This results in shiny, smooth straight hair. Ionic flat irons are used in conjunction with other technologies and are suitable for use on all hair types. However, they are fairly expensive.
Infrared
Infrared flat irons produce a large amount of healthy, indirect infrared heat, which straightens hair quickly. The heat produced is consistent across the plates, making it easy to straighten hair. Additionally, the gentle heat penetrates the hair shaft, but does not cause damage; instead, it gently conditions hair. Infrared technology is expensive, so consumers should keep this in mind when shopping. Infrared flat irons work well on all hair types.
Nano
Nano smoothing and styling technology boosts negative ion output. It causes the plates to heat evenly, thus eliminating heat loss and cold spots. The nanoparticles are usually used with titanium or silver flat irons.
Titanium
Often used by hair stylists, titanium flat irons immediately heat up to the desired temperature. Titanium distributes heat evenly, and maintains consistent temperatures to prevent hair damage. Titanium flat irons give professional results, and are great for any hair type. They are fairly expensive, however.
Tourmaline
Tourmaline is a semi-precious gemstone that produces six times the amount of negative ions as ceramic does. Often infused into ceramic plates, tourmaline produce exceptionally straight and shiny results, and flat irons of this type are appropriate for all hair types. Depending on the brand, tourmaline-infused hair straighteners tend to be expensive.
Choosing the Best Hair Straightener for a Hair Type
The type of hair the consumer has dictates what kind of wet-to-dry straightener to use. Hair type is divided into three categories, making it easy for shoppers to determine what kind they possess. These are discussed in the sections below.
Coarse or Curly Hair
Coarse or curly hair is thick and full of texture. Often, these hair types are extremely dry and easily tangled. Coarse or curly hair is characteristically wiry, unruly, and frizzy.
Normal Hair
Although it is difficult to pinpoint exactly what constitutes normal hair, it is usually described as having medium thickness and waviness. It is not overly dry or oily. It does not get split ends quickly; nor does it break easily. It is able to hold different styles with ease.
Thin or Fine Hair
Thin or fine hair work well with most flat irons. However, thin, fine, or naturally straight hair can easily be damaged due to excessive heat. Thus, users should use low heat settings initially; the finer the hair, the lower the temperature should be. The following chart lists appropriate specifications for each type of hair.
Specification

Coarse and Curly

Normal

Thin and Fine

Plate Size

Above Shoulders, 25 mm

Shoulder Length, 25 to 50 mm

Below Shoulders, 50 mm

Above Shoulders, 25 mm

Shoulder Length, 25 to 35 mm

Below Shoulders, 25-50 mm

Any

Temperature

380 degrees to 410 degrees

360 degrees to 380 degrees

Below 360 degrees

Ideal Plate Material

Ceramic, infrared, titanium, tourmaline

Silver, ceramic, infrared, titanium, tourmaline

Any
Once users have determined their hair type, the choices for hair straighteners becomes easier. Buyers can use the chart above to find the ideal flat iron. Wet-to-dry hair straighteners come with most of these options available.
Recommended Wet-to-Dry Hair Straighteners
There are not as many wet-to-dry hair straighteners on the market as there are traditional flat irons. Additionally, even though the name suggests differently, wet-to-dry flat irons are not to be used on soaking wet hair. Rather, the hair should only be damp, for the straightener to work properly. The following sections list several popular brands, each of which is available on eBay.
GHD
Renowned for using the latest technology, GHD flat irons are a top of the line choice for consumers who want to quickly achieve straight locks. Their hair straighteners are expensive, but frequently come with fair warranties. GHD products are found in salons and online.
BaByliss
Another top of the line choice for shoppers, BaByliss flat irons often use nanotechnology to achieve perfectly smooth hair with ease. Although they are also expensive, most styles come with limited warranties. BaByliss products are found in salons and online.
Remington
Widely available from general merchants, Remington flat irons are an affordable option for infrequent hair straighteners. This brand uses ceramic plates to flatten hair.
Additional Features to Consider
When looking for a new wet-to-dry hair straightener, there are several additional features to consider. These options affect the cost of the flat iron, but some consumers feel they are worth the investment.
Cordless
Cordless hair straighteners are charged before use. The amount of time the charge lasts depends on the brand.
Auto Shut-off
A safety feature, auto shut-off turns the hair straightener off after a specified amount of time when it is not in use.
Heat Settings
Most hair straighteners have a few heat settings, but more costly brands boast dozens of heat settings, ranging from low to high temperatures. The more heat settings, the easier it is to match up with the hair type for ultimate results.
Digital Display
A light-up digital display provides the user with the flat iron's temperature settings in an easy-to-read format.
Interchangeable Plates
Some hair straighteners come with plates that can be switched out to achieve a variety of other hair styles, such as crimped or curled hair.
Buying Wet-to-Dry Straighteners on eBay
Once you have chosen which wet-to-dry straightener you want, check out eBay for a large selection of hair styling tools. There are many different brands of flat irons from sellers all over the world on eBay.
Searching for Wet-to-Dry Straighteners on eBay
One of the easiest ways to begin a search on eBay is to type in exactly what you are looking for in the search box on eBay's home page. For example, enter the phrase "hair straightener". After you do this, other categories appear, giving you a chance to further pinpoint your search. Choose from brand, plate material, or condition. For an even more refined search, use the Advanced Search feature.
Buy Wet-to-Dry Hair Straighteners on eBay with Confidence
Buyers gain a host of benefits when shopping online with eBay, such as limitless shopping possibilities all under one, safe and secure username. Also, the eBay partnership with PayPal allows users to protect their personal financial information and save time when completing transactions. This, coupled with over 100 million users on the eBay website, benefits buyers who wish to shop from the comfort of their homes. Moreover, registering for an account is simple and hassle-free.
Conclusion
Although women have longed for smooth, shiny, straight hair for many generations, it was not until the turn of the 20th Century that there was a tool that could effectively produce such results. Hair straighteners have advanced a long way since then, and have gained tremendous popularity. Due to technological improvements, hair straighteners now boast the ultimate in heat-setting materials, such as ceramic, infrared, nano, titanium, and tourmaline.
Whether purchasing a wet-to-dry flat iron for curly, wavy, or thin locks, buyers should look for those brands that are designed to best meet the demands of the users hair type. Popular brands include GHD, BaByliss, and Remington. Regardless of which brand is chosen, also check out additional features that are offered, such as auto shut-off, multiple heat settings, and digital displays. For a wide selection of wet-to-dry straighteners, as well as other hair styling tools, consult eBay. Buying from one of the many sellers affords shoppers with a convenient and enjoyable shopping experience.