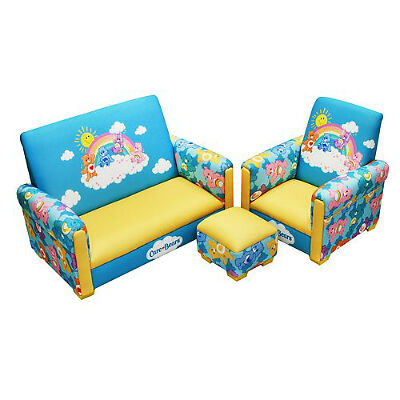 Setting up a room to be appealing as well as functional for kids can be a real challenge. Children are very active and have the tendency to wear furniture out faster as well as spill things on it or accidentally break or tear it. The living spaces with glass tables, delicate decorations, and silk upholstery just will not be practical once children are in the home.
Kid-friendly sofas are especially a big deal because they are used everyday and many times they are a place that children eat around as well. When food and drinks are introduced, the risk of damage to the upholstery goes up. In addition to this, depending on the material, upholstery is difficult to clean because it cannot just be thrown in the wash. Many times, a professional upholstery cleaner has to be hired in order to clean the sofa. This is a hassle that parents could do without, so the following sections will help shoppers choose a sofa material that will be easy to clean and last for a long time.
The Kid-Friendly Best Sofa Materials
Parents should not have to sacrifice design for function when it comes to their sofas. It may seem impossible at first but there are some materials out there that last even through rough play and spilled milk. Some materials look attractive but are still durable and easy to clean.
Leather
Leather is the most durable material available for sofas. Leather is soft, smooth, and adds a sleek look to the room. It ideal for many parents because it has a great look but is also hard to tear and moisture resistant. No water, milk, or soda will soak into it and spilled food can just be wiped off. When it is time to clean the sofa, a simple wet rag will wipe it right up. In some cases, a special cleaner may be needed for a thorough wash. The colour choices with genuine leather are limited to tans, browns, and black. The biggest downfall to leather is the high price. It is one of the most expensive materials to purchase.
Microfibre
Microfibre is a high-thread count polyester blend that has the appearance of suede or leather. Since it is synthetic, it can come in any colour or print which gives parents a wider variety of options. Microfibre is lightweight, stain and water resistant, and hypoallergenic. It is also durable and difficult to tear because it consists of tightly woven fibres that are thinner than hair. The high-thread count makes the material dense and durable. It is slow to show signs of age or fading from the sun coming in through the windows.
The next benefit of microfibre is that it is easy to clean. The synthetic leather version can just be wiped off, and the synthetic suede version can be wiped off with the use of a little more water. Cleaner may be required if there is a stain.
Microfibre is also much more affordable than genuine leathers and suedes and it is popular so finding it is easy to do. In addition to this, microfibre is every bit as attractive as the genuine materials. Few people can tell the difference between the synthetic and genuine sofas. The many benefits of microfibre makes it one of the top choices for parents.
Vinyl
Vinyl is another material to consider because it is functional and very affordable. It is similar to leather in that it has a smooth sleek look and is very easy to clean. A light spray of water and a cloth can wipe anything right off. Parents have more options with vinyl because it can come in any colour except for prints. The downfall of vinyl is that it is somewhat stiffer than other materials so typically not as comfortable. In addition to that, it has a tendency to get dry and brittle with age which causes it to crack.
Coloured Sofa Material for Kids
Stay away from the lighter coloured sofa materials that will show any and every stain. Darker or bright coloured materials will mask stains and blemishes that the sofa may get over time. Whites, light greys, and tans should be avoided if possible.
Before deciding on a colour, consider the room decor and figure out what shades would go best with the other items there. Then consider what kinds of damage the sofa may be susceptible to. If the children drink a lot of fruity, colourful drinks, then a darker sofa may be best. However, if there is anything around that could potentially bleach a spot of the sofa, a brighter sofa will hide that better.
Try Patterned Sofa Material for Kids
The material that will hide stains or any form of damage the best are the ones with patterns. As long as there are no light colours in the print, it will be very difficult for people to notice any variations in the pattern from a stain. The smaller and more detailed the pattern is, the more it masks. Larger shapes such as thick stripes will still help hide stains, but not as much.
Avoid Textured Sofa Material for Kids
Anything textured is going to hold in more dirt, liquids, and spilled food. It can still be cleaned but it requires more time. In addition, some materials such as suede have a fuzzy texture. The fuzzy fibres can get stiff and brittle over time if they are continually exposed to sticky liquids. When this happens there is a noticeable rough spot on the sofa that cannot be repaired.
Save Money By Getting a Sofa Cover
Purchasing a whole new sofa may not be necessary. With a sofa cover, or slipcover, parents can protect the sofa they have and easily take the cover off to wash it when needed. This also works great for those who want an inexpensive sofa with materials that may not hold up around kids. They can simply get the sofa as well as a cover. If the cover gets damaged, it can be replaced for far less money than if they had to replace the sofa. Unfortunately, sofa covers are usually a cotton-synthetic blend. This means that they are very susceptible to spills and stains. The most durable material to get a sofa cover in is polyester. It is a synthetic blend that holds up against wear and tear, fading, and wrinkling. However, it does stain.
If purchasing a sofa cover, be sure to measure properly. Covers have to fit the sofa like a glove, otherwise they look baggy. Measure the length of the sofa, the seat cushions, the width of the sofa, the cushion height, and the full height.
Where to Shop for Sofas with Kid Friendly Materials
Kid friendly materials such as microfibre and leather are luckily very popular and easy to find. Once the material is selected, parents just have to shop for a sofa with that material that is aesthetically pleasing and in a colour or pattern that matches their existing home decor. This can be more of a challenge than one might think. The difficulty with a local furniture shop is that their inventory is limited to how many sofas they have room for. Since sofas are large, it becomes hard for any shop to have a decent selection. This makes eBay the perfect merchant to purchase sofas from, as they provide thousands of options that will suit a variety of tastes and preferences depending on what the consumer is looking for.
How to Find Kid Friendly Sofas on eBay
Whether shopping for kid friendly sofas or for slipcovers, eBay make shopping much easier because they have a huge selection that people can look for. Sometimes going to local shops forces people to settle for the best thing they can find, but eBay eliminates that problem by letting people see all their options in one place.
To being looking through the sofas and slipcovers, go to the eBay website and type what you want into the search bar. It can be anything as simple as "leather sofa", or as specific as "contemporary microfibre sofa". Since sofas are expensive, it is a good idea to enter in your price range right after you do the search. eBay will then filter the listings to only show you the products within your range.
Conclusion
Sofas are the largest piece of furniture in the room so they command the most attention and have to be selected with care. Finding one that is pleasing as well as child proof can be a challenge. There is no right or wrong answer when deciding which of the materials discussed are the best for children. This is because every family is unique and has different needs. Overall, the material that is likely to work best for the most people is microfibre. It is durable, affordable, aesthetically pleasing, stain resistant, and easy to clean. It offers more to families that most of the other materials do. However, slipcovers are also a viable and inexpensive option that parents can consider.