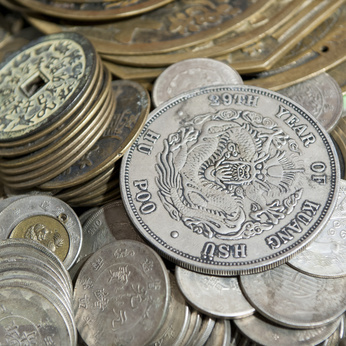 A wide range of different types of coins are available, and they can differ greatly in their appearance, region of origin, material and other characteristics. Coins of many different types are popular among collectors, who place an emphasis on the design, age and appearance of a particular coin or set of coins.
Bullion coins, those made of precious metals such as gold and silver, are popular among those looking to invest in bullion, which can offer protection against inflation and other currency fluctuations.
Two popular types of coin among both collectors and investors are mint and proof coins, which are similar types of coin with small but important differences. A variety of proof, mint and other types of coin can be found on eBay.
The Characteristics of Mint and Proof Coins
There are a number of key characteristics which differentiate proof coins and sets from mint coins. The main difference between mint and proof coins is that proof coins are early samples of a new coin issues which were historically used to check dies and for archival purposes, and are now produced as popular collectors' items.
Mint coins, on the other hand, are coins that were produced normally along with many other coins, but have remained in good condition, often having never entered circulation.
Proof coins often go through a unique production process which can confer qualities upon them that mint coins do not possess.
The flat parts on the faces of a proof coin have often been polished to an almost mirror shine, often with the use of diamond powder. Mint coins, though often featuring an attractive shine, do not receive this treatment.
Proof coins are often 'double struck', and at lower speeds than mint coins, meaning that markings and details have a higher level of definition.
Unlike mint coins, proof coins are often struck by hand, and individually inspected and packaged to ensure a high level of quality.
The raised details of proof coins are also treated to ensure a matt finish, which produces a level of contrast between the polished flat surfaces that many collectors find to be a key quality of proof coins.
While both proof and mint coins are both often found in very good condition, this conditional treatment often makes proof coins more popular, and more expensive.
Mint and Proof Coin Sets
Mint coin sets are sets of uncirculated coins from new issues of currency, and are often made available by governments for purchase by collectors. Proof coin sets are also popular, and similar to mint coin sets in the types and denominations of coin they often include. These sets are often available in their original packaging, and contain different denominations of the currency of the region the set originates from. Coin sets are available from many different countries, with some of the most popular and widely available coming from Britain and the United States.
Also popular are commemorative coins made specially to celebrate significant historical events, such as jubilees, coronations, anniversaries and Olympic Games. These coins are often highly desirable, and can be quite difficult to obtain depending on their popularity, and how many of the coins were produced. These coins often feature special designs struck into the coins relating to the events they commemorate.
Bullion Coins
Both proof and mint bullion coins are available, and are made out of gold, silver or other precious metals. Bullion coins are a highly popular type of bullion, among those buying bullion as an investment, and collectors, and as coins made as bullion are never used in circulation, these coins are often mint or proof, and of a high quality and good condition. Bullion coins differ considerably from other types of bullion, as they can derive a great deal of their value from the rarity and desirability of the coin, rather than just their precious metal content. There are a number of different types of metal commonly used to make bullion coins.
Silver Bullion Coins
Silver is one of the most popular and widely available types of precious metal used in all kinds of bullion, including ingots and coins. Silver proof and mint coins are popular, and are sometimes overlooked by investors due to the higher value carried by gold. Silver can take a high level of polish, which means that good condition mint and proof coins can have what is often considered to be an attractive appearance when made of silver.
Gold Bullion Coins
Gold has a long history of use in bullion coins, with some of the oldest examples of these coins being made of gold. Gold is often preferred by investors, due to its price position between the more affordable silver and the very rare, highly valuable platinum. Gold is often considered to be the traditional metal for use in coins for both investment and collection, and many gold bullion proof and mint coins are available. An example of a popular type of gold coin is the British sovereign coin, which has been produced for centuries.
Platinum Bullion Coins
Platinum is among the rarest and most valuable precious metals, and is sometimes used to make platinum bullion coins. Due to the rare nature of these coins, they will often be mint or proof coins. Platinum can often bear an appearance that is similar to silver; with platinum having a white-silver colour. Platinum coins are rare, difficult to obtain and highly valuable. Often used for investment, or as part of a collection, these coins are very expensive, and can be highly difficult to obtain.
Fineness of Bullion
A key characteristic of bullion of all types, including coins and bars, is the fineness of the metal. The fineness represents the amount of the precious metal that is present within an item, with .999 representing the purest possible precious metal. Available bullion items with the highest possible fineness levels range from .995 to .999. The fineness of silver and gold are often represented in other ways, though this measure will usually also be present.
Gold
Gold is measured in carats, or karats, sometimes abbreviated to ct or kt. Different countries can have different standardisations of what carat means, but in the UK carats commonly range from 9 to 24, with 24 carat gold being the purest available. Around 21 carat gold is the fineness most commonly found in bullion coins, both mint and proof.
Silver
Different fineness levels of silver are often referred to as being different types of silver. A number of different types of silver are available, and they are found in different types of bullion. The silver most frequently used in bullion coins is generally referred to as coin silver, having a fineness of .800 to .900, with 10 to 20% being other metals, most often copper. Britannia silver is that which has a fineness of .958, and is often used in silver bullion coins. Britannia silver is most often found in the British the Silver Britannia bullion coins.
Bullion Grades
Bullion of all different types is often categorised into grades. These grades represent the condition of the item, including signs of wear and how discernible any markings made into the metal are. This can be particularly relevant to bullion coins, as it can be important for coins to have discernible markings.
Grades can range from almost good, which includes items which show a considerable amount of wear, to fine and above, which includes items with only minor blemishes and signs of wear.
Both mint and proof coins will rarely, if ever, be found below the uncirculated grades, which encompass items which have little sign of wear. Choice and perfect uncirculated items are of even better condition, and many mint and proof coins will fall here. Proof coins are more likely to reach the perfect uncirculated grade.
How to Buy Mint and Proof Coins on eBay
A variety of sets and individual mint or proof coins can be found on eBay. To view the full listings of available coins, including mint and proof coins, navigate to the Collectables & Antiques section. Mint and proof coins can be found underCoins.. Bullion coins can also be found under the Bullion/Bars category. Items can be arranged by a number of categories, including price, condition, distance to seller, region of origin and the type of metal. The Auction and Buy it Now buying options are also available, offering flexibility in how coins can be purchased.
Key information about coins, such as the denominations in a set or if the coin is mint or proof, can be found in the item listing, making it easy to quickly see if an item meets any specific requirements. More detailed information can be found on the item page, along with information about the seller such as item reviews and feedback ratings. This helps to ensure a purchase can be made with confidence. If further information is required, it is possible to ask the seller a question about the item on this page.
If a specific mint or proof coin is required, it may be easier and more effective to make use of the search function available at the top of every page. Further information about getting the most out of the search function is available on the Search Tips page.
Conclusion
A wide range of mint and proof coins is available, including sets of newly issued currency for collectors, and bullion coins popular with those looking to invest in bullion. A wide selection of both mint and proof coins can be found on eBay.