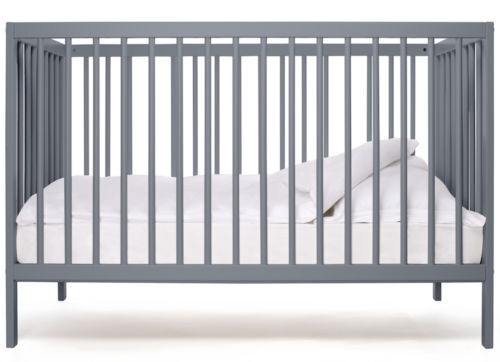 When new parents have a baby, there are various items that they consider buying including clothing, accessories, and bedding. There are many occasions where it is necessary to buy and use a cot or cotbed in everyday life. A cot or cotbed can be used depending on the size of the buyer's child and whether the child is an infant or toddler.
When buying a cot or cotbed, the consumer must be aware of the different styles, colours, and sizes of the products and take them into consideration when thinking about purchasing. The buyer has to decide whether or not he or she wants to buy a cot followed by a toddler bed when the child is of age and size. Also, the buyer may rather purchase a cotbed which stands as a cot, but transforms into a toddler bed. By looking at the history, characteristics, similarities, and differences of cots and cotbeds, the consumer gets a more precise idea of which product to buy. When choosing nursery furniture, a buyer must be wary for he or she has the interests of the infant child's safety in mind.
History of a Cot
The British first encountered the object denoted by cot, a light frame strung with tapes or rope, in India. The British Empire had trading stations in India that were established as early as 1612. During subsequent years, the term cot was used to indicate other types of beds, including the British usage as a crib.
Characteristics of a Cot
A cot is defined as a child's boxlike bed, usually incorporating vertical bars. In the United States, a cot is a portable bed which is typically used in a situation where a permanent bed cannot be used. However, in the United Kingdom, it is essentially a crib used for infant children. It has a mattress, smaller than a normal sized mattress and was developed to hold a standing child with its cage-like bars to keep the child safe. A cot is typically used from birth up until the child is two years of age.
Features of a Cotbed
There are many things to consider when a buyer is interested in purchasing nursery furniture. A cotbed has a variety of features which help ease the buyer's mind when putting a child to bed. These features include a teething rail, casters, headboard and footboard, and under-cot drawers. The cotbed can be used from birth until age 5 due to its transformation into a toddler bed.
Teething Rail
There are many features that the buyer should consider when purchasing a cotbed such as a teething rail for his or her child. Many children bite and gnaw on the side of their cotbeds, so a buyer should consider a cotbed with a teething rail which prohibits damage of the product.
Casters
Another feature that provides the buyer or parents with more ease are the casters on the bottom of the cotbed. Many cotbeds have casters which allow for movement on the wheels, so the user is able to move the child to different areas or rooms.
Headboard/Footboard
A main part of the cotbed which differs from the cot is the headboard and footboard. The cotbed typically has a tall headboard and footboard that can usually be lowered to a bed for the toddler when he or she is of size. These features offer a much easier transition for a child who is ready and of size for a toddler bed.
Under-Cot Drawers
One of the most important features of a cotbed are the drawers which are underneath the cotbed. Many cotbeds contain a set of drawers underneath which can be used for any type of storage. The drawers are easily accessible and help maintain order and stability in the child's bedroom.
Types of Cotbeds
There are three different types of cotbeds that a buyer can choose from including the standard cotbed, the drop-sided cotbed, and the sleigh cotbed. Each cotbed depends on what the buyer is looking for, whether it is elegance, safety, or cost efficiency.
Standard Cotbed
A standard cotbed is the typical cotbed that most buyers choose to purchase. A cotbed is a cot with removable sides which can be converted into a toddler-sized bed. These are increasingly popular and are a sensible way of lengthening the life of a cot as well as helping to make the move from a cot to a bed, as smooth as possible for the child.
Drop-Sided Cotbed
A drop-sided cotbed has one side with a rail that can be dropped down to give better access for getting the baby in and out. The drop side and the back rail are usually removed to turn it into a junior bed. A drop side is particularly useful if the user is short or has a large stomach. The top of the drop side allows the user to rest gently while putting the child down.
Sleigh Cotbed
This type of cotbed is distinguished from the other two types due to the fact that it is shaped similar to a sleigh . Many buyers of cotbeds choose to purchase the sleigh type because of its elegant appearance. A sleigh cotbed can be a drop-side or fixed-rail cot, and the side rails are removed to turn it into a bed.
Pros and Cons of a Cot
There are many similarities between the cot and cotbed. They are essentially the same shape and design. However, cots vary in size, but are usually smaller and cheaper than cotbeds, and they have fixed side railings. An advantage to choosing a cot rather than a cotbed, is that a shopper can select one to fit the available space in the room.
Some children are happy to remain in a cot for longer than the two years, which is suggested by many manufacturers, while other children move from a cot to full-size single bed with ease. Another factor to consider is whether or not the buyer is planning on having more children, because a cot is more cost efficient for more children to sleep in.
Pros and Cons of a Cotbed
In diverging from a cot, the cotbed has removable sides and an end panel. The purpose of the end panel is for use to convert it to a short, low bed for a toddler. A cotbed is larger than a cot, but smaller than a single bed, and it requires a mattress and bedding designed specifically for it. Although a cotbed is slightly more expensive, the buyer gets twice the use out of it, so in a sense, it can also be more cost effective than a regular cot. A Cotbed is also larger than a standard cot, and if the buyer does not have enough space in the home for larger bedroom furniture, he or she may opt for a cot.
How to Buy Cot or Cotbed on eBay
When the buyer is fully educated on the specifications and the diverse characteristics of cots and cotbeds, it is time to purchase one. eBay provides a vast selection of cots and cotbeds. The easiest way to search for a one of these cots or cotbeds is to perform a keyword search. The buyer can begin the search on eBay by using the search bar located at the top of every page. In the search box, simply type in "cot" or " cotbed". A couple hundred options appear in the search results. If the buyer is looking for a more specific type of cot or cotbed, he or she can alter the keywords to be more specific, such as " white cot" or " sleigh cotbed ". The buyer can then go through and select the specific type of cot or cotbed that he or she wants to purchase.
To put the buyer more at ease when purchasing a cot or cotbed, there is an option to evaluate the seller's feedback. The seller's eBay history includes all the feedback ratings from buyers within the last 12 months. The feedback provides the buyer the information from past interactions with the seller, allowing the buyer to make an informed decision. The feedback is beneficial for the seller because it allows the seller to improve his or her service. It is important to leave feedback for a seller after the buyer receives the items, because it is necessary to inform the eBay marketplace of the seller's cooperation.
Conclusion
To distinguish whether a buyer wants a cot or cotbed depends on whether or not he or she is looking for a long-term deal for the child or just a crib-type apparatus. Cots and cotbeds come in a variety of styles and sizes which provide options for the buyer to choose whichever is best for his or her family. When deciding what cot or cotbed to purchase, the buyer must decide what he or she is looking for in a bed type for the child. For example, the cost of a cot vs. the cost of a cotbed, the type of cot or cotbed, and the different features that he or she is looking for in a cot or cotbed. A cot or cotbed typically portrays the buyer's interest in buying a type of bed for the baby.
In terms of style, the buyer must decide if he or she wants a cot, a standard cotbed, a drop-sided cotbed, or a sleigh cotbed , while also considering various factors such as colour and price. By following this process of buying a cot or cotbed, the buyer has a simple method to assist him or her in buying whatever item that is preferred most. If the buyer is interested in purchasing the cot or cotbed for his or her own child or for someone else's child, he or she can easily conclude that the correct decision was made when buying the cot or cotbed through eBay.