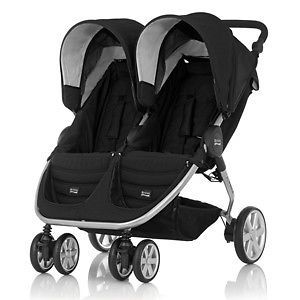 Both pushchairs and prams are helpful tools that parents and caretakers use to transport babies and young children from one place to another. To many people, the pushchair and the pram may appear to be exactly the same, yet there are some major differences between the two. However, because everyone's lifestyle is different, their needs from a pram or pushchair are not the same either.
Besides lifestyle choices, other considerations that need to be taken into account before deciding on buying a pushchair or a pram is the needs of the baby as well. Pushchairs and prams can be found at maternity and baby shops as well as on online marketplaces, such as eBay. By combining these aforementioned elements and understanding the differences in features and intended uses of each, a person can make a more informed decision in regards to which one is the best suited for their needs.
Overview of the Pram
The invention of the baby carriage, otherwise known as a pram, started back in 1733 when William Kent designed it for the Duke of Devonshire. The purpose of the pram was to have the child sit in the carriage and be pulled by a dog or other small domesticated animal, such as a goat. It soon became popular amongst the wealthy and became a status symbol for others who could afford it.
Over time improvements were added, and by the 19th century, handles were added to the baby buggy with a wicker interior, which allowed a person to push it along themselves. By the 1930s safety features began to be added, such as footbrakes and smaller tyres that helped to make the pram safer. The interior and exterior received upgrades as well to include a metal frame as well as other rubber and plastic parts making the pram more durable.
Overview of the Pushchair
The stroller, which also goes by the name pushchair, made its way onto the scene in the 1920s. One of the great things about the design of the pushchair in the 1960s was that not only had an umbrella been added, but the frame had also been overhauled as well. Then, the pushchair was constructed from aluminium in order to make it lighter in weight. Owen Maclaren, the inventor of this design, also created the pushchair to be a folding model that made it more compact. Because of these alterations and additions, the pushchair rapidly replaced the pram as being one of the favourite modes of transporting small children.
How Prams and Pushchairs Differ
The chief difference between a pram and a pushchair is that a pram faces the person pushing it and generally comes with an attached hood that can shield the baby from wind, heat, and rain. The interior of a pushchair where the child sits faces away from the person pushing it. Prams are generally intended for very young children that cannot sit up on their own and is often shaped like a basket. Pushchairs are intended for children who are able to sit up on their own and often do not have a way to recline the interior, whereas the pram often does not have a way to place the child in an upright position.
The weight capacity differs as well as prams are meant to hold babies from newborn to around six months old, whereas a pushchair can carry the weight of not only children above six months of age but until they are quite a few years old as well. Moreover, the advantages and disadvantages between pram and the pushchair not only come in the intended mode of operation and capacity of each but also in the similarities and differences of each as well. It is often helpful to understand how the two types differ from each other in order to make the best decision as to which one is right for a family.
Prams and Pushchairs Today Reflect Lifestyles
There are various types of pushchairs and prams available, and many of them are specialized to tailor to different lifestyles and needs. Although city travel and active lifestyles are not the only ones that prams and pushchairs are tailored to, they are two of the most common ones and therefore mentioned here. It can be beneficial to know that if the pram or pushchair in question does not have all the features that are desired, there are always accessories to help customise it for the needs of both the parent and child.
City Travel
Many individuals live in the city and find that they need to have a pram or pushchair that is both manoeuvrable as well as being light and compact. City prams and pushchairs are generally smaller in width and overall size, which not only allows them to be lighter but also more compact. This is important for people who find that they need to store the pram or pushchair in tight spaces such as when they find it necessary to take public transportation. These types of models are generally easy to collapse and reopen again as well.
Active Lifestyles
For people with active lifestyles who like to run or jog, there are pushchair options available that come with sturdy construction and larger tyres. They also come with a lot of accessories that make it convenient to store water bottles and other necessities for both the person pushing it and the child as well. Prams are generally not included as a rule for people with these types of active lifestyles. It is not a good idea to perform actions such as these while transporting a baby because of the jarring effect that they could have on an infant causing them severe injury.
Types of Prams and Pushchairs
One of the great conveniences of prams today is that manufacturers had the forethought to create a pram that can be used beyond the stage of infancy so that they are more in tune with our lifestyles and our needs. Over the years there have been constant improvements to both the pram and the pushchair. There are many types of prams and pushchairs available that can aid a person transport a child easily and safely.
Three-In-One Models
Convertible models are available in both prams and pushchairs from various manufacturers. Three-in-one models are probably one of the most popular because they are not only a one-time investment for most parents; they are adjustable so they can be used throughout the child's need for one. This type of model starts out as a carrycot and also has two features that allow for reclining and upright positions as the child gets older.
There are a number of options available in these models such as fixed or swivel wheels, or even oversized wheels. Like a pushchair, it is customizable so that the seat reverses to face away from the person pushing when the child gets older and the adjustable handle converts to one of a pushchair as well. They are also able to fold easily and still compact with the added convenience of baskets and extra storage.
Two-In-One Models
Two-in-one models are designed in much the same way as the three-in-one models are. The main difference between the two types is that the extra feature given by many manufactures of having the reclining position for toddler where the legs can also recline outside the pushchair are not included, making it only suitable for toddlers. Almost all of the other features have remained intact and differ from manufacturer to manufacturer. Each manufacturer typically has travel systems that can be added to their prams and pushchairs to make them even more convenient for parent and child.
How to Buy Prams and Pushchairs on eBay
Finding the right pram or pushchair on eBay is as simple as going to the eBay homepage and typing your desired type into the search query box located at the top of that page. Search query boxes are also located at the top of any subsequent web page as well. For example, if you are looking for a pushchair that can work well in rough terrain, you may want to search for an all-terrain model. Simply type in the keywords " all-terrain pushchair " and numerous results will be returned to you.
You then have the option to browse through the results returned, or you may also go a step or two further and choose from other options listed, such as type, brand, condition, and many other search filters. There is also an advance search option available located with close proximity to the search query box that can also allow you to refine your search from there.
Conclusion
Pushchairs and prams are both used to transport precious cargo, but they differ in the way that they are used and how they are constructed. Since prams are meant to hold newborn babies until the age where they can comfortably and safely remain in an upright position on their own, they are not ideal for children who are near that age of stability or beyond it. The pram faces the pusher and the pushchair faces away from the pusher. Pushchairs face away from the pusher and are ideal for older babies and toddlers because they can also carry the extra weight of an older child that prams are not meant to carry.
This does not mean that either prams or pushchairs need to be limited in what they offer. There are many varieties that help make city dweller and people with active lifestyles more comfortable, as well as the child that they are transporting. Knowing the differences between prams and pushchairs makes it easy to find one on eBay that can fit the needs of the child and parent.