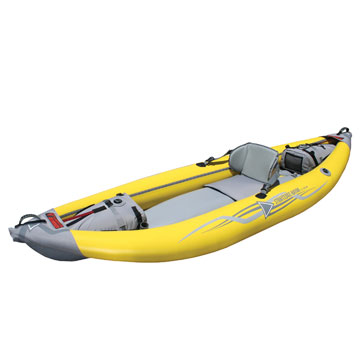 Paddling across water is a recreation that is thrilling, and people may use a canoe or a kayak for this. The kayak is a narrow, versatile vessel propelled manually using a double blade paddle, and this vessel can navigate a serene waterway or the rapids. The kayak is easily recognisable as a narrow watercraft with one or more cockpits and a covered spraydeck.
The history of kayaks dates back over 5,000 years when the aboriginal Inuits created the kayak as they dealt with inhospitable and demanding environments around the Arctic regions. This versatile, self-propelled craft was a wooden sea kayak covered in sealskin. The modern world, however, has a vast variety of kayaks made from different materials ranging from metal to fibreglass, with innovative features that make kayaking an enjoyable experience on the waters.
Kayak buyers are now spoilt for choice, and learning about the numerous types of kayaks, their lengths and unique features can help in a search for a suitable kayak. Brick-and-mortar stores do carry kayaks, but reputable online sites such as eBay can be more helpful sources. eBay offers images and detailed information about the variety of kayaks available, and the shopper can study and compare all types at leisure from the comforts of the home.
How the Dimensions of a Kayak Affect its Performance
The impact of dimensions of a kayak on its performance is noteworthy. A longer and narrower kayak has a long waterline, moves faster, and is easier to manoeuvre in a straight line. On the other hand, shorter and wider dimensions make a kayak more stable and easier to turn, but the craft moves much slower than a longer kayak. The speed for a longer kayak comes as its long waterline facilitates tracking. The kayak glides through as the hull separates the water at the bow, which returns quickly to the stern, giving the kayak a forward thrust.
As for the depth of the hull, big built paddlers with long legs need the hull to be deep, and there is also the added advantage of extra storage space in roomier hulls. Additionally, deeper hulls with soft chines, which is the smooth rounded shape at the point where the kayak's bottom curves upwards to become its side, translate to greater volume for the sides. This provides improved secondary stability and increased resistance to tipping. A shallow hull is not as much affected by strong winds but compromises on comfort and storage.
Another aspect of kayaks that affects manoeuvrability is the rocker in relation to its length. Rocker refers to the curvature from the bow to the stern, along the keel line. While some kayaks have longer keel lines and therefore longer waterlines, others curve up at either end on shorter keel. This can be judged easily if a kayak is placed on a flat surface; a kayak with greater rocker rocks back and forth, and a kayak with less rocker remains more stable. Therefore, more the rocker in the kayak, easier is its manoeuvrability, making it ideal for white water boaters. Minimal rocker and straight keels allow the kayak to track better, as in sea kayaks and flatwater paddling.
What to Consider Before Buying a Kayak
To zero in on the type of kayak suited to one's needs, the buyer has to answer a few questions that focus directly on the purpose of the kayak. This, in turn, has a direct bearing on the type and design of the kayak to be bought.
The kayaker has to be clear about the waterbody where the activities are to be carried out. Would the kayak be paddled in shallow creeks and rivers, or would the user want to navigate across lakes? Perhaps the kayaker is adventurous and wants to venture out into large water bodies and the ocean? If the user is a water lover spending all day or even weeks kayaking, then the options could be entirely different. And, finally, if the kayaker has to travel far out, then the kayak needs to be a sturdily-built one with every safety measure in place.
Types of Kayaks and Lengths
The choice of a certain length of kayak largely depends on the purpose of the kayak. Different types of kayaks accommodate different purposes that range from recreation to fishing. Buyers can take their pick from different types and lengths. A kayak may accommodate more than one paddler, and it is then called a tandem kayak.
Recreational Kayaks
Generally 3 to 4 m in length, recreational kayaks are for the calm waters of ponds, shallow rivers, creeks, and small lakes. Their small size makes it easy to navigate small coves and passageways and for paddling distances up to 3 km, but not beyond. The bulkhead size is not much either and may be just enough to accommodate necessities for a day trip. Other features include an easily accessible large cockpit and good initial stability, so anglers, photographers, and paddlers can even stand up in these kayaks.
Day Touring Kayaks
Day touring kayaks or crossover kayaks have lengths ranging between 3 and 5 m and width between 61 and 66 cm. They are ideal as recreational kayaks and also double up as day touring ones. Novices can be as comfortable and confident using these watercrafts as much as the experts. Adequate sealed storage and skeg are other features on these kayaks.
Multi-Day Touring Kayaks or Sea Kayaks
Sea kayaks, also called expedition kayaks, are an elite class of watercrafts built sturdy for oceans, enormous bays, big rivers, and large lakes. They have lengths ranging from 4 to 6 m and widths of 53 to 61 cm, ideal for hefty paddlers with good physiques. Equipped with bulkheads with sealed hatch covers and skeg as safety features, sea kayaks have ample storage space because of their length. Their long, narrow designs enable these ocean kayaks to cover great distances at good speeds with minimum efforts by paddlers.
Fishing Kayaks
A kayak designed for anglers, these crafts are lightweight yet high on stability, which is what anglers require as they multitask with paddling and fishing. Comfortable seating, easily accessible hatches for the fishing tackle and for coolers that store the fish, a dry hatch for valuables, and rod holders are the extras generally found on fishing kayaks. Shorter kayaks of lengths from 3 to 4 m and width at 76 to 86 cm have easy manoeuvrability for fishing in small creeks, lakes, and other protected areas. Kayaks that are 4 to 5 m long and narrower at 66 to 74 cm move faster and are ideal for open waters.
Whitewater Kayaks
With small sizes ranging from 1.2 to 3 m with rounded bottoms, these white water kayaks are designed for navigating rapids. These kayaks are not very stable.
Inflatable Kayaks
The length of inflatable kayaks range from 3 to 5 m, and they may be inflated using electrical or manual pumps. These are quite sturdy, generally made from PVC-coated polyester. When deflated, these kayaks fit into duffel bags, making them easy to store and transport.
Sit-On-Top Kayaks
Made using polyethylene, sit-on-top kayaks have moulded depressions for seating and a sealed hull. Getting off this kayak is easier than on regular kayaks with cockpits, and these kayaks can be ideally used for fishing, snorkelling, or diving in warmer temperatures. With lengths ranging from 3 to 5 m, sit-on-top kayaks may have room for up to three paddlers.
Buying a Kayak on eBay
Novices who want to learn the ropes of kayaking may choose to buy quality used kayaks, and eBay has several listings of these products at low prices. The website offers hundreds of listings of new kayaks as well, available at competitive rates. These listings include kayaks of every design type intended for single paddlers and tandem kayaks for more than one paddler.
Another option for eBay shoppers is to look for kayaks that are being auctioned. A product listed for auction shows the number of bids that have already been received and the time left for the auction to end, making it easy for the shopper to decide about participating.
However, shoppers purchasing kayaks on eBay have to take note that some sellers do not ship or offer courier services. In such cases, the shopper has to pick up the kayak directly from the seller. The listing page shows the item location, and the buyer can correspond with the seller to determine the delivery details in case the item is purchased.
Conclusion
Water sports are exciting, and individuals who love these sports need to own kayaks that can be used for fishing, scuba diving, or spending time outdoors on lakes and rivers. Kayak owners can go solo or buy a tandem kayak to accommodate one or more paddlers.
One has many lengths of kayaks to choose from, depending upon the purpose. Recreational kayaks have medium lengths and are used on small lakes, ponds, creeks, and protected areas. Longer, narrower sea kayaks that move at greater speeds allow the paddlers an enjoyable experience in open waters. Anglers can revel in the specially designed fishing kayaks, cherishing every minute of their favourite hobby, while those seeking adventure on the rapids find white water kayaks or inflatable kayaks to be their ideal watercraft. Regardless of the design, a kayak that is long and narrow navigates at greater speeds than shorter ones.
With its enormous range of selection of kayaks at different price points, eBay helps a water sport lover to indulge in his favourite pastime.