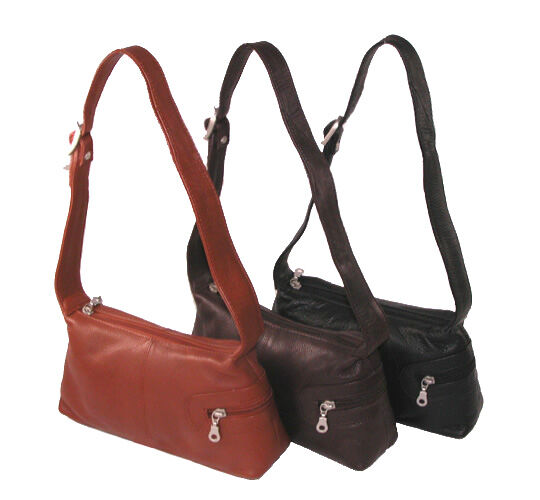 Getting ready for an interview involves a good deal of preparation, including giving careful consideration to what one should wear to the interview. A smaller choice that might not be on many women's radar but can definitely impact the impression made is the matter of the type of purse to bring to an interview. The right purse can signal confidence and professionalism, while the wrong purse can tell an interviewer that a woman is either slovenly or, on the other side of the spectrum, too materialistic. Choosing and buying the best purse for an interview involves taking certain points into consideration, including the field in which a woman is interviewing, the level of appointment she is seeking, and her own personal sense of style. Having a clear idea of the retail options available for purchasing a quality purse can also help, whether one chooses to shop at traditional retailers or online at auction sites such as eBay.
General Tips for Selecting a Purse for an Interview
A knowledge of some useful tips can facilitate a woman's choice of the proper purse for an interview. They range from professional considerations to personal aesthetic issues, in addition to an understanding of the purses available in the marketplace.
Consider the Niche When Selecting a Purse for an Interview
The niche in which a business has built its reputation should influence the style choice a woman makes in a purse. If a business is sales-related, for example, where being presentational and polished is more of an issue, a woman may want to select a purse that is conservative and on-trend. On the other hand, a professional environment, such as a bank or a law firm, can demand a more refined, classic approach that is not as concerned with image and fashion. When selecting a purse, a woman should take the time to consider the image that the business itself presents and then factor that information into her selection.
Consider Personal Aesthetic When Choosing a Purse for an Interview
Being true to oneself is critical in an interview environment. Interviewers are keen to spot when someone is putting on a show and not putting their authentic self forward. When looking for a purse for an interview, women should take external issues into consideration, but still remain true to their own sense of style.
Choose a Purse that Emphasises Organization
Many women's purses today contain several interior pockets and insets that allow them to efficiently organise their belongings. Items such as pens, cell phones, tablets, and more can be well-organised and easily accessed with the right purse. No woman in an interview wants to do the classic "digging through the purse" routine that many women end up doing with purses. This can make a woman seem out of sorts, dishevelled and unprofessional. A purse should be structured enough to hold everything needed for an interview in an efficient manner and should also be large enough ideally to hold an unfolded copy of a woman's CV. If a woman cannot find a purse large enough for her CV, she may carry her CV in hand or in a folder which can make her appear well prepared.
Choose a Bag that Complements an Ensemble
When selecting a purse, women should keep an eye out for choices that match or complement the look of the outfit they have pulled together for an interview. Women want their purse to be in the same general style category as their outfits; for example, corporate attire might be paired with an executive-style purse, while a trendier outfit for an interview at a boutique agency might be paired with an on-trend yet well-structured purse. However, women should try to avoid getting too matchy-matchy. Matching a purse to a pair of shoes exactly can look awkward and out of place and may signal a controlling personality type to an interviewer. Instead, women can look for options that complement rather than match identically.
Know the Options Available in the Marketplace
Being familiar with all of the options available in retail helps a woman make the right choice when selecting a purse for an interview. The following are some of the more popular types of purses that may be ideal to take to an interview.
Organiser Purses
Organiser purses are large, portfolio-style purses that feature a fold-over design and are typically clutched in one hand or carried under the arm. Organiser purses are an ideal choice for an interview because they are often large enough to carry an unfolded CV and make a woman seem very put together. Some organiser purses can be quite casual in appearance, so women should look for true, portfolio style purses and stay away from duffle-style satchels that simply have an organised interior.
Leather Messenger-Style Purses
Messenger bags are among the more user-friendly and well-structured bags on the market. A woman looking for an interview purse, however, should look for messenger bags that are not too casual. Leather messenger purses are an ideal option. These purses are well organised and still put forward a professional and polished facade. They are also large enough to carry everything a woman may need for an interview, including work samples and a CV. A messenger-style purse can have a long shoulder strap as on a traditional messenger bag, or it may be fitted with handles.
Trifold Purses
Trifold purses are fold-over purses with three sections, each of which contains internal organisational elements. A large trifold purse may be big enough to carry a CV, but in general, these purses should simply be leveraged to exude an air of efficiency and organisation. Most trifold purses come in leather or faux leather, or alligator-style exteriors, giving them a polished look. Trifold purses can also complement a wide range of outfits.
Briefcase Handbags
A briefcase handbag looks exactly like a women's fashion purse on the outside, but it contains a very structured and professional interior. This type of handbag can hold everything a woman needs for an interview, including unfolded copies of a CV. Briefcase handbags are typically large and rectangular and may be found with leather or faux leather exteriors. They may also be available in very stylish canvas or crocodile-style exteriors. The style choices on the outside can veer from the plain refinement needed for a highly professional setting to the slightly trendier options needed for an interview at a sales office, say. Briefcase handbags can come with either handles or a shoulder strap, or both.
Shopping for a Purse for an Interview
Women shopping for a purse for an interview may consider browsing their local traditional retailers for options. These vendors may have some choices on hand, but by and large, their purse selections focus on trend items and fashion items. Some of these purses may not address the organisational needs of a woman going in for an interview. Professional, organised purses can be found to a much larger degree on fashion aggregators such as the online auction site, eBay.
Buying a Purse for an Interview on eBay
To begin the process of looking for a purse for an interview on eBay, you can start by running a basic search on the website. You may enter a particular term based on your understanding of the purse options available in the marketplace. For example, a search term such as "briefcase handbag" can yield listings specific to that style. On the other hand, a general search with a term such as "women's purses" can give you an overall idea of the marketplace on eBay. Keep an eye out for related search suggestions that the site may offer, as these can help you get closer to what you are looking for.
When shopping on the website, it is helpful for you to take the time to get to know the sellers with relevant listings to your enquiry. You can do this by reviewing a seller's page, reading through feedback that seller has received from previous customers, and even looking through past auctions the seller has conducted.
Conclusion
Finding a purse that accurately reflects a woman's professional goals and ambitions is an easy process when pursued in the right way. Considering her own professional image as well as the image and setting of the business at which she is to interview can help a woman in the process of selecting a purse that puts forward the best impression and helps her sail through an interview. Shopping for interview purses in the traditional retail world can be a tall order of business, given that many mainstream retailers focus on trend pieces, while a woman buying an interview purse needs to consider other factors such as organisation. Fortunately, online auction sites such as eBay provide a large catalogue of professional, interview-style purses. Women need only run a search for a relevant item and take the time to review the track record of the sellers with whom they are interested in working, before placing an order on the website. With its many user-friendly features, eBay helps a woman complete the purchasing process in order to quickly and efficiently access the ideal purse for her interview.