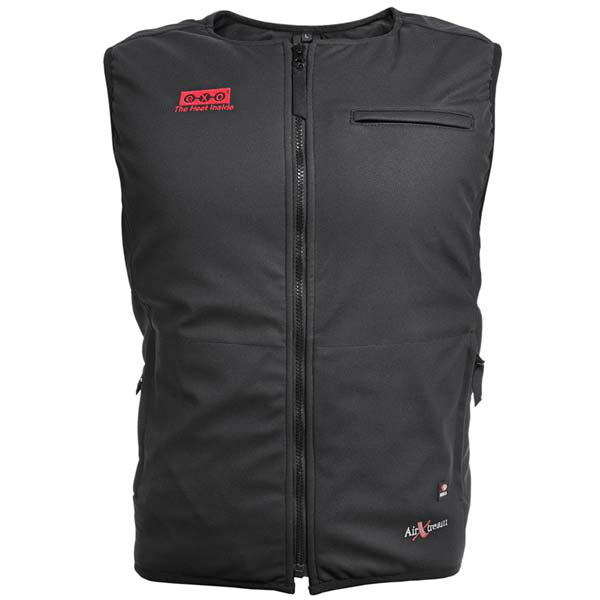 A bodywarmer is a practical choice of clothing for the long winter months, as well as a stylish one. Fashion-conscious women often choose a bodywarmer as outerwear in place of a traditional overcoat. The smart buyer determines whether such a versatile garment is needed to provide warmth for a variety of activities, or whether it is to be used for one specific need, for example, skiing. This will impact the type and style chosen, as well as, if mainly worn as outerwear, one prefers one colour or a selection of several. Bodywarmers with detachable hoods offer the ability to change the look.
Filler content varies as well, from down feathers to synthetic fibres. If one spends a great deal of time in the outdoors during cold weather, it may be wise to invest in several bodywarming styles to have at hand when needed. When choosing just one bodywarmer, pick one that can go from the office to the slopes. Many styles and colours of bodywarmers can be found on eBay in a wide range of sizes. Again, consider how the garment will be worn when exploring options such as filler and style when choosing a bodywarmer. This will ensure purchasing the most useable garment to last through several seasons.
Why Choose a Bodywarmer for Primary Outerwear?
Many women venture out into the cold without proper outerwear because they do not want to sacrifice their fashionable look. A bodywarmer can solve this dilemma by offering style and warmth in a beautiful package. During cold weather, bodywarmer outerwear garments will not only improve one's comfort, but also help to prevent frostbite and other exposure-related issues. Those loving outdoor winter sports may rely on bodywarming products to keep them comfortable enough to participate. Muscles need to be kept warm in order to perform and to prevent injury. People commuting to work may experience harsh weather while waiting in the queue for trains and buses. For these commuters, bodywarmers are needed for protection from the elements. bodywarmers are found in a wide range of fashionable styles, and are available in a rainbow of colours. There is one to complete any outdoor outfit, or to complement one's cold-weather-season look.
Finding and Comparing Bodywarmer Styles
A bodywarmer can be found in a cut and colour to match anyone's style. Everything from full-sleeved, longer coat styles to sleeveless vests are in fashion. Cozy, down-filled bodywarmers in a wide range of colours will ensure one stays comfortable without sacrificing a stylish look. Whether filled with down or synthetic materials, the shell can vary from water resistant to real or fake fur to fleece. Styles include hoodies, those with removable hoods, and both snap and zipper versions. Trims are varied with materials that include fleece, corduroy, and fur. Many cuts are available to flatter any size and shape. The garment does have a trendy feel, but is simple enough remain in style for many seasons.
Sleeveless vest styles are versatile and comfortable. This is the ideal choice when playing sports, as the cut allows for a wide range of movement. Many come with cute hoodies, some trimmed in faux fur. Often, the hood portion is detachable. The style is compact enough to store in a backpack if one becomes too warm. Bodywarmers filled with down provide the most warmth and comfort. Down is lightweight, making it ideal for use in this style of outerwear. Carry a down-filled bodywarmer along in case the weather chills. The sleeveless vest style with jeans and boots is a no-fail look for shopping or weekends. Add one with a detachable hood or trimmed with a suede collar for a fresh and fun ensemble.
Bodywarmers in sleeved styles are ideal for the mainstay outerwear garment. Choose a long-sleeved style to wear to work every day. This not only protects one from the elements, but also protects clothing from rain and grime. Fashioned in colourful fabrics, find one to partner with a fabulous pair of boots to complete a look that will provide comfort, but won't sacrifice style. Bodywarmers are suitable to wear with business attire, as well as jeans and other casual looks.
Fill Material
Bodywarmers come in a number of different fill materials. In order to choose the one that is best, one must first decide when they will wear the garment and for what activities. For the most warmth, a fill of down feathers cannot be matched. This is the material that will be the warmest even in the coldest temperatures. The down-filled bodywarmer is something to consider for daily wear to work or school. The high level of warmth also makes this ideal for ski holidays.
If one is allergic to down, synthetic fills are offered. Some just prefer this fill to down. A bodywarmer with a synthetic fill is still quite good and will keep one comfortable in very harsh conditions. Combining a synthetic fill with a wind resistant and waterproof covering can add to the warmth and function.
During milder weather, a bodywarmer made of fleece may be all that is needed. Fleece is warm and water resistant, making it an excellent choice for rainy days in the fall season. It provides adequate protection, but can easily be carried in a briefcase or backpack until needed. This garment is very versatile, making it a good investment, since it can be worn for more than one season.
Why Choose a Bodywarmer?
Outerwear is often bulky and unflattering. Many women reject these styles and do not want to wear this type of garment. Bodywarmers not only are in style, but the garment is sleek and flattering on all figures. This style of garment offers both form and function, and is attractive even to those who faithfully follow fashion.
People wear bodywarmers while participating in outdoor sports and activities, as the lightweight design won't interfere with movement. They are easy to slip on and off when performing outdoor maintenance. For those long, cold walks to the tube, a bodywarmer will make the journey a bit more tolerable. For everyday comfort during cold months, a bodywarmer will serve the purpose of providing warmth while allowing one to remain fashionable.
A bodywarmer is also an economical choice. Since it can be worn for many activities, it can replace other hoodies, sweaters and fleece jackets. Most are cut well enough to be appropriate to wear to work, eliminating the need for a more formal style. Sleeveless vest versions can be layered over sweaters and other jackets during very cold weather, or worn alone when there is just a slight chill to the air.
The bodywarmer style is light and portable by design. This makes the garment the perfect choice for those who have long commutes. It can be difficult to remove a heavy coat when settling in for a long train ride. With a bodywarmer, one can easily slip it off and store it away until the journey is over. When traveling, one will appreciate the lightweight, compact design. Most women appreciate the fact that bodywarmers do not add bulk to their frames.
How to Buy Bodywarmers on eBay
One can find bodywarming products of every kind at online retailers, including eBay, as well as at clothing stores and shops specialising in outerwear. Sellers on eBay offer many styles and colours, and carries a wide range of sizes; there is something fashionable for every taste.
When ordering online, be sure to check sizing carefully. It may be beneficial to ask for the garment measurements to ensure a proper fit. Also, review the return policy for the garment and if it is not provided, ask the seller for details to ensure that the seller may be willing to accept a return if the garment does not fit. To find bodywarming products on eBay, use the search option on the eBay home page. Enter 'bodywarmers' into the search box. Choose to view only products for women by clicking the appropriate check box. Further narrow the search results by choosing options, such as size and/or colour. Most bodywarmers are fairly lightweight, which should translate to low shipping costs.
Conclusion
It's a rare woman who enjoys being cold, wet, and uncomfortable. Plus, most women do not want to bundle up in heavy, bulky outerwear. Bodywarmers solve both of these problems by providing warmth, protection, and comfort in a completely stylish, slender way. The garment offers comfort and protection from the elements, in addition to protecting one's clothing. This fashion garment is comfortable enough to be worn every day, but is versatile enough to wear when participating in sports and other outdoor activities. Bodywarmers come in a number of weather-resistant fabrics and fillers. Many styles may be found at women's clothing stores and boutiques, as well as online. The simple yet trendy design works well with many ages and body types. A look through any fashion magazine more often than not reveals bodywarmers featured in the layouts. Bodywarmers are now considered to be the go-to choice for women's outerwear. Browse styles offered at eBay for a fresh update to any wardrobe.