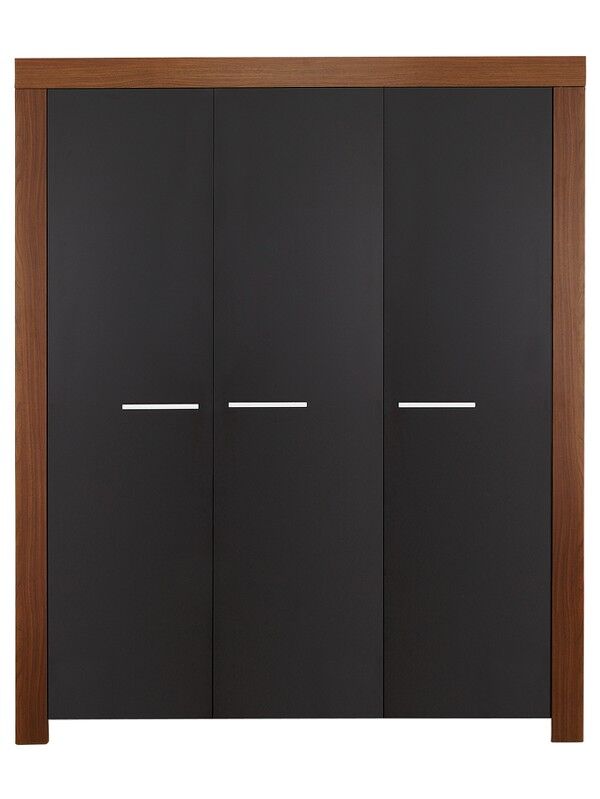 In a house or flat with no built-in closets, a wardrobe is a necessity. Even minimalists need somewhere to store their clothes and undergarments. Ideally, each bedroom in a home has some type of wardrobe closet furniture in place. It is sometimes helpful to install one in a foyer for coats, hats, and other small clothing articles. A wardrobe can be useful in the bathroom or laundry room as well.
As far as size goes, the smallest, most simply fashioned wardrobes were always adequate in earlier times, when a person's clothing amounted to no more than a few outfits. Today, wardrobes have grown larger and more complex out of necessity and demand. Picking out a modern wardrobe is often a matter of finding the one that has the most storage space.
Selecting a spacious wardrobe is dependent on a few factors. First, as one would expect, the physical dimensions of the item play a part in determining its storage space, but this is not the only variable to consider. The design features also have an impact on how much clothing and accessories may be stored in the wardrobe.
History of Wardrobes
The word "wardrobe" derives from an English-French combination of two words meaning "to guard" and "robe". This term's first known use was in the 14th century, when the word described spaces of various uses, and in the 17th century it was commonly used as an alternate name for the clothespress. Interestingly, the most common synonym for wardrobe, "armoire", is also French, but this word originally referred to a cabinet for weapons (arms). Before these freestanding closets were invented, clothing was kept in trunks and chests, in baskets, or on pegs on the wall.
Wardrobe Dimensions
The size of the wardrobe plays the largest, but not the only part in creating the most storage space. It would seem that the largest wardrobe would have the most space to offer, but this is not always the case. For example, when comparing a large but simple wardrobe that features a pole and a shelf with a smaller, but more modern design that incorporates many compartments, the smaller wardrobe will likely win out. Moreover, when a massive wardrobe is disproportionately large compared to the room in which it is placed, it tends to dominate the space and make the area feel uncomfortable.
Wardrobe Design Features
The way a wardrobe is designed has a lot to do with how much storage space it offers. The most rustic versions offer only a pole for hanging a few items, whereas modern versions offer not only a rod but also assorted shelves and drawers to accommodate all types of clothing items.
Wardrobe Organisation
Many wardrobes look similar from an outside perspective. They typically consist of a portable closet, which is essentially a tall box with one or two doors on the front. Some versions feature canvas or another fabric over a frame instead, in which case the material can be pulled aside to access the contents. The internal organisation, however, can be quite different among individual pieces. Most wardrobes also contain shelves, drawers, or rails on the inside.
Shelves
Even the most basic wardrobes generally include at least one shelf, usually along the top above the rail. Unfortunately, one shelf is not nearly enough to hold the extent of a person's apparel, particularly if there is no chest of drawers or trunk being used. The most convenient wardrobe layouts are those in which the rail has free space below it to hang long dresses, with shelves set up along the side to hold folded clothing, shoes, hats, or purses.
Drawers
Wardrobes with a few drawers are ideal for holding undergarments and smaller accessories, such as gloves. While it is possible to stack plastic or wicker baskets inside a wardrobe for the same effect, using built-in drawers is much easier; they are easier to fill and access without having to shift other items around first. These drawers may be placed at the bottom of the wardrobe, below the doors, and visible from the outside. In some cases, the drawers may be located inside the doors.
Rails
Many wardrobes feature one rail from which dresses, shirts, trousers, and other garments may be hung. In a narrow or short wardrobe, there may be one rail for hanging both long and short items; beneath the short items, a lot of wasted space exists. Wider and taller wardrobes have room for a double rail to accommodate shirts, skirts, and pants, and longer coats and dresses can still hang from an extended single top rail.
Wardrobe Materials
The material used to construct a wardrobe has little to no impact on the storage space provided, but buyers should be aware that they have several options when it comes to choosing the material. Because the material affects the overall look of the wardrobe and how it will blend with the rest of the décor, shoppers will want one that looks nice and is pleasing to use. A wardrobe is a massive piece of furniture and, if not genuinely liked, can be a real eyesore.
Wood is still the top material for building wardrobes. It blends well with other furniture and has a warm look. Wooden wardrobes may be available in solid wood or a wood veneer. Almost all types of woods or simulated wood finishes are available, including but not limited to:
Some less-expensive alternatives to wood are medium-density fibreboard (MDF) and rattan or wicker. Other options are fabric-covered metal or wood frames.
Wardrobe Styles
Whether a wardrobe is an older piece that still has useful life or one that is completely new and modern, its outer appearance should have little to do with its ability to hold contents. The exception might be with a true antique piece, such as an authentic Art Deco or Victorian wardrobe, which, because of the time in which it was built, would probably not be designed to hold more than a few garments. Also, overly decorative pieces like these are generally not the most efficient in terms of space. Contemporary styles are likely to be the most efficient.
Where to Find Wardrobes
Most home furnishing stores carry some type of wardrobe or armoire, as do department stores. You can also find wardrobes from independent craftspeople, and you may find a premade wardrobe or have one custom-built by a woodworker. If you are interested in used pieces, you can check out antique dealers, flea markets, estate sales, and auctions. Online auctions are excellent resources for both new and used furniture, including wardrobes. If you are an amateur woodworker, you may be able to find a pattern to your liking and build a wardrobe yourself, although considerable skill is needed in order to put together a piece with lots of separate storage compartments.
How to Buy a Wardrobe on eBay
To shop for a wardrobe on eBay, you can start at the homepage and navigate through logical categories until you reach wardrobes. Then, use the category filters on the page to select just wardrobes for the bedroom, or browse all wardrobes available. As you get to more specific categories, you can further narrow down the choice by factors such as material, style, and colour. Alternatively, you can return to the homepage and do a keyword search for "wardrobes", either in all categories or in a specific category. When doing a general keyword search for wardrobes, you will see that more than one category features related listings. In this case, you can click on each category to see what is available.
When it comes to heavy and bulky items such as furniture, postage and packaging costs are higher, but there are a few easy ways to minimise these costs. First, click on the filter that returns only wardrobes with free postage and packaging. Another option is to find a seller in the UK to reduce costs or find a local seller by entering your postcode, indicating a convenient distance, and seeing if you can arrange a pickup.
Conclusion
A wardrobe for storing clothing is a necessity. While a chest of drawers can come in handy, a wardrobe is essential for those garments which ideally should be hung. It is better to hang as many clothes as possible, even t-shirts and pants, than it is to try to fold dresses and button-down shirts and stick them in a drawer. In fact, one can even get away with no bureau or chest at all if the wardrobe has plenty of storage space.
Finding a roomy wardrobe depends on a few factors. Of course, size does have some correlation to storage room, although the specific organisational design features included, such as shelves, drawers, and rails, can make a huge difference. Modern wardrobe styles are more likely to have more storage space, and antique or vintage versions were designed to hold only a small amount of clothing. And while the material itself has no direct effect on how much a wardrobe can hold, it certainly should be considered, since the wardrobe is always a large, eye-catching piece in the room. By taking all of these factors into account, a buyer can find a spacious and attractive wardrobe.