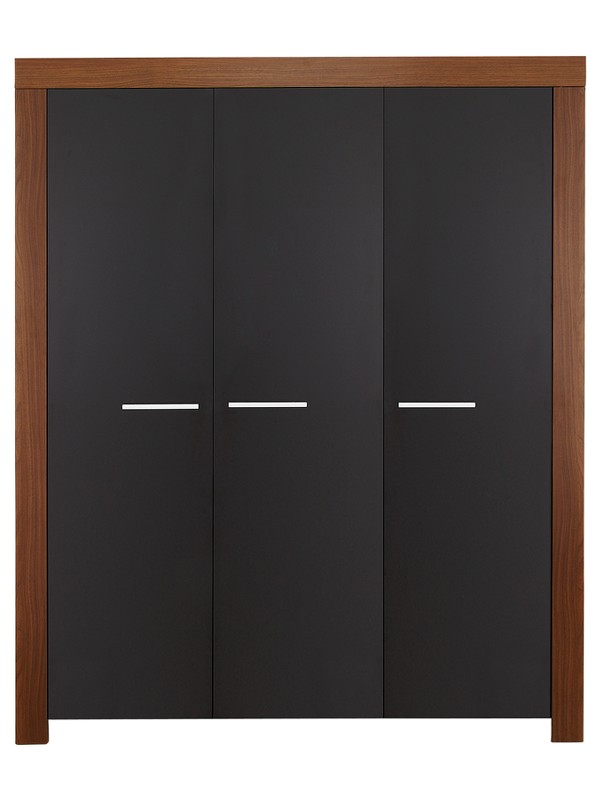 The type of wardrobe that holds the most clothes is the one that is the most organised. Even a smaller wardrobe can hold more clothing when it is organised properly. Each wardrobe is a bit different in dimensions, and it is true that a bigger wardrobe can hold more clothing, but an organised wardrobe has the possibility of holding the most clothing.
Of the hundreds of types of wardrobes available, finding one that holds a lot of clothes depends on the type of wardrobe as well as the organisation skills of the person who owns the wardrobe. Wardrobes can be purchased at furniture shops, antique stores, and on the online auction site, eBay. By taking a look at the different wardrobes, how to arrange them, and where to purchase them, a buyer can make an informed decision on whether or not to get a new larger wardrobe or simply reorganise the one that he or she already has.
Types of Wardrobes
There are many sizes, types, and styles of wardrobe. Some wardrobes are square, like the large triple wardrobe by Rizhao Dahai Industries And Trading Inc., some are rectangular like the Havana Solid OakLarge Wardrobe, by the Qingdao Great Vessel Imp & Exp Co., Ltd. and some are of entirely different shapes.
The most common type of wardrobe is the double-doored rectangular wardrobe. There are also glass-fronted and wooden wardrobes. These range in size but one does not necessarily have more space. Older Asian wardrobes even have secret compartments for storing items that the owner did not want to be found by others. These were mostly for the elite who had valuables to hide. Wardrobe's primary purpose was to store clothes and accessories such as scarves, hats, gloves, and other fashion accessories.
Antique Wardrobes
It may not seem it, but a built-in wardrobe not only holds quite a bit, but also keeps the clutter from showing. Many people use a built-in wardrobe with cleverly disguised doors to make it seem like there is nothing there. This was done in the early history of the wardrobe to hide jewel encrusted gowns, necklaces, and other valuables. Some craftsmen can still build custom wardrobes if one is desired. There are not many wooden wardrobe craftsman left in today's society.
The finest wardrobes are usually antique pieces that are from England and other parts of Europe. There have also been a number of fine manufacturers in the American regions of New England and the deep south. Many of the older wardrobes come equipped with shelves that are static.
Wardrobe Basics Explained
No matter which size of wardrobe, chances are that it can fit many more objects than it looks like it can. When arranging, remember that it is not imperative to take these steps in chronological order. It is important to remember that some family members might become agitated or upset when they cannot find something due to arranging a wardrobe. Reorganising the wardrobe is a money saver either by making the old wardrobe hold more or by helping to make the decision to purchase a new wardrobe.
How to Organise a Wardrobe
These organisation techniques work despite the size of a wardrobe. There is much more space to be discovered when even the largest wardrobe is put in order. Arranging a wardrobe just takes some time and there are a few tricks to having an organised wardrobe. Reading books on organisation and magazines with articles about organisation may be extremely helpful in the effort it takes to rearrange a wardrobe. This can also be used as a motivational tool for children and adults who do not wish to straighten their clothing out. If one person in the household starts rearranging others might be encouraged to join in. Parents can even make a game of the task.
Declutter
Decluttering is the planning stage. It involves putting everything that was once in the wardrobe onto a bed or another surface. With everything out, it is easier to see everything that was in the wardrobe and make a decision according to the contents. If an object or piece of clothing has not been seen or worn in a year, then chances are it is not worth keeping. If it is clothing or a trinket and no one has seen for a year, get rid of it.
It is amazing how a well-arranged wardrobe presents more room and space to place objects. There is no rule to doing this. Seasonal clothes are stored to keep them out of the way until a specific season or holiday. It is best to use good judgement when discarding objects. Many objects family members want to keep for sentimental value. Other trinkets and clothes may be worn again or handed down from one sibling to another.
Planning for Organisation
Wardrobes can typically be organised using a variety of shelving units and wardrobe organizers. If choosing to use one, it is a good idea to measure the wardrobe first, and then find one that is suitable for the space provided. A wardrobe should be of sufficient size to store all of the necessary clothing and objects for use. Sort clothing, shoes, and other items by those worn the most and put them back into the wardrobe in a position that they are easy to locate.
Hooks and Things
Racks, shelves, and baskets can allow a smaller wardrobe to hold more clothes. There are product lines of hooks for accessories and hangers for clothing. Jeans and favoured items should be placed onto hangers, and favoured accessories on hooks. There are even hooks that do not create puncture holes in a wardrobe; they simply stick onto a variety of surfaces and they can be easily removed or moved if needed.
For shoes and other items that are not hung, there are baskets that slip easily into most wardrobes. Even for hanging items, there are fold-down hangers that cut down on the space used by hanging items. Manufacturers are creating new ways to store things constantly so it is a good thing to keep an eye out for new techniques and products.
Do Not Waste Valuable Space
Many people do not realise that their wardrobe has both a top and a bottom. Spaces such as these are rarely used and tend to gather dust. Boxes of winter or summer clothes can easily be stored on the tops of wardrobes. Shoes, trinkets, and those Christmas clothes that no one seems to have a place for can go on the top of the wardrobe, on the floor of the wardrobe or under it, if it is freestanding.
One of the biggest mistakes that people make is to let this space go unnoticed or unused. With organisation maximum use of space is a priority. If something is being stored either in, on top of, or below a wardrobe they make specific moth repellent and ventilation for most wardrobes.
Buying a Wardrobe that Holds the Most Clothes on eBay
Finding a wardrobe on eBay is not a difficult task. You can go to eBay's website, type in the wardrobe you want into the search box, and click search. This populates a list of different types of wardrobes that are available. From here, you can browse through the listings until you find the one you want to purchase. With larger items, such as wardrobes, it is important to read the full listing carefully. Find out as much as possible about the wardrobe before bidding or purchasing. Each listing provides valuable feedback on the seller, reviews, shipping information, and return policies. Pay particular attention to these so that there are no mistakes if you purchase a wardrobe on eBay.
If there is no shipping policy or shipping is particularly costly, you might want to consider picking it up if it is local. You can also ask the seller a question if there is something unclear or not included in the listing. Many of the sellers have excellent feedback and reviews. Make sure to read the feedback and take notice of a seller's star rating. Some sellers are better than others, keep in mind one bad experience in a hundred sales might not be the sellers fault. It is always good to check out a seller thoroughly.
Conclusion
The well-organised wardrobe fits many articles of clothing, but the key to this is organisation. When asked the question, "which wardrobe fits the most clothes", there are two answers. The first is the biggest one, usually a walk-in wardrobe. The second answer is a well-arranged one. A well put together small wardrobe fits more clothing than a disorganised large one. There are many wardrobes that can fit quite a bit more than expected with proper care and organising. Keeping a wardrobe sorted out is more difficult than organising it in the first place.
If carefully kept, a wardrobe can remain organised, and therefore, provide the maximum amount of space. By putting everything back where it belongs, the wardrobe remains clear of clutter and debris. Just remember if it has not been worn in a year, then it probably does not need to be in the wardrobe. There are many accessories that both look stylish and can help with keeping a wardrobe in organised shape.